COVID-19's Effects on Cardiac Imaging Protocols, Perspectives Still Unfolding
From India to Italy, experts at the SCCT 2021 say noninvasive imaging has risen to the occasion and likely will stay central.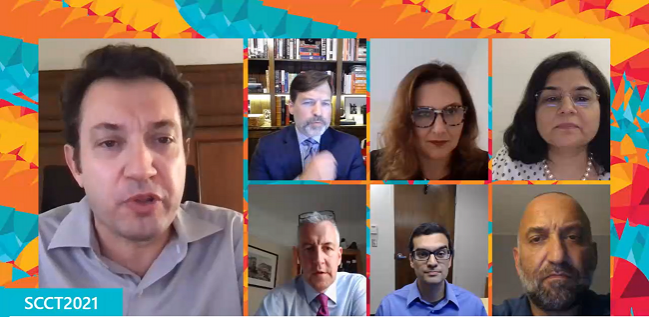 The COVID-19 pandemic has greatly altered the practice of cardiovascular imaging, and while some trends may normalize, there will likely be lasting change. Last week's 2021 Society of Cardiovascular Computed Tomography (SCCT) meeting involved a session dedicated to the topic, where experts hashed out the details.
From the need for personal protective equipment (PPE) to successive waves of infection, this past year has demanded clinicians respond with agility. Noninvasive imaging will continue to play key roles, the SCCT speakers said, both as a first-line modality for evaluating patients and as a means to help investigate COVID-19's lasting impact on the heart.
Session co-chair Marcio Bittencourt, MD, PhD, MPH (University of Sao Paolo, Brazil), told TCTMD that COVID-19's known cardiovascular involvement has naturally forced the imaging field to adapt.
The biggest change is that COVID-19 "accelerated" certain trends that were in place long before the pandemic began, Bittencourt said, with an increase in the use of CT over more-invasive methodologies. Before, "there was a process of moving to noninvasive imaging in cardiology, but I think everybody was afraid to move too fast and [without] enough data to do the entire move," he commented. But the need to avoid SARS-CoV-2 transmission demanded a rethink. When evaluating thrombus, for example, defaulting to CT was less risky than the COVID-19 risk posed by the previous standard of transesophageal echocardiography (TEE) or invasive angiography.
"That's a trend that came and for those who were satisfied with the results, it's not going to come back," Bittencourt said. "It might bounce back a little bit because we might have overused it, but I think in the longer run we will just find out that it works."
This isn't the first time clinicians have discussed the mounting ways the pandemic has affected cardiovascular care, with a recent study even showing a drop in diagnostic imaging.
At SCCT, meeting participants described how a clearer picture has emerged for how CT can be used in the management of COVID-19 and CVD, both individually and together, with an eye toward safety.
PPE Nuts and Bolts
Perhaps most striking was the need for imaging specialists to guard against infection by donning PPE. 
Roby Bhattacharyya, MD, PhD (Massachusetts General Hospital, Boston, MA), who gave an overview of COVID-19 epidemiology during the session, said that most still err on the side of caution when possible: "We've been humbled by this disease so often that I'm in favor of PPE in most situations, assuming that there is sufficient resources both financial and material to have a supply that supports that." Given the rise in variants, prioritizing masking for unvaccinated individuals will be key, he added. "Our hospital is continuing to mask in all patient care settings and that would be my preference for a default assuming infinite resources."
One challenge mentioned by Bittencourt is how to deal with patients who have COVID-19 but lack symptoms and thus are not known to be contagious.
Edward Nicol, MD (Royal Brompton Hospital, London, England), addressed this as well, saying he'd like to see mask use continue in UK healthcare settings. "Clearly there is a difference between patients who are symptomatic confirmed cases and asymptomatic patients," he said in the session's discussion. But on the cusp of the country lifting its requirement for masking in enclosed public spaces, which occurred this week, Nicol predicted the National Health Services hospitals wouldn't follow suit. "I really can't see that changing until we really feel that the rate of transmission is much, much lower, and we're a long way off from that," he said.
Similarly, Mona Bhatia, MD (Fortis Escorts Heart Institute, New Delhi), said she doesn't see masks in the medical setting going away any time soon in India, where the Delta variant has been wreaking havoc. "There has been a systematic method where if the patient is even remotely suspected [of being COVID-19 positive] we would be having full PPE, [or] otherwise there would be definitely masks in the asymptomatic if a patient came in in the morning. And then at night, all the CTs and everything goes through complete sanitization and [there's] closure of the CT scan for a set period of time."
Gianluca Pontone, MD, PhD (University of Milan, Italy), who presented on chest-pain protocols, also addressed safety.
"At the moment, we are just using PPE because the prevalence of disease is very low actually in Italy," Pontone told SCCT participants. "When we have a [patient] suspected for COVID, we have a dedicated workflow with a dedicated scanner for a patient who is positive. . . . In this scanner, we have one slot [at a] time so we have the time to do a full cleaning of the scanning room for these patients."
Another method to streamline imaging—and thus reduce the risk of exposure—is quadruple rule out, which has been used throughout Italy, Pontone reported, especially during the height of the pandemic. One CT session is done to exclude pneumonia, pulmonary embolism, coronary artery disease, and myocarditis. His team plans to continue this protocol even as the pandemic wanes, he said, adding that when CT is not definitive, cardiac MR should be used.
Creative Approach to CT
The pandemic has also led to imagers being more creative in how they look at images, especially when it comes to incidental findings.
J. Jeffrey Carr, MD (Vanderbilt University Medical Center, Nashville, TN), explained that signs of COVID-19 pneumonia can show up on cardiac CT exams done for other purposes. "The identification of pneumonia and COVID-19, typical or atypical lesions, can be very useful to facilitate and enhance patient care," he said. "Chest radiographs are often negative in COVID-19 infection. It may be the coronary calcium scan or the cardiac CT or PE study will pick up unsuspected findings in people with shortness of breath and chest pain. Pulmonary emboli or other thrombotic complications are also very common with COVID-19."
Coronary CT angiography additionally can prove useful as a noninvasive tool "to minimize risk, reduce resource utilization, and maximize clinical benefit," Diana Litmanovich, MD (Harvard Medical School, Boston, MA), observed in her talk. "It's also important to remember that cardiac CT can substitute invasive procedures such as TEE in certain indications."
Bittencourt agreed that some data show invasive angiography and TEE use have both decreased due to COVID-19's potential risk to the imager, while CT use has risen. The question is whether this uptick in CT sticks around.
With an emphatic yes, Litmanovich commented that her center has seen "a definitive increase in the use of cardiac CT for all the indications, including but not limited to the left atrial appendage thrombus, but also the presurgical assessment for patients going to valve replacement and also a lot of imaging for patients with suspected endocarditis.
"We also have experienced a dramatic peak in the trend in changing from invasive angiography to coronary CT for suspected coronary artery disease, including some patients who had very typical symptoms and otherwise would be taken to the cath lab," she noted.
While increased CT use "came out of necessity in sort of modifying our pathways of imaging those patients due to COVID," the protocol for its use has now been established, she continued. "The next step, which would be essentially using coronary CT as a first-line modality for patients with chest pain, [is something] we are all very much anticipating."
Bhatia reported that India has seen changes as well. There's been "a complete shift from the TEE to CT for [left atrial] appendage thrombus, and very similarly, a very large number of patients who came into the emergency were coming for the CT scan prior to any invasive cath angios," she said. "There was a distinctive change toward the noninvasive imaging, and I think it is definitely continuing to stay so far, because we are still right in the middle of it."
Speaking with TCTMD, Bittencourt tried to sum up COVID-19's fallout for imaging. There remain many unknowns. Even now, "we're learning how to handle COVID and how to deal with COVID as it evolves," Bittencourt said, adding that not enough evidence exists to cement any definite changes in management. "We are still unsure." Specifically, myocarditis and myocardial injury associated with the disease require better understanding.
The pandemic has, on the whole, been a lesson in how quickly the field can adopt new tactics. "I think this showed us that we can do research to fast-track a lot of the imaging we do more broadly—we don't have to wait for that much data to wait to implement changes," he observed.

Yael L. Maxwell is Senior Medical Journalist for TCTMD and Section Editor of TCTMD's Fellows Forum. She served as the inaugural…
Read Full Bio
Sources
Pontone G. Cardiac CT in the evaluation of chest pain in post COVID-19 and long COVID-19 patients. Presented at: SCCT 2021. July 16, 2021.

Carr JJ. How to handle incidental COVID-19 lung images in cardiac CT and calcium scores. Presented at: SCCT 2021. July 16, 2021.
Disclosures
Carr, Litmanovich, and Pontone report no relevant conflicts of interest.
Bittencourt reports receiving consultant honoraria from Bayer and Novo Nordisk.
Nicol reports receiving consultant honoraria from Caristo and HeartFlow and serving on the speaker's bureau for GE Healthcare and Siemens Healthineers.