Do Not Screen Asymptomatic Adults For CVD With ECGs, Says USPSTF
The ECG provides no information beyond current risk assessment tools, says USPSTF, and should not be used until it's shown to improve outcomes.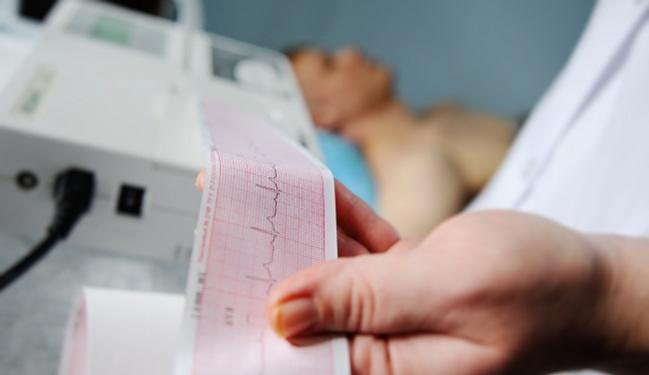 Asymptomatic adults should not be screened for cardiovascular disease with a resting or exercise electrocardiogram, according to a new statement from the US Preventive Services Task Force (USPSTF).
Following a review of currently available evidence, the USPSTF discourages the use of the screening ECG, stating there is a fair amount of certainty the ECG provides no benefit or that the harms outweigh the risks when used in asymptomatic patients at low risk for cardiovascular disease (D recommendation).
For asymptomatic patients at moderate or high risk for cardiovascular disease, the current evidence is insufficient to assess the balance and harms of ECG screening (I statement).
The USPSTF members, led by Susan Curry, PhD (University of Iowa, Iowa City), state that the incremental information provided by the ECG is not helpful beyond what can be obtained from the assessment of traditional cardiovascular disease risk factors. The group points out that several risk calculators and models are available for the estimation of cardiovascular risk and recommend using the pooled cohort equations introduced by the American College of Cardiology and American Heart Association in 2013.
Jonathan Piccini, MD (Duke University Medical Center, Durham, NC), who was not involved in the USPSTF decision, said the recommendation is not particularly surprising given the current data, but pointed out that ECG screening can be a useful tool in selected populations, particularly for the detection of atrial fibrillation.
"If I had a patient who is 65 years old coming to see me in a primary-care clinic and they have multiple risk factors for cardiovascular disease or atrial fibrillation, I really do think an electrocardiogram is a very reasonable test to do," he told TCTMD. "Not every year, but perhaps every couple of years at a minimum, because we see things and make diagnoses based on the electrocardiogram all the time."
With an ECG, physicians can pick up early signs of heart block, evidence of silent MI, or ectopy that might be benign or alternately could represent early warning sign of future cardiac difficulties, said Piccini.
Similarly, Benjamin Levine, MD (University of Texas Southwestern Medical Center, Dallas), wasn't too surprised by the USPSTF recommendation, and like Piccini, suggested the ECG might play a role in selected patients.
"I think one could argue though that in some individuals, diabetics in particular who might have ischemia or even infarction without symptoms, and for whom the intercurrent presence of a silent MI may carry important prognostic information, it could be useful," said Levine. "In that case, I would hope that such guidelines would not discourage good doctors from using their judgement."
No Evidence of Benefit, But Concerns Over Potential Harms
The USPSTF released two separate drafts of recommendations in December 2017, including a draft document that recommended against the use of screening for cardiovascular disease with a resting and exercise ECG. In the second, which has not yet been published in a finalized statement, the USPSTF states the evidence is insufficient to recommend ECG screening for atrial fibrillation in asymptomatic adults  
The finalized statement on ECG screening for cardiovascular disease, published in the June 12, 2018, issue of JAMA, is based on an evidence review of clinical trials and prospective cohort studies. As part of the review, which was led by Daniel Jonas, MD (University of North Carolina at Chapel Hill), the USPSTF found no improvement in clinical outcomes when adults were screened with the ECG.  
Adding information from the exercise or resting ECG to traditional risk factors (age, sex, current smoking status, diabetes, and cholesterol levels) yielded small improvements in the ability to reclassify patients with cardiovascular disease, but the USPSTF said the overall strength of the evidence was low or insufficient and hampered by "imprecision, quality, considerable heterogeneity, and inconsistent use of risk thresholds."  
In an editorial published in JAMA Cardiology, Joseph Alpert, MD (University of Arizona College of Medicine, Tucson), states that resting or exercise ECGs are useful and relatively inexpensive diagnostic tools that can reveal important clinical information.
"My cardiology colleagues and I frequently order resting ECG recordings on new and established patients to document abnormalities in heart rhythm, to assist in the categorization of patients with a variety of structural heart problems, and to create a baseline document for future comparison," writes Alpert. "However, the resting or exercise ECG recording is not useful as a screening test to supplement routine risk assessment to see if an otherwise healthy asymptomatic individual is at risk for developing future clinical manifestations of cardiovascular disease."
Piccini agreed that a baseline ECG can be useful so that physicians, as well as patients, can have a record of what is "normal." 
"Sometimes there are patients who have an unusual ECG pattern/normal variant and their primary-care physicians will photocopy it and ask them to keep it in their wallet," he said. "They don't have any cardiovascular disease, but the ECG pattern may have unusual repolarization or other finding that could mimic ischemia. They're told to keep it in their pocket in case they ever get chest pain so the doctors know what their ECG looks like at baseline."
What About Atrial Fibrillation?  
The USPSTF has not yet published their finalized recommendations on the use of ECG screening for the detection of atrial fibrillation in asymptomatic, older adults, but Piccini believes it is a valuable tool considering the burden of atrial fibrillation worldwide and the risk of stroke associated with the arrhythmia.  
"It seems very reasonable to think that this is something we should screen for," he said. "Obviously, any time you examine a patient, and listen to their heart and check their pulse, if it's irregular that tells you there's a very good chance the patient has atrial fibrillation. If you detect an irregular pulse, an ECG is recommended to sort out the rhythm."   
Piccini said that while the USPSTF might not advocate ECG screening now, there is ongoing work being done to determine whether identifying asymptomatic atrial fibrillation can improve patient outcomes. He highlighted the mHealth Screening to Prevent Strokes (mSTOPS) trial, which was recently presented at the American College of Cardiology Scientific Sessions. In that study, monitoring symptomatic elderly subjects with a wireless ECG patch increased the number of atrial fibrillation diagnoses and led to more patients being started on guideline-recommended therapies at 1 year.
Those patients are being followed to determine if such targeted screening translates into a reduction in stroke. Similarly, the Apple Watch study with the Cardiogram app has been shown capable of identifying atrial fibrillation, but there is no evidence yet that identifying the arrhythmia leads to a reduction in stroke or other outcomes.
For their part, the USPSTF is calling for more research on the use of ECG screening for asymptomatic atrial fibrillation. 
Nonischemic Conditions Identified by ECG
Robert Myerburg, MD (University of Miami Miller School of Medicine, FL), who also wrote an editorial accompanying the USPSTF statement, points out that risk assessment calculators, such as the pooled cohort equations, are inclusive of multiple forms of atherosclerosis, such as coronary, cerebrovascular, and peripheral, but the ECG primarily identifies coronary heart disease.
"The recommendations targeting prediction of coronary heart disease in the USPSTF report should not be generalized to other conditions or circumstances in which the conclusions may not apply," writes Myerburg. "As the prevalence of coronary artery disease and related events is decreasing, other etiologies of heart disease, particularly in the younger subset of the population, are receiving increasing attention."
Myerburg notes that a resting ECG might lead to the identification or suspicion of an existing nonischemic condition before the onset of symptoms or a significant cardiac event. ECG testing might also identify inherited conditions that predispose individuals to risk of sudden cardiac arrest—such as long QT syndrome—or heart failure.
To TCTMD, Levine pointed out that a 2016 scientific statement from the American Heart Association emphasized the importance of assessing cardiorespiratory fitness in clinical practice. "No one would do such a maximal exercise test in an older individual, even an asymptomatic one, without ECG monitoring, so I hope that such a document does not do harm by discouraging the assessment of cardiorespiratory fitness," he said.

Michael O'Riordan is the Associate Managing Editor for TCTMD and a Senior Journalist. He completed his undergraduate degrees at Queen's…
Read Full Bio
Sources
US Preventive Services Task Force. Screening for cardiovascular risk with electrocardiography: US Preventive Services Task Force recommendation statement. JAMA. 2018;319;2308-2314.

Jonas DE, Reddy S, Middleton JC, et al. Screening for cardiovascular disease risk with resting or exercise electrocardiography: evidence report and systematic review for the US Preventive Services Task Force. JAMA. 2018;319:2315-2328.

Myerburg RJ. The screening ECG and cardiac risks. JAMA. 2018;319:2277-2279.

Alpert JS. Does resting or exercise electrocardiography assist clinicians in preventing cardiovascular events in asymptomatic adults? JAMA Cardiol. 2018;Epub ahead of print.
Disclosures
Curry, Jonas, Myerburg, and Alpert report no relevant conflicts of interest.