Earbuds, Smart Pens May Inhibit Cardiac Devices if Carried Too Close
While no "alarmism" is warranted, experts advise patients to keep their devices away from their chest.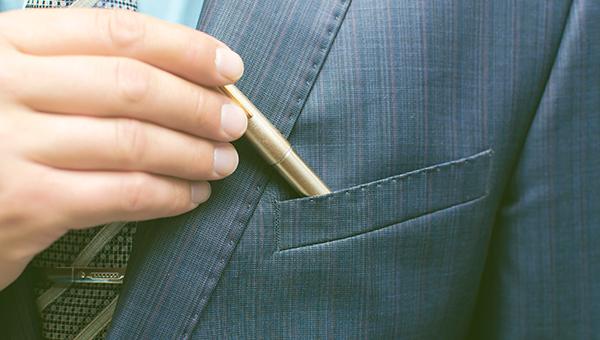 Magnets found in commonly used portable electronic devices (PEDs) like wireless earbuds may prevent implantable cardiac devices from giving lifesaving therapies if kept in close contact, according to new research.
Previous studies have shown that modern smartphones, which can produce magnetic fields of 10G, pose little risk to patients with implantable cardioverter-defibrillators (ICDs) or pacemakers unless they are carried directly in front of the heart. But much of the earlier research was focused on mobile phones and tablets, not on the newer, smaller types of smart devices commonly in use such as earbuds and smart pens that might be more easily tucked in a breast pocket, the study authors note.
Modern ICDs and pacemakers are designed with magnetic deactivation switches to be used in emergency settings like urgent surgery or in the case of device malfunction: magnets with a field strength of 100G are often used to trigger this response. But regulatory standards only require implanted medical devices to be fully functional in magnetic fields up to 10G.
It's that interface between magnetic strength and device distance that investigators led by Corentin Féry, MSc (University of Applied Sciences and Arts Northwestern Switzerland, Muttenz), hope to stress with their research letter, published online this week in Circulation: Arrhythmia and Electrophysiology.
"Luckily, the interaction distance in which device therapies might be deactivated was below 2 cm for all tested devices," co-author Sven Knecht, DSc (Cardiovascular Research Institute Basel, Switzerland), told TCTMD in an email. "So, pants pockets are safe."
Knecht would like to see clinicians do more to inform patients about the importance of keeping their PEDs a safe distance from their chest, although he stressed "no alarmism is needed."
Commenting on the study for TCTMD, electrophysiologist Joshua Cooper, MD (Temple University Hospital, Philadelphia, PA), who last year published an educational video about the effects of the iPhone 12's internal magnets on ICDs, said the worst-case scenario would be if a patient with an ICD "were to have a fast arrhythmia that would cause them to fall unconscious while their defibrillator is inactivated by a nearby magnet." In most cases, the PED would fall away from the person and the ICD would only be disabled temporarily, but it may continue to interfere and prevent therapy if kept in a chest pocket, for example, he explained.
"This isn't really much of a mystery or a problem," Cooper said. "It's just a matter of education."
Similarly, electrophysiologist Wayne Whitwam, MD (Scripps Memorial Hospital, La Jolla, CA), does not want the results of this study to cause widespread terror, but said that because magnets are often unknowingly inside so many consumer electronic devices, patients should be aware that this "is not a trivial issue."
"This study highlights the possibility that the reality of this situation is actually more possible than initially realized," Whitwam added.
Educate the Consumer
For the study, Féry and colleagues looked at the magnetic fields produced by the Apple AirPods Pro and their wireless charging case, the Microsoft Surface Pen, and the Apple Pencil second generation using a 3D mapper with up to 2-mm resolution (Asahi Kasei Microdevices Corporation, Tokyo, Japan), and also measured the minimal safety distances for five different explanted ICDs (Inogen, Teligen, and Cognis, all Boston Scientific; Protecta, Viva Quad, both Medtronic).
They found that a 10G magnetic field could be sensed as close as 20 mm and 29 mm from the surface of the Apple products and Microsoft Surface Pen, respectively. Also, the magnetic off switch was triggered at distances between 8 mm and 18 mm for the tested PEDs.
"For clinical practice, since patients often put these PEDs in breast pockets, our magnetic field and ex vivo measurements confirm a minimal distance > 20 mm as a safety margin for cardiovascular implantable device carriers," the authors write.
Cooper estimated that "most patients are not aware of this, and it really should be part of the discussion—not that it would likely ever alter a patient's decision to have a device implanted—if there is in fact, a decision to be made. But it's important to understand how device works that's implanted in the body, especially one that's complex like a pacemaker or a defibrillator."
While "the consumer needs to be smart and they need to be informed," Whitwam said it might be time for "companies like Apple to redesign their product [without magnets] to make them foolproof."
Of course, an option would be to increase the strength of the magnet needed to activate the off switch on implanted devices, but "I don't think that the medical industry can change, nor should it change, in order to accommodate consumer electronic products," he added.

Yael L. Maxwell is Senior Medical Journalist for TCTMD and Section Editor of TCTMD's Fellows Forum. She served as the inaugural…
Read Full Bio
Disclosures
Féry, Knecht, Whitwam, and Cooper report no relevant conflicts of interest.