Esophageal Fistula Still a Rare but Deadly Complication of AF Ablation: POTTER-AF
If diagnosed, immediate treatment is needed given the extremely poor prognosis, said Roland Tilz.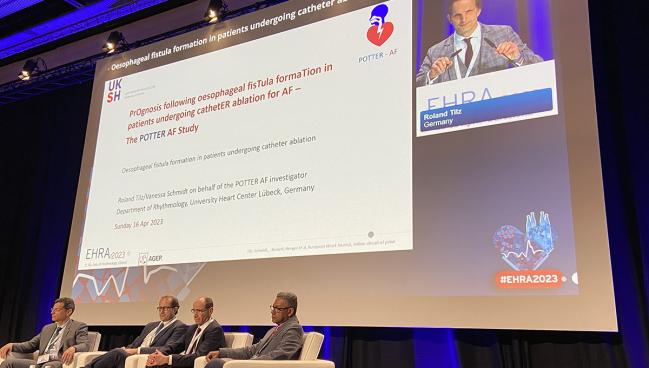 BARCELONA, Spain—Esophageal fistula formation remains a rare but deadly complication following catheter ablation of atrial fibrillation (AF), and the risk is mostly restricted to ablations done with radiofrequency energy, according to results from the large, observational POTTER-AF study.
In more than 550,000 ablations for AF performed in 35 countries, there were 138 documented cases of esophageal fistula, investigators reported this week at the European Heart Rhythm Association (EHRA) 2023 congress.
While the low number of cases is fairly reassuring, lead investigator Roland Tilz, MD (University Heart Center, Lübeck, Germany), stressed the complication is absolutely deadly—overall, nearly two-thirds of patients with a diagnosis of esophageal fistula died.
"The outcome, to be honest, is a disaster," said Tilz. The treatment strategy, however, does have a large impact of mortality, with patients treated surgically or with an esophageal stent faring better than those treated with a conservative strategy. "You have to do something," Tilz told TCTMD. "Surgery, or an endoscopic intervention, is mandatory. Don't wait. They need immediate treatment. If you don't do anything, they're dead."
Stylianos Tzeis, MD, PhD (Mitera Hospital, Athens, Greece), the discussant following the late-breaking clinical trial presentation at EHRA, pointed out that while the technology for AF ablation has advanced, the incidence of esophageal fistula has not changed over time. The rate is low at roughly three complications for every 10,000 ablations, but he said the community needs to reduce this risk further.
"The mortality is extremely high," said Tzeis. "The prognosis of the patients is unacceptable. We need to do something about that." 
Range in Incidence of Esophageal Fistula
Esophageal fistula is the result of thermal injury to the esophagus or surrounding structures during catheter ablation of AF. Prior reports have suggested the incidence ranges anywhere from 0.016% to 0.15%, but many of these past studies were small, leaving some question as to the true incidence of the complication. Moreover, Tilz said there isn't a lot of information about how esophageal is managed or how those patients fare when treated.
For this study, which was published simultaneously in the European Heart Journal, the POTTER-AF investigators evaluated the incidence of postprocedure esophageal fistula from 214 experienced electrophysiology centers across five continents. In total, 553,279 patients underwent ablation for AF or atrial tachycardia between 1996 and 2022. The majority of patients were ablated using radiofrequency energy (62.9%), followed by balloon-based cryothermal energy (36.3%).
Overall, the incidence of esophageal fistula was 0.025%, though there were significant differences in risk depending on the energy source: 0.038% with radiofrequency ablation versus 0.0015% with cryoballoon pulmonary vein isolation (P < 0.0001).
"It does appear to be a pure radiofrequency problem," said Tilz. "You don't see it in cryoablation."
After ablation, the median time to symptoms was 18 days, although this ranged from zero to 60 days, while the median time from the procedure to diagnosis was 21 days (range, 2 to 63 days).
The most common clinical presentation was fever (59.2%), followed by chest pain/difficulty swallowing (54.2%) and neurologic deficits (44.1%). Delayed complications were also very common, with more than one in two patients developing severe sepsis/septic shock. In addition, 46.7% of patients with esophageal fistula went into a coma, while 23.4% had a stroke or cerebral hemorrhage. One in five patients went into cardiac arrest.
All patients were initially treated with antibiotics. After diagnosis, though, 47.4% underwent surgery and one-third were treated conservatively. One in five patients had an endoscopic procedure, mostly receiving an esophageal stent. In total, 65.8% of patients who had esophageal fistula after catheter ablation died. Of those treated conservatively, 89.5% died during follow-up. In contrast, 51.9% and 56.5% of those treated surgically or endoscopically, respectively, died in follow-up.
Newer Technology Coming Fast
Tilz said it is a little surprising the incidence of esophageal fistula is unchanged from prior studies, especially given improvements in the procedure, including the use of force-contact technology that provides real-time information about catheter-tissue contact.
Tzeis, on the other hand, pointed out that the risk of esophageal fistula is not associated with operator experience or hospital volume (in AF ablations). Additionally, clinical trials testing esophageal temperature monitoring or temperature-driven irrigated radiofrequency energy titration didn't reduce the risk of esophageal lesions. 
"We have invested a lot in esophageal temperature monitoring and management, but the two randomized, controlled trials are both negative," he said. "That's rather disappointing."
If you don't do anything, they're dead. Roland Tilz
However, Tzeis is optimistic that newer technology, such as pulsed-field ablation, which doesn't rely on conductive heating or cooling to create lesions, will be able to eliminate the risk of esophageal injury. At the moment, there are a number of pulsed-field ablation systems in development, including two with CE Mark approval is Europe—one from Medtronic, the other from Farapulse—but none are yet approved in the US.
To TCTMD, Tilz said the diagnosis of esophageal fistula remains challenging because patients will present to the emergency room with unspecific symptoms, such as fever, chest pain, or neurological deficits, including stroke or seizure. In an elderly patient with AF, presenting with stroke is not out of the ordinary, so physicians might not link the symptoms to the prior ablation.
"You have to think about it," said Tilz. "Awareness is very important. Even more than 2 months after ablation, you may diagnose an esophageal fistula. If you treat later, or conservatively—if you wait—more than 90% die. If you treat them earlier [with surgery or endoscopic therapy], the outcome is much better."

Michael O'Riordan is the Associate Managing Editor for TCTMD and a Senior Journalist. He completed his undergraduate degrees at Queen's…
Read Full Bio
Disclosures
Tilz reports research contracts with Abbott, Biosense Webster, and Lifetech. He reports consulting for and/or receiving speaking honoraria from Boston Scientific, Biotronik, Biosense Webster, Abbott Medical, and Lifetech.