FDA Approves Inclisiran, a Twice-Yearly Injection to Lower LDL Levels
It is indicated for patients with ASCVD or heterozygous FH who need further LDL lowering despite taking maximum-dose statins.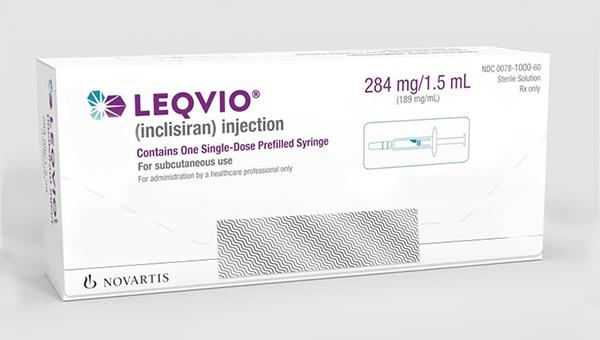 The US Food and Drug Administration has approved inclisiran (Leqvio; Novartis), a small interfering RNA (siRNA) therapy, for lowering LDL cholesterol levels, the drugmaker announced today.
The treatment is approved as an adjunct to diet and maximally tolerated statin therapy in patients with atherosclerotic cardiovascular disease (ASCVD) or heterozygous familial hypercholesterolemia (FH) with LDL cholesterol levels that are still too high. Following a first injection, a second injection is given at 3 months, and subsequently every 6 months thereafter.
The long-anticipated approval comes on the heels on numerous clinical trials showing the siRNA lowered LDL cholesterol levels in different patient populations prescribed maximally tolerated statin therapy. Those trials include ORION-9, which tested inclisiran in patients with FH, ORION-10, a study of patients with ASCVD, ORION-11, which tested the drug in patients with ASCVD or ASCVD-risk equivalents. In those studies, the mean placebo-adjusted reduction in LDL cholesterol was approximately 50%.
Inclisiran inhibits the production of PCSK9, which is a protease that binds to the LDL receptor and targets it for degradation. By blocking the production of PCSK9, the LDL receptors can bind to LDL cholesterol and clear it through the liver, thereby reducing serum LDL levels. The monoclonal antibodies alirocumab (Praluent; Sanofi/Regeneron) and evolocumab (Repatha; Amgen), which are injected once or twice per month depending on the dose, have a different mechanism of action in that they bind to free plasma PCSK9 and promote its breakdown.
European regulators approved inclisiran for lowering LDL cholesterol levels in patients with hypercholesterolemia or mixed dyslipidemia in late 2020.
The major cardiovascular outcomes study, known as ORION-4, is being led by researchers at the University of Oxford in collaboration with the TIMI Study Group. In this 15,000-patient trial, investigators are studying whether the addition of inclisiran to guideline-directed medical therapy lowers the risk of major adverse cardiovascular events (coronary heart disease death, MI, stroke, or urgent revascularization) in patients with ASCVD. Results are expected in 2026.

Michael O'Riordan is the Associate Managing Editor for TCTMD and a Senior Journalist. He completed his undergraduate degrees at Queen's…
Read Full Bio