With First-in-Human Porcine Heart Transplant, a New Chapter Begins
David Bennett was ineligible for a human heart transplant or ventricular assist device. His condition is currently stable.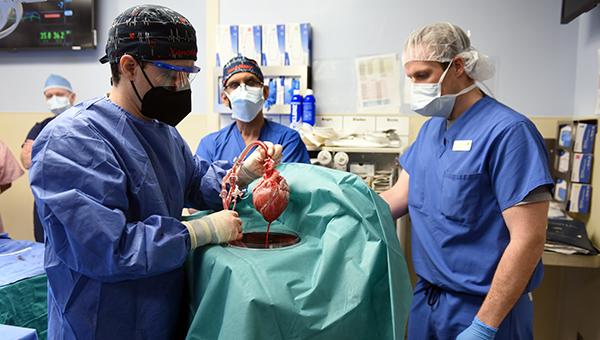 Surgeons at the University of Maryland School of Medicine who performed the first xenotransplantation using a genetically engineered porcine heart into a man with end-stage heart disease last Friday say the successful procedure represents a new chapter in the story of transplant medicine.
The surgery, for which the US Food and Drug Administration granted emergency authorization under its compassionate use provision, was performed in a 57-year-old man named David Bennett who had been admitted more than 6 weeks earlier and had been on extracorporeal membrane oxygenation (ECMO). He did not qualify to be added to the human transplant list, nor was he eligible for an artificial ventricular assist device (VAD).
Bennet is currently stable and "doing about as well as we could possibly expect for this," said Christine Lau, MD, MBA, the head of surgery who participated in both the donor and recipient surgeries.
SEE ALSO: A Trainee's Perspective on the First Genetically Engineered Pig-to-Human Cardiac Xenotransplantation
"This is a revolutionary, historic opportunity for us to advance transplant to a more elective, need-based equity fairness model where you could transplant patients as they needed it," she told TCTMD. "It's just a really exciting time in the middle of a terrible pandemic to have some hope and just show what we can really do scientifically and the things that you think are never going to happen."
For the procedure, Muhammad M. Mohiuddin, MD, first removed the heart of a pig that had been genetically modified to decrease the chances of rejection as well as limit growth after transplantation. Then Bartley P. Griffith, MD, surgically transplanted the heart into the patient.
Bennett remains in hospital and on a more-intense immunosuppression regimen than standard transplant patients, although as of Tuesday morning he had been taken off ECMO and decannulated, according to Lau. "Obviously, we're not out of the woods, because we still have to worry about balancing the immunosuppression and the infection risks," she noted.
For Maya Guglin, MD (Indiana University Health, Indianapolis), chair of the American College of Cardiology Heart Failure and Transplant Council, this surgery is "momentous." It remains too early to call it a complete success because the point of transplant is to have the patient survive for several "meaningful" years and not mere days, but "I'm hopeful," she told TCTMD.
The idea for xenotransplantation is not new, Guglin said, but "all prior attempts were so flawed—the outcomes were so poor and discouraging—that honestly many people in my profession did not even think about it seriously."
Now, "it may become the practice of tomorrow," she continued. "If it succeeds, it opens the gate to such supply of easily available hearts."
Genetically Modified Organ
The research and development involved in getting this procedure ready for human use goes back decades, said Lau, who herself worked in a xenotransplantation lab putting porcine lungs into baboons at Duke University in the late 1990s.
After  years spent refining the technique in primate studies, Lau said the team knew they were ready to attempt a human surgery once they saw good survival over 9-12 months without rejection and a low incidence of infection. Last September, to demonstrate proof of concept, a team at NYU Langone Health in New York, NY, successfully performed a xenotransplant of a porcine kidney into human subject on artificial life support following brain death.
It's just a really exciting time in the middle of a terrible pandemic to have some hope. Christine Lau
The wheels setting in motion last week's surgery began rolling on December 15, 2021, when the University of Maryland team in Baltimore applied for a compassionate use exemption to attempt the procedure; the FDA granted the request on December 31. Bennett emerged as an ideal patient because he didn't have other options other than palliative care, Lau said.
"It was either die or do this transplant. I want to live. I know it's a shot in the dark, but it's my last choice," Bennett said the day before the surgery, according to a press release. "I look forward to getting out of bed after I recover."
'A Clinical Reality'
Now that it has been done successfully, and assuming the heart is not rejected, xenotransplantation is here to stay, Lau said. Next steps include going back to the FDA to request an Investigational New Drug Application (IND) to begin trials in a "standard group of patients," specifically those who are not candidates for the human donor list nor for VADs. Xenotransplantation also offers the potential to allow for organs to be the "perfect size," Lau noted, dispensing with the need for transplant lists and their attendant delays.
I'm in the business of individual patient care, so I want this patient to do well. This is my most powerful emotion at this time. Maya Guglin
"Right now, there's people that die every day on the waiting list for organs, and we fly all over the country to get organs in the middle of the night to bring them back to patients and they're of variable quality," she said. "We have to sometimes really stretch and use marginal donors because that's they're only chance, that's their only ability that they're going to survive to see another day."
Moreover, transplant teams themselves take risks traveling to pick up organs she continued, citing a plane accident from 2007 that killed several of her colleagues sent to pick up donor lungs. With xenotransplant, "that's all gone," Lau said. Nevertheless, human transplants will remain a viable option long-term, especially for patients with religious objections to receiving porcine organs, she added. But over time, she predicted, "maybe this will become much more standard of care."
The long-term potential for use in pediatrics, where available donor hearts are extremely limited, is also incredibly promising, Lau said.
"We always laughed that [xenotransplant] was 5 years away and always would be, but it's pretty cool that on Friday it became a clinical reality," she concluded.
This is "a potentially revolutionary moment," Guglin said. "I want to be a little bit cautious because not enough time [has passed], but I want to be optimistic. I'm a physician. I'm in the business of individual patient care, so I want this patient to do well. This is my most powerful emotion at this time."

Yael L. Maxwell is Senior Medical Journalist for TCTMD and Section Editor of TCTMD's Fellows Forum. She served as the inaugural…
Read Full Bio