A Trainee's Perspective on the First Genetically Engineered Pig-to-Human Cardiac Xenotransplantation
Participating in this procedure, which took years of development, was a humbling and exciting highlight for this surgical resident.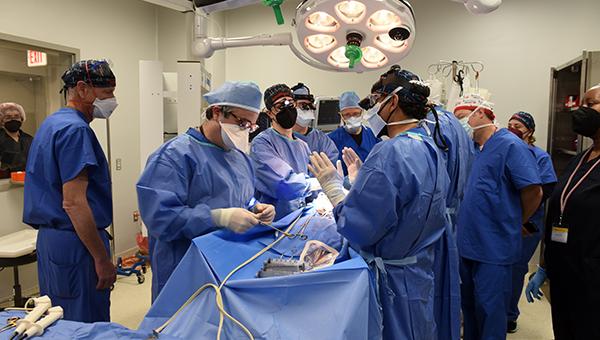 Wow. What a wild ride this week has been: being a part of the team that conducted the world's first transplantation of a genetically modified pig heart into 57-year-old David Bennett.
As a trainee, I find myself reflecting back on the last 4 years that led us to this point. A Texas native, I joined the cardiac xenotransplantation lab of Muhammad Mohiuddin, MD, and Bartley Griffith, MD, at the University of Maryland School of Medicine (UMMC), having recently moved from Houston to Baltimore to attend the Johns Hopkins Hospital for general surgery residency. I had no idea what my experience in Baltimore would bring, but I had aspirations of becoming an academic surgeon and always had an insatiable desire to pursue my passions, which usually routed me to working in a cutting-edge science lab. I had heard of Dr. Mohiuddin's work while I was in medical school and was elated to hear that his lab was down the street in Bethesda, MD, at the National Institutes of Health; it soon moved even closer to UMMC in downtown Baltimore. I immediately emailed my program director asking if I could work in the cardiac xenotransplantation lab as part of my dedicated research time for the residency program. She said yes, and I began working there shortly thereafter. That was probably the smoothest part of my entire experience leading up to Mr. Bennett's transplant.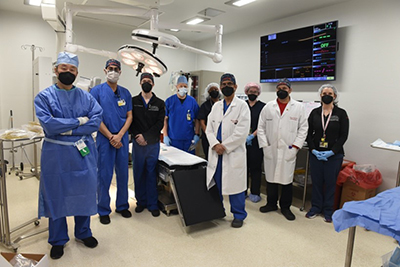 When I began working in the lab, the field was still struggling to transition from a proof-of-concept abdominal heterotopic cardiac xenotransplantation model to one of life-supporting orthotopic transplantation that actually replaces the native recipient heart. Unanticipated problems included seemingly indescribable and mysterious primary graft dysfunction that would lead to graft failure within the first 48 hours and, furthermore, life-limiting diastolic dysfunction shortly thereafter. I still remember Dr. Griffith saying that the exact same transplantation in the clinical setting would never look like this. We all thought it would be simpler to translate the same rejection-free survival seen in the heterotopic model but get the xenograft to pump in a normal anatomic position.
But it just wasn't so. There were many trials and tribulations, and at one point I thought that the lab may have to call it quits and I would have to somehow explain to my program director that the once-in-a-lifetime opportunity that I begged to pursue would amount to a premature return back to my general surgery training. But we kept pursuing improved surgical techniques, postoperative care, and cardiac preservation techniques and learning about other's experiences. We even had a team meeting where the lab discussed all the obstacles that were experienced over the prior 18 months. I myself had been part of six of them. I thought to myself: "There really are no more obstacles that could possibly get in our way, and Murphy's Law should eventually just give way."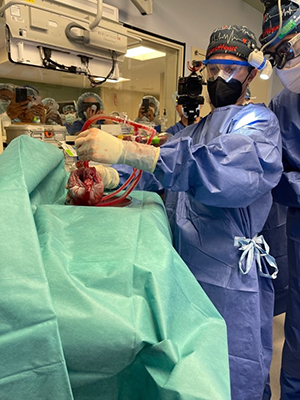 It did, and things in the lab eventually started improving. Xenograft survival in primates improved to 2 months, then to 3 months, and then we had our first 6-month survivor. We were elated. We began getting consistent 6-month survival and soon were up to 9 months. We were now talking about the first-in-human clinical trials and began approaching the US Food and Drug Administration.
When Mr. Bennett arrived at the UMMC with end-stage heart failure, on VA-ECMO, and with no other options or hope to leave the hospital before almost certain death, we knew this was our opportunity. It was December 20, 2021, when Dr. Griffith made the phone call to the FDA as part of the application process for a physician-directed "compassionate use" authorization. Fast forward to New Year's Eve at 5 PM–after two FDA conference calls, four revisions, multiple sleepless nights, and canceled family holiday travel plans—we received the email notifying us of approval. We were over the moon.
We all knew that the approval itself was historic, but the work had just begun. We were humbled, excited, and privileged to be a part of Mr. Bennett's new lease on life. What followed during the week prior to the transplant were multiple institutional meetings to coordinate what would be a monumental effort by the entire Xenoheart team, the division of cardiothoracic surgery, and countless others at the University of Maryland to make this a success.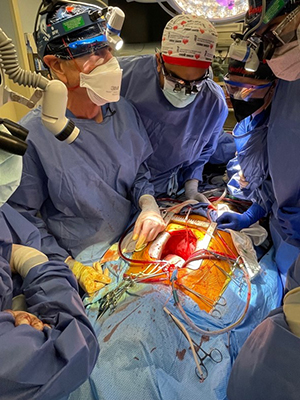 The day of the transplantation was surreal, especially for us as trainees. Aakash Shah, MD, and Chetan Pasrija, MD, both residents of the UMMC integrated cardiothoracic residency program, joined me. We were each focused on the task at hand, and likely didn't really have time to process all that was happening. However, it really struck me when I lifted the xenograft out of the box, and for a brief moment looked up. I saw a sea of cameras and spectators with their own cell phones capturing the moment simultaneously. I think that's when I knew not only was this something exciting for me, but for everyone.
Dr. Shah, Dr. Pasrija, and I look back at that day, as well as the days that follow ahead, with great humility and excitement at what we were privileged to be a part of. Most of all, we have developed the utmost admiration and respect for Mr. Bennett and his bravery to not only elect to undergo this novel therapeutic but also, as he said himself, to at least have an opportunity to help others and contribute to science. I will forever be grateful, as will the countless patients who will benefit from his choice to pursue what only recently became a clinical reality. 

Corbin E. Goerlich, MD, is a general surgery resident at the Johns Hopkins Hospital and a postdoctoral fellow in the…
Read Full Bio