HFrEF's Financial Burden May Get Relief From Inflation Reduction Act
The legislation appears to be a step toward saving patients money, but only time will tell if it delivers, one expert notes.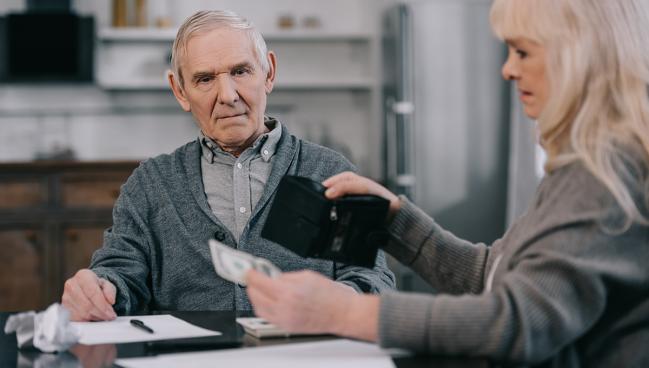 Many Medicare patients who have heart failure with reduced ejection fraction (HFrEF) are struggling financially due to the sky-high costs of optimal medical therapy, but a new analysis suggests that help should be on the way in the form of newly passed legislation.
As TCTMD has previously reported, Medicare patients with HFrEF can end up paying more than US $2,000 a year out of their own pockets for HF medications alone, which can lead to financial toxicity and underutilization of efficacious, but expensive, therapies in favor of less-expensive regimens that incorporate generic drugs only.
The new analysis, published as a research letter in JAMA Cardiology, estimates that the Inflation Reduction Act (IRA) passed last August, which caps out-of-pocket spending by Medicare beneficiaries at US $2,000 per year, will save HFrEF patients significant costs that they would normally incur when they hit their coverage gap phase where there is a temporary limit on what the drug plan will pay for medications. Patients typically stay in that phase until the out-of-pocket amount reaches enough to be considered "catastrophic." In 2023, the catastrophic coverage phase kicks in after the patient has spent $7,400.
"Medicare patients on quadruple therapy would be expected to save more than $1,000 a year on their heart failure medications," said Micah Johnson, MD (Brigham and Women's Hospital, Boston, MA), who led the new analysis. "So, after many years of discussion of how we can make these medications more affordable, the Inflation Reduction Act is a major first step towards making that possible."
Sodium glucose cotransporter-2 (SGLT2) inhibitors and angiotensin receptor-neprilysin inhibitors (ARNIs) are the most expensive elements of the quadruple therapy, which also includes beta-blockers and mineralocorticoid receptor antagonists (MRAs). HF guidelines from the American College of Cardiology, the American Heart Association, and the Heart Failure Society of America recommend initiating all four in tandem as swiftly as possible.
"As a physician, there are few things more frustrating than knowing that there are treatments that can extend a person's life, but they can't afford it. The reality is that we are often left with no choice than discharging patients on medications that we know are suboptimal," Johnson noted. "The Inflation Reduction Act is a major first step towards making medications more affordable and not just for heart failure, but across the board. The same thing that's happening in heart failure is happening in diabetes and COPD and cancer. There's still a ways to go, but I do think that this is the biggest step that we've seen in decades in terms of reducing out-of-pocket costs for Medicare patients."
Cautious Optimism
Lower drug costs and improved Medicare Part D coverage are hallmarks of the IRA, which also notably caps insulin out-of-pocket costs at $35 a month.
"For a typical [HFrEF] patient, January can be the same as prior years where the beneficiary can still pay up to their deductible. Where things change is later in the year when monthly out-of-pocket costs go up to over $300 a month," Johnson added. "Under the Inflation Reduction Act for plans that are using co-payments, patients will have low and flat co-payments throughout that period."
Those who have a plan using coinsurance, would reach the $2,000 cap around May and have no out-of-pocket spending for the rest of the year, the analysis shows. According to Johnson and colleagues, their projections suggest that even patients who are not reaching $2,000 per year in total out-of-pocket costs are still likely to benefit under the IRA.
There's still a ways to go, but I do think that this is the biggest step that we've seen in decades in terms of reducing out-of-pocket costs for Medicare patients. Micah Johnson
Johnson and colleagues looked at estimated Medicare Part D costs currently and under the IRA for multiple HFrEF medication regimens including generic regimens alone, generics plus a SGLT2 inhibitor or a ARNI, and three different quadruple therapy regimens. The highest priced of those regimens consisted of metoprolol, sacubitril/valsartan (Entresto; Novartis), eplerenone, and dapagliflozin (Farxiga; AstraZeneca), coming in at an out-of-pocket cost of US $2,849 per year for Medicare plans with co-pays, or $3,349 for Medicare plans with coinsurance. Generic regimens offered the cheapest overall out-of-pocket spending option at just under $500 per year, which would not change under the IRA.
Mitchell Psotka, MD, PhD (Inova Heart and Vascular Institute, Falls Church, VA), who was not involved in the new analysis, told TCTMD that he's cautiously optimistic that the policy change will help more HFrEF patients get on optimized therapy to improve and prolong their lives.
"These cost savings look to be fairly substantial for many based on the estimates. But we need to see what actually happens when the policy is changed. The proof will be in that data," Psotka added. Of primary concern right now, he said, is whether insurers might decide to change their policies in response to the IRA and come up with new ways to extract more money out of patients for their medications.
"Unfortunately, this back-and-forth interaction is going to be forever ongoing as long as we have privatized healthcare," Psotka said. "But this does look to be a good step in the right direction to try to protect patients and get them on better medical regimens."
One limitation of the study is that it assumes that HFrEF patients have no other competing drug costs, although theoretically the benefit of reduced out-of-pocket costs might be expected to be even greater for those patients.
"If you look at the number of medications that a typical patient with heart failure has to take, it's typically anywhere from 5 to 10 or even 15 to 20. So, when you start looking at that many medications, an out-of-pocket cap really starts affecting their overall expenditures and their ability to do all of the other things that we expect them to do, like pay for housing," Psotka noted. "That is where this could potentially have a really dramatic effect above and beyond what was described in this paper."
While out-of-pocket costs are considered the main barrier for Medicare patients in accessing guideline-recommended therapies, the IRA doesn't address an additional barrier for some: Medicare Part D plans that restrict access to ARNIs and SGLT2 inhibitors within patients' formularies due to cost. Psotka said it will likely remain incumbent on patients to look at the details of their policy to best understand how they can benefit from the changes that come with the introduction of the IRA.
The Centers for Medicare & Medicaid Services is implementing the Inflation Reduction Act in various phases, with some, such as the cap on insulin, already in effect as of January 1, 2023, and others like the elimination of the catastrophic coverage phase coming in 2024.

Disclosures
Johnson and Psotka report no relevant conflicts of interest.