Hope for Bioresorbable Vascular Scaffolds in Peripheral Disease Below the Knee?
Two small but promising studies presented at VIVA 2019 hint that the future may be looking brighter for tibial interventions.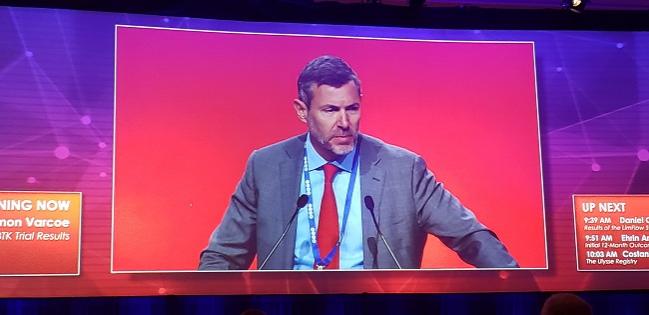 LAS VEGAS, NV—Despite a disappointing run in cardiovascular disease, researchers here say bioresorbable vascular scaffolds (BVS) have the potential to change how atherosclerosis of the lower leg is treated. Both the 5-year follow-up of the ABSORB BTK trial and 1-year results from the DISAPEAR registry showed high rates of freedom from clinically driven TLR with an everolimus-based scaffold.
"We have great unmet need below the knee," said ABSORB BTK investigator Ramon L. Varcoe, MBBS, MS, PhD (Prince of Wales Hospital, Randwick, Australia), in a press conference prior to his presentation at VIVA 2019. Describing what he called "an epidemic of tibial artery disease," Varcoe said a bioresorbable scaffold has potential to improve upon the limited available options for treating below-the-knee (BTK) disease.
"I view this as a proof of concept," he said during his presentation. "We took a coronary device and we used it in the tibial vasculature, but what it's done is generate some important data that suggest that this device has a lot of potential and that future iterations of it should be evaluated in a multicenter RCT."
New Hope for Beleaguered Technology?
The prospective, nonrandomized ABSORB BTK study and the DISAPEAR registry evaluated the first-generation everolimus-eluting ABSORB BVS (Abbott Vascular), which was developed for coronary artery disease and had been thought to be a promising new drug-eluting technology. However, sales of it were discontinued in the wake of signals that they device increased the risk of major adverse cardiac events, especially scaffold thrombosis.  
In the 48-patient ABSORB BTK study, 71 scaffolds were implanted in 55 limbs of patients who primarily had critical limb ischemia (CLI). Mean lesion length was fairly short at 20.1 mm. By 5-year follow up, 38% of patients had died from causes unrelated to the procedure or study device. Primary patency was 72.9% and freedom from clinically driven TLR was 90.7%. There were no reports of late or very late scaffold thrombosis, which Varcoe said gives him "great reassurance." Furthermore, 90% of patients treated for tissue loss had complete wound healing and no major limb amputations occurred.
Following the presentation, co-moderator Kenneth Rosenfield, MD (Massachusetts General Hospital, Boston), asked Varcoe about the high rate of death by 5 years in the small cohort. Varcoe responded that the 38% mortality rate is a statement about how morbid this patient population tends to be.
Now You See It . . .
The DISAPEAR registry was an all-Asian cohort of 41 patients, including a significant portion with Rutherford category 5 and 6 ischemia with tissue loss and 90% who were diabetic. As with ABSORB BTK, technical success was achieved in all patients. Mean lesion length was 22.7 mm. Overall, 24% of lesions were classified by PARC definition as severely calcified. At 12 months, the rate of primary patency was 86% and freedom from clinically driven TLR was 93%. Freedom from major limb amputation was 98%, and amputation-free survival was 85%. Approximately 80% of patients with Rutherford class 5 or 6 ischemia had complete wound healing.
According to Varcoe, the "elephant in the room" is why this technology failed in the coronaries yet seems to work well for BTK disease.
"The bottom line is it was a first-generation device being put up against a seventh-generation advanced drug-eluting stent and it marginally failed to reach equivalence due to some late scaffold thrombosis at between 3 and 4 years," he observed. "It actually boiled down to about six cases." Varcoe said investigators in ABSORB BTK followed recommendations from coronary colleagues to use the PSP concept (predilation, sizing, and postdilation), which they feel contributed to the high rate of technical success in ABSORB BTK.
Similarly, Steven Kum, MD (Changi General Hospital, Singapore), who presented the DISAPEAR findings, said his group also paid attention to adequate vessel preparation and sizing and did not see any of the issues with sizing or predilation that were reported with BVS use in the coronaries.
Additionally, Varcoe suggested that the tibial arteries may be a more appropriate target than the coronary circulation for this technology, noting that "as opposed to the coronaries, where we have a high bar to achieve because drug eluting stents are so good, our current tools for BTK interventions are fairly poor. It's not going to take much to improve upon them, so I'm hopeful that the next generation of devices will be able to achieve better results in the tibials."
"I think there is plenty of room for this technology to grow in the CLI space," Kum added during the press conference. "I think that [DISAPEAR] is a hypothesis-generating study. Hopefully industry will continue to push for the next-generation BVS."
Asked what his ideal BTK stent would look like, Kum told TCTMD: "First, it has to be deliverable, and the scaffold should be longer, if possible. Last, but not least, it should have reliable lumen gain. The reintervention rates for BTK are so high that . . . I think a bioresorbable scaffold would fit very nicely into the BTK segment. Right now with the lack of benefit or clinical efficacy for paclitaxel-eluting devices below the knee, I think it's an exciting space."
New Trial, Device on Horizon
Just a few months ago the US Food and Drug Administration rejected a submission for approval of the paclitaxel-based Lutonix 014 DCB (BD) for use in BTK disease. Paclitaxel devices have come under intense scrutiny in the last 11 months following a meta-analysis that suggested a mortality signal across studies of patients treated with various drug-coated balloons and stents.
Kum also noted that some of the improvement seen in Rutherford 5 and 6 patients in the registry "was surprising for us." Images in his presentation showed dramatic improvements after treatment in patients with significant tissue loss to their legs and feet. However, he pointed out that the intervention alone is not the answer to achieving such improvement in patients with CLI. Rather, an entire team-based approach that includes good wound care needs to be involved.
After his presentation today, Varcoe announced plans for an FDA-approved investigational device exemption (IDE) trial to be called LIFE-BTK. The multicenter RCT with a planned follow-up of 5 years will enroll 235 patients randomized to a new-generation BVS called Esprit (Abbott Vascular) or percutaneous transluminal angioplasty (PTA).
When a panelist questioned Varcoe why the comparator will be PTA rather than a DES, he replied that for the FDA-approved IDE the comparator would need to be an FDA-approved device and there currently are none for treatment of BTK.

Sources
Varcoe R. 5-year ABSORB BTK trial results. Presented at: VIVA 2019. November 6, 2019. Las Vegas, NV

Kum S. 1-year results of the DISAPEAR registry. Presented at: VIVA 2019. November 6, 2019. Las Vegas, NV.
Disclosures
Varcoe reports honoraria from Abbott Vascular, Boston Scientific, Medtronic, and Shockwave Medical; consulting for Surmodics, Abbott Vascular, Intact Vascular, and Medtronic; and research, clinical trial, or drug study funds from Penumbra, and the National Institutes of Health.
Kum reports honoraria from Abbott Vascular and Limflow; stock in Limflow; and research, clinical trial, or drug study funds from Abbott Vascular and Boston Scientific.