Lisa Todd
Todd is an RCIS and patient flow coordinator at Piedmont Heart Institute in Atlanta, GA, where she has worked for more than 25 years.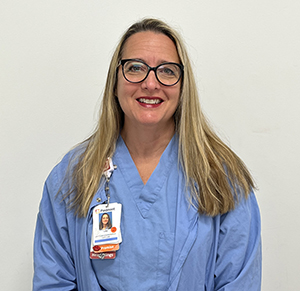 Lisa Todd is a registered cardiovascular invasive specialist (RCIS) and patient flow coordinator at Piedmont Heart Institute in Atlanta, GA. She was nominated for this profile based on her long history of exemplary work in the cath lab. David Kandzari, MD, who nominated her, told us that she is "loved and respected by everyone at every level, from cath lab staff, to doctors, to administration."
Have you spent all of your professional career at Piedmont?
To date, yes I have. I was originally placed there during one of my clinical rotations as part of the cardiovascular technology program that I was pursuing at a college in Florida. I spent 6 weeks living in Atlanta while working at Piedmont in the cath lab and then moved back to Florida and on to my next rotation. The cath lab manager at Piedmont called me about a month later saying they had a position for me. In January 1995, after I graduated, I packed up and moved permanently to Atlanta and started working full-time in the lab.
Those were busy days, with small cath lab teams and the OR standing by during stent procedures. Eventually, we grew to a larger team as our patient volumes increased and interventional procedures evolved. It was an exciting time because there was so much growth happening within interventional cardiology as a specialty and there was always an opportunity to learn. We had a flow coordinator who was leaving, and since I was pregnant at the time, that job was a good fit for me. It meant not being in the lab anymore, but it was a different kind of challenge to make it as comfortable and as smooth-flowing for patients, staff, and physicians as possible. It's been a great career that I feel fortunate to have and especially fortunate to have spent 26 years—soon to be 27—at Piedmont.
What does the flow coordinator do on a typical day?
I oversee the patient flow to each of our eight labs. Six are for coronary and structural procedures, and two are for peripheral. Every once in a while, I still jump in and scrub when needed, but my primary role is coordinating the movement of patients to and from our labs, making sure the physicians are on time, getting patients into the room on time, and communicating with recovery and anesthesia. On a typical day I start by organizing the list of procedures, assigning them to rooms, and assigning appropriate staff to those rooms. I speak with each physician to make sure that they are ready to go prior to each intervention. Our rule is never put a patient on the table until I've spoken with the physician and confirmed that they are on time. I also will facilitate requests from the physicians such as asking for an assist from a colleague during the procedure, or requesting that someone cover their other patients in situations where a case is running long. To avoid scheduling issues and delays, our physicians typically do not perform cases on days when they see patients in clinic. We have an "interventionalist of the day" who can take emergency cases so that we aren't pulling physicians out of clinic to do an urgent case. My job requires constant communication with everyone. It's a matter of moving the right pieces into the right place so that we are all on time during the day. The result of that system working efficiently is being able to end our day on time, which enables everyone to have a nice work-life balance. The days are long, but my job has enabled me to have the flexibility of a fantastic schedule and spend quality time with my family.
How has your cath lab been coping with the COVID-19 pandemic?
It was definitely tough for a while, but we muddled through. We took care of the patients and took care of each other. We're a close-knit group and several of us have been in that lab for most of our careers, so I think being able to rely on each other and know that the help was there, the support was there . . . those were things that got us through the rough times. At one point we kept our recovery unit open 24/7 so that our patients were with us from procedure through recovery and didn't require a bed in the hospital unless an ICU bed was required. It was much more intense and focused than our usual care pathway, but it kept our patients and ourselves as safe as possible. We are still testing every patient before bringing them down to the lab. If we have COVID-positive patients we schedule those procedures for the end of the day to give adequate time afterwards for thorough cleaning. We've successfully adapted to a new way of doing things.
What's next for you?
My husband was transferred to Florida, so I will be starting a new job in a much smaller lab and much lower case volume—about eight cases per day, compared with the 30 to 35 per day that I've been used to for many years. As much as I will miss it, this in an opportunity to see what it's like to be working as a RCIS again rather than as a coordinator. I'm excited to get started, but will certainly miss seeing all my colleagues who are like family to me.
What do you do when you're not working?
One of the things I've been doing for years is volunteering with iServe Ministries and their Bags of Love program. We pack and deliver backpacks full of food to local schools for children who qualify for free and reduced-price lunch to take home to their families for the weekend. I also occasionally help out with their mobile food pantry as well. Spending time with family is also top on my list. I met my husband at Piedmont and we have been married for 23 years. Our children Jeffrey and Amber are both in college, so we are empty nesters, but we always enjoy the time when they are home with us, and we look forward to building new memories in our new home.