MitraClip G4 Data Impress, but Some Question the Reproducibility: EXPAND G4
The results appear to be the result of experienced centers using a better device in the right patients, according to Kendra Grubb.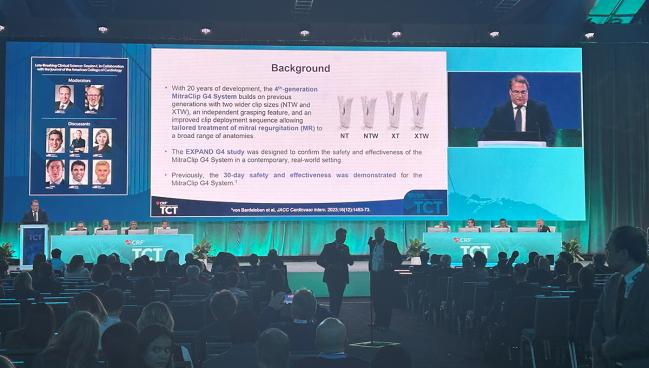 Transcatheter edge-to-edge repair (TEER) with the MitraClip G4 device (Abbott) seems to be both safe and effective at reducing mitral regurgitation (MR) at 1 year in a real-world setting, according to new data from the EXPAND G4 postapproval study.
Following the 30-day data presented last year, the 1-year findings "confirm a durable, safe, and effective device treatment," said Ralph Stephan von Bardeleben, MD (University Medical Center of Mainz, Germany), who presented the results at TCT 2023. "It achieves the highest MR reduction with the lowest mortality so far and allows for a tailored treatment."
The fourth-generation device now sets the standard for TEER devices when it comes to MR reduction and clinical outcomes, he added.
The study, which was simultaneously published in JACC: Cardiovascular Interventions, showed that TEER with the MitraClip G4—now available in two additional widths and with improved options for independent leaflet grasping and deployment—was associated with a durable reduction in MR to mild or less in 92.6% of patients enrolled (vs 5.7% at baseline) and to none or trace in 44.2% (vs 0.2% at baseline; P < 0.0001).
Calling the findings "un-freaking-believable," Brian K. Whisenant, MD (Intermountain Medical Center Heart Institute, Salt Lake City, UT), who served as the study's discussant, said: "I'm kind of speechless. This is just so darn good."
Similarly, David Cohen, MD (St. Francis Hospital, Roslyn, NY), who moderated a TCT press conference, hailed the results as "remarkable" for a study of this size. "They are really spectacular," he said. "I don't think anybody who started doing MitraClip a decade ago would think you could have ever gotten these kind of results."
Kendra Grubb, MD (Emory University, Atlanta, GA), told the media the findings are a direct result of decades of experience, expert operators, and better patient selection. "When you put those three things together, you are using the right tool for the right patient and it's in the right operator's hands," she commented. Grubb said it's unlikely that these results will be seen across the board, however, noting, "I'm not sure we are achieving this level even at my own high-volume site."
1-Year Results
The EXPAND G4 postmarket observational study enrolled 1,164 patients (mean age 77.5 years; 55.8% male) with primary (43%) or secondary MR from 60 centers in the United States, Canada, Europe, and Japan between 2020 and 2022. The study was divided into two parts: phase I included 101 US subjects who were followed through 30 days to assess early experience with the MitraClip G4 device, and phase II included 1,063 patients with follow-up at discharge, 30 days, and annually through 5 years. The study had an overall 87% follow-up rate at 1 year.
Nowadays, we have hundreds of patients in our experience. We know how to treat them, we know how to follow them up. Ralph Stephan von Bardeleben
At 1 year, the reduction in MR was observed in both the primary and secondary MR groups. Among the primary and secondary patients with moderate or severe MR at baseline, 87.2% and 94.5% achieved mild or less MR.
The results compared very favorably to studies with the first-generation MitraClip system in EVEREST II and REALISM, where only a little more than one-third of patients achieved mild or trace MR at 1 year. Even in COAPT, just 67% of patients had mild or trace MR in the end, von Bardeleben said.
The rates of MI, surgical reintervention, and single-leaflet device attachment at 1 year were all less than 2%. Kaplan-Meier estimates for all-cause mortality and heart failure hospitalization at 1 year were 12.3% and 16.9%, respectively.
There were also significant improvements in functional capacity, with 82.1% of patients being classified as NYHA functional class I or II at 1 year compared with 35.6% at baseline (P < 0.0001). Quality of life as assessed by the Kansas City Cardiomyopathy Questionnaire overall summary score improved by 18.5 points (P < 0.0001).
In an accompanying editorial, Fabien Praz, MD, and Daryoush Samim, MD (both Bern University Hospital, University of Bern, Switzerland), sing the praises of these data. "Such outstanding results represent a major achievement not only for a therapy that seems to have reached its technical maturity, but also for the participating centers and the considerable experience accumulated as members of a valve team," they write.
Improvement With Experience
The stark contrast between these results and EVEREST II is "powerful," according to Whisenant, "because EVEREST II is still the data that we are using [to justify] why we are doing these procedures." He was struck by "just how poor our results were for EVEREST II," even though it was early phase research, and asked why the mortality rate was so high at 23% in that study.
"Both [guideline-directed medical therapy] and the combination of treatments has changed," von Bardeleben replied, adding that worldwide experience also has increased, contributing to the success. "This is showing the best 23 trial centers in the US, [and] it is showing the best Japanese centers." That has to be considered, he said, when comparing these data to the outcomes seen in the STS/ACC TVT Registry.
Also, EVEREST II was conducted before the US Food and Drug Administration approved MitraClip for primary MR in 2013. Centers had single-digit experience when they began enrolling for that trial, according to von Bardeleben. "Nowadays, we have hundreds of patients in our experience. We know how to treat them, we know how to follow them up, and I think that is one of the main components, the combination of these treatments."
I don't think anybody who started doing MitraClip a decade ago would think you could have ever gotten these kinds of results. David Cohen
Speaking during the session, Joanna Chikwe, MD (Cedars-Sinai Medical Center, Los Angeles, CA), said she was especially interested in comparing these results to the STS/ACC TVT Registry findings. "What I would love to understand is what you are doing differently," she said, citing rates of more than 30% for residual moderate and severe MR at 30 days in registry data.
von Bardeleben chalked up the improvement here as well to time and increased experience, with further reductions in conversion to surgery and single-leaflet device attachment (SLDA).
Chikwe, who is serving as principal investigator for the PRIMARY trial comparing TEER versus surgery in patients with primary, degenerative MR, asked: "With those phenomenal outcomes, does that give you equipoise to randomize low-risk patients in a randomized trial of TEER versus surgery for primary MR?"
The answer here depends on MR etiology as well as patient characteristics and operator experience, von Bardeleben said. "If you look into surgical outcomes in primary disease, we know that the mortalities are extremely low," he said. "The closer we get beyond 75 years of age, the more transcatheter therapies will have an important role—and I am not defining the exact age because it's also frailty, comorbidities, et cetera."
During a press conference, Pinak Shah, MD (Brigham and Women's Hospital, Boston, MA), classified himself as a "reasonable-volume operator" but admitted: "I don't know that I get that kind of results." He would like to see the data stratified by center experience, adding that he isn't sure these results are reproducible in the United States, where MitraClip can be performed in centers with relatively little experience.
Cohen made sure to highlight the contributions of interventional imagers to the success of this technology, calling them a "crucial part of the team."
Rebecca Hahn, MD (NewYork-Presbyterian/Columbia University Irving Medical Center, New York, NY), speaking during the press conference, agreed. "Industry, as far as our imaging partners, have really accelerated the new tools that they've given us to be able to image these devices and to really help define the anatomy and then positioning of the valve," she said. "And so we are just better at it now, also."

Yael L. Maxwell is Senior Medical Journalist for TCTMD and Section Editor of TCTMD's Fellows Forum. She served as the inaugural…
Read Full Bio
Disclosures
The EXPAND G4 study was funded and sponsored by Abbott.
von Bardeleben reports performing unpaid trial activities for Abbott, Edwards Lifesciences, Medtronic, and the University of Göttingen; and serving as an advisory board or Speakers Bureau member for Abbott Cardiovascular, Edwards Lifesciences, Medtronic, and NeoChord.
Praz reports being compensated for travel expenses from Edwards Lifesciences, Abbott Vascular, Medira, Polares Medical, and Siemens Healthineers.
Samim reports receiving funding for an online course from Edwards Lifesciences.