Newest MitraClip Iteration Performs Well in the Real World: EXPAND G4
"This expands the spectrum of the TEER-suitable patients and the formerly untreatable patients," a researcher says.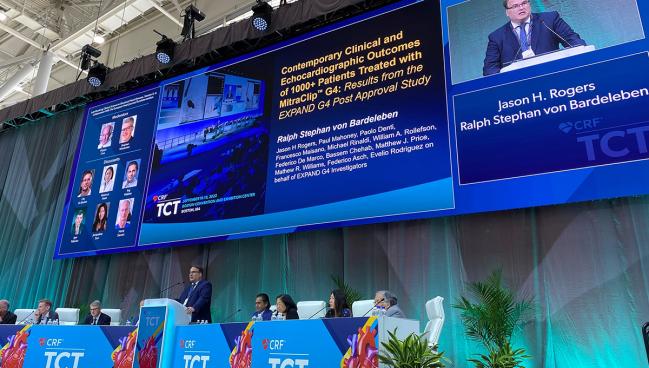 BOSTON, MA—The latest-generation MitraClip G4 device (Abbott) appears to be both safe and effective at reducing mitral regurgitation (MR) in a real-world setting, according to the EXPAND G4 postapproval study.
The MitraClip G4 is a fourth-generation clip, now available in two additional widths and with improved options for independent leaflet grasping and deployment.
Presenting the EXPAND G4 data at TCT 2022, Ralph Stephan von Bardeleben, MD (University Medical Center of Mainz, Germany), said the study "demonstrates a tailoring of the therapy to the individual mitral valve anatomy and consistent MR reduction with extremely low adverse events [and] high procedural efficacy with a lower number of clips at only 1.4. This expands the spectrum of the TEER-suitable patients and the formerly untreatable patients."
30-day Results
The postapproval study included 1,044 patients (mean age 77.5 years; 55.9% male) with primary or secondary MR who received the device at one of 60 sites in the US, Europe, Canada, or Japan and had complete echocardiographic follow-up at 30 days.
The implant rate was 98.0%, with acute procedural success calculated to be 96.2%. Median device time was 35 minutes, which was shorter than the 46 minutes observed in the original EXPAND trial. Additionally, the mean number of clips used in this population was 1.4—down from 1.5 in EXPAND—and a wide clip was used in 88% of patients treated.
This expands the spectrum of the TEER-suitable patients and the formerly untreatable patients. Ralph Stephan von Bardeleben
Use of wider clips did not increase postprocedural mitral valve gradients, as assessed by an echocardiographic core lab. Mean gradients for all clips increased from 2.5 mm Hg preprocedure (2.46 mm Hg and 2.49 mm Hg with each of the wider clips) to 3.8 mm Hg at 30 days (3.99 mm Hg and 3.51 mm Hg with the wider clips).
The researchers observed significant improvements in MR at 30 days. Only 5% and 26% of patients started with MR 1+ or 2+, respectively, at baseline, but these metrics jumped to 91% and 98% at 30 days (P < 0.001). Additionally, in the 58% and 42% of patients at baseline who had MR 3+ or 4+, respectively, 89% and 97% had achieved 1+ or 2+ designations by 30 days.
These results were even better than what was observed with EXPAND, according to von Bardeleben. "Similar to 1-year follow-up results from the EXPAND [trial], we anticipate the MR reduction will be durable with MitraClip G4," he said.
Improvements in functional class and quality of life also were noted at 30 days. Overall, 83% of patients were in NYHA functional class I/II by 30 days compared with just 31% at baseline (P < 0.0001). There was also an 18-point jump in Kansas City Cardiomyopathy Questionnaire score, from 52 to 70, at 30 days (P < 0.0001).
Adverse events were the lowest reported for a transcatheter mitral repair technique to date, said von Bardeleben, at 1.3% at 30 days, including two MIs, 10 nonelective surgeries for device-related complications, and 12 single-leaflet device attachments. There were no strokes.
'Incredibly Reassuring'
During a press conference, Robert Cubeddu, MD (NCH Heart Institute, Naples, FL), commented that the data are "incredibly reassuring." Additionally, he continued, "what we see here is an absolute trend toward improvement in outcomes with this device with time and technical success rates as high as 95%. . . . I think we're able to treat more disease, more effectively, with really optimal results."
Cubeddu added that the G4 device has become his clip of choice, in part because of the option for independent leaflet grasping. "It allows us to treat more complex disease perhaps with great outcomes."
Better technique is likely also playing a role in these improving results, noted Michael Young, MD (Dartmouth-Hitchcock Medical Center, Lebanon, NH), during the press conference. The "increased procedural efficiency without compromise in outcomes or efficacy of the device is a testament to a likely improved operator experience in comparable devices, and perhaps some of the added features."
The amount of residual MR after the procedure will be important, especially as randomized trials comparing percutaneous and surgical mitral valve repair, like the ongoing PRIMARY trial will do, emerge, he added. "Our surgical partners really want to see TEER with MitraClip or Pascal do well in terms of MR reduction, and so how much residual MR is left I think is up for debate."
I think we're able to treat more disease, more effectively, with really optimal results. Robert Cubeddu
Von Bardeleben commented that an additional analysis of the EXPAND G4 Registry presented at TCT 2022 showed that a range of complex subgroups benefitted from TEER.
"It's important to recognize that this is truly a real-world global experience with newer sites, and these patients were not hand- or cherry-picked for this registry," co-investigator Jason Rogers, MD (UC Davis Medical Center, Sacramento, CA), said. "These were patients that came into the hospital. Many patients were hospitalized at the time of enrollment, including the outpatients, so it's a mixture of acute patients and elective outpatients, and a very broad spectrum of disease and complexity. . . . But despite that, the results have been excellent."

Yael L. Maxwell is Senior Medical Journalist for TCTMD and Section Editor of TCTMD's Fellows Forum. She served as the inaugural…
Read Full Bio
Sources
Von Bardeleben RS. Contemporary clinical and echocardiographic outcomes of 1000+ patients treated with MitraClip G4: results from the EXPAND G4 post approval study. Presented at: TCT 2022. September 17, 2022. Boston, MA.
Disclosures
Von Bardeleben reports no relevant conflicts of interest.