More Support for TMVR After Failed Mitral Bioprostheses
Two presentations show good technical and procedural success with the procedure in high-risk patients.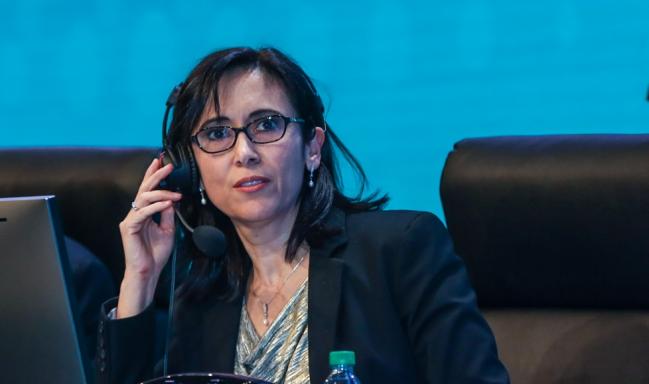 ANAHEIM, CA—In patients with failure of their bioprosthetic mitral valves who are at too high of a risk for another surgery, transcatheter mitral valve replacement (TMVR) is feasible using valves more commonly used in aortic valve disease, according to new data presented at the American Heart Association 2017 Scientific Sessions.
Earlier this year, the FDA granted an expanded indication to the Sapien 3 valve to include valve-in-valve (ViV) replacement for high-risk patients with symptomatic disease caused by failing mitral valves.
Following her TCT 2017 presentation of patients with failed valvuloplasty rings or those with severe mitral annular calcification (MAC) treated with Sapien XT or Sapien 3 in the MITRAL trial , Mayra Guerrero, MD (Evanston Hospital, IL), provided results for the third arm of this study: patients treated for failed bioprosthetic valves.
More than half had previously received a surgical valve from the Perimount family (Edwards Lifesciences), while the remainder received either an Edwards CE Standard, Mosaic (Medtronic), or Biocor/Epic (St. Jude Medical) device. Sixty percent failed because of a stenosis, 26.7% because of regurgitation, and 13.3% because of both issues.
All procedures were performed with transseptal access, and there were no in-hospital adverse deaths. One patient died at 29 days after the TMVR procedure due to asphyxia from taking too many pills at once. Technical success was 100% and procedural success was 89.3% at 30 days due to the one death and two patients with a mitral valve area < 1.5 cm2. One patient needed a pacemaker, one required a blood transfusion, and three had vascular complications either during the procedure or in the hospital.
At 30 days, one patient had a micro intracranial hemorrhage on brain CT and one patient needed a blood transfusion, but all had no or trace mitral regurgitation on echo. Mean ejection fraction was 51.1%, mean mitral valve gradient was 5.8 mm Hg, and mitral valve area was 1.86 cm2. NYHA class improved so that more than 80% were considered class I or II by 30 days.
Transseptal mitral ViV replacement "may become the preferred option for high-surgical-risk patients," Guerrero said. "Compared with data from registries, outcomes of [mitral ViV] procedures have improved with better patient selection and techniques."
Real-World Experience
In a second presentation, Guerrero also unveiled outcomes of the 783 patients from the STS/ACC/TVT registry who received TMVR between March 2013 and March 2017 at 157 centers—586 received a ViV procedure, 107 had a valve-in-ring (ViR), and 90 had severe MAC.
Compared with patients undergoing ViR procedures, those who had ViV procedures were typically older, more likely to be female, and less likely to have prior CABG. The Edwards Physio was the most commonly used ring and the Edwards Perimount or Magna were the most commonly used valves for the subset of patients treated previously with a surgical bioprosthesis. Transapical access was used more in the ViR cohort than the ViV patients (49.5% vs 40.1%) and transseptal access was used more for ViV (49.1% vs 38.3%; P < 0.05 for both).
In-hospital mortality was higher for ViR than ViV procedures (9.3% vs 6.8%; P < 0.05), while there was no significant difference in 30-day death (13% vs 8.9%). Technical success was higher for ViV than ViR patients (91.3% vs 82.2%), and this was driven by a higher need for a second valve and additional mitral valve interventions. At 30 days, device success (82.7% vs 67.6%) and procedure success (76.4% vs 57.5%) were also higher for ViV than ViR, with the latter driven by a higher rate of bleeding, moderate-to-severe mitral regurgitation, and moderate-to-severe paravalvular leak in the ViR patients.
About three-quarters of each arm were discharged home and about 70% of each group received anticoagulation upon discharge.
Echocardiography showed a higher ejection fraction for ViV vs ViR patients at 30 days (55% vs 45%; P < 0.001) and a higher rate of no or trace mitral regurgitation (86.7% vs 66.7%; P = 0.003). About 80% of each group were considered NYHA class I or II by 30 days.
Mitral ViV intervention "in high-risk patients is associated with relatively low in-hospital and 30-day mortality," Guerrero said, adding that the "procedural complication rate was low despite early experience."
She told TCTMD that she anticipates "the frequency of these procedures will increase," adding that operators should consider transseptal access for all patients. "This means that for some operators and centers, there may be a need to gain more experience in the transseptal approach."
Looking forward, a clinical trial evaluating ViV procedures for intermediate-risk patients is "needed" and already ongoing, she added, citing the currently recruiting PARTNER 3 Mitral Valve in Valve study.

Yael L. Maxwell is Senior Medical Journalist for TCTMD and Section Editor of TCTMD's Fellows Forum. She served as the inaugural…
Read Full Bio
Sources
Guerrero M. Clinical outcomes of transcatheter mitral valve replacement for degenerated mitral bioprostheses (mitral valve-in-valve) and surgical rings (mitral valve-in-ring) in the United States: data from the STS/ACC/TVT registry. Presented at: American Heart Association 2017 Scientific Sessions. November 13, 2017. Anaheim, CA.

Guerrero M. 30-day outcomes of transseptal transcatheter MV replacement for failed surgical bioprostheses (mitral valve-in-valve): the MITRAL Trial (Mitral Implantation of Transcatheter Valves). Presented at: American Heart Association 2017 Scientific Sessions. November 13, 2017. Anaheim, CA.
Disclosures
Guerrero reports receiving research grant support from Edwards Lifesciences, serving as a consultant for Tendyne Holdings/Abbott, and serving on the speaker's bureau for Abiomed.