Motorcycle Rallies Bring More Organ Donors, Recipients
These large-scale events of risk-takers are good opportunities to increase education of organ donation, experts say.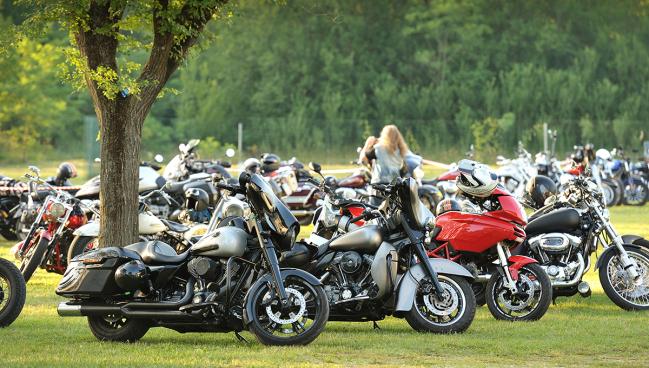 Both the availability of organ donors and the number of transplanted organs increase when motorcycle rallies come to town, an analysis of US data shows. Researchers say local transplant centers should make preparations to deal with the potential influx.
These patterns, they add, also are reminder about the need for motor vehicle safety.
Admittedly, organ donation in this context is a topic "you need to tread a little bit lightly around," lead researcher David C. Cron, MD (Massachusetts General Hospital, Boston), told TCTMD. But "as long as there is an increased mortality associated with these events, it is important to recognize the downstream impact on donation and transplantation. The transplant community and the patients are certainly grateful for that gift of life that these patients and the family members gave."
Access to organs is all the more important given that with heart transplantation, there are not enough to go around, said Shaline Rao, MD (NYU Langone Medical Center, New York), who was not involved in the current study. "Xenotransplant is not mature enough, and LVAD technology comes with limitations and not everyone is an appropriate candidate," Rao noted to TCTMD.
What this study highlights, she added, "is that when you have a group of people who are accepting a higher level of risk in their day-to-day life, [if] they are receptive to learning about organ donation and have been more likely to participate in opting in, that has huge implications for increasing donor supply and even small increases can be incredibly meaningful."
Using events like motorcycle rallies or other large gatherings of risk-taking individuals as opportunities to increase the organ donor pool is both cost-effective and reasonable, Rao added.
Motorcycle Rally Stats
For the study, published online this week in JAMA Internal Medicine, Cron and colleagues looked at regional organ-donation rates during seven large US motorcycle rallies, as well as the 4 weeks before and after, between 2005 and 2021. In total, there were 10,798 organ donors (70.9% male; mean age 32.5 years) and 35,329 recipients (64.0% male; mean age 49.3 years).
Notably, donors and recipients during rally dates—406 and 1,400, respectively—and in the control groups before and after—2,332 and 7,714, respectively—were similar in demographic and clinical characteristics, measures of organ quality, measures of recipient disease severity, and recipient waiting time. Of the 1,400 people who received a new organ during the motorcycle rally days, 205 received hearts. These patients had been on the waiting list for a mean of 207 days, and 47.3% were receiving mechanical circulatory support.
During the rally dates, there were more organ donors (RR 1.21; 95% CI 1.09-1.35) and more transplant recipients per day (IRR 1.26; 95% CI 1.12-1.42) compared with the 4 weeks before and after the rallies in the regions where they were held.
Interestingly, the mean numbers of organs procured and transplanted from individual donors were similar during rally and nonrally dates (3.56 vs 3.42; P = 0.05).
"We expected to see that if there is an increase in the availability or incidence of organ donation around these events that you might be able to then transplant patients further down on the list," Cron said. While they did not observe any differences in the recipient characteristics or waiting time during the motorcycle rally dates, he attributed this to their small sample size, "because we do see a pretty stark relative effect with the motorcycle rallies."
Still, Cron acknowledged, the absolute effect is "relatively small" in comparison to the vast number of people who need organs: amounting to about one additional donor or three recipients per rally. "For that reason, just given the absolute scale of things, we are not going to detect a significant difference in the characteristics of recipients who are actually benefiting from these transplants," he explained.
Education should be the biggest takeaway, Cron urged.
"Hopefully, [this] will raise public awareness of first and foremost the danger of motorcycles, the importance of wearing a helmets if you do ride a motorcycle, and the importance of being mindful of the risks associated with larges events like this," he said. "But I think just by getting the word out there about these events, about organ donation, you get more people talking about it and it is hopefully a chance to increase the public's knowledge and perception of organ donation."
Cron added that critical care teams and transplant systems, too, should be aware of what downstream impact these events can have.
A Need for More to Opt In
In an accompanying editorial, Grace Yuan Zhang, MD (University of California, San Francisco), and Mitchell H. Katz, MD (NYC Health + Hospitals, New York), point out that because the US has an opt-in rather than an opt-out system for organ donation, "we have a responsibility to continue to educate and encourage organ donation enrollment."
They urge professional and social organizations associated with high-risk sports, including base-jumping, outdoor climbing, glacier hiking, skydiving, or canyoning, to "encourage participants to specify that they wish to donate their organs when they die in the future."
Rao agreed. "We all do our risk calculations differently, and what we derive and enjoy in our lives is very individual," she said. "But for those individual decisions, knowing that you can have this opt-in for organ donation can be meaningful as you embrace risk and activities that bring you joy. So we can even expand this model further into other groups and maybe increase the donor supply."
As for how transplant centers located near motorcycle rallies might prepare better in the future, Rao said that planning ahead is valuable, especially when scheduling staff. "But, in general, we are prepared for that kind of scenario at all times. We would not want any organ to go to waste and, if it is offered, [want] to be able to use it well for someone to really regain that quality of life that we all hope for," she added.

Yael L. Maxwell is Senior Medical Journalist for TCTMD and Section Editor of TCTMD's Fellows Forum. She served as the inaugural…
Read Full Bio
Disclosures
Cron reports receiving grant support from the National Institute of Diabetes and Digestive and Kidney Diseases.
Rao, Zhang, and Katz report no relevant conflicts of interest.