National Cardiogenic Shock Initiative Shows Potential to Increase Survival
Though randomized trials are needed to confirm the protocols, the study presenter says this algorithm could change outcomes.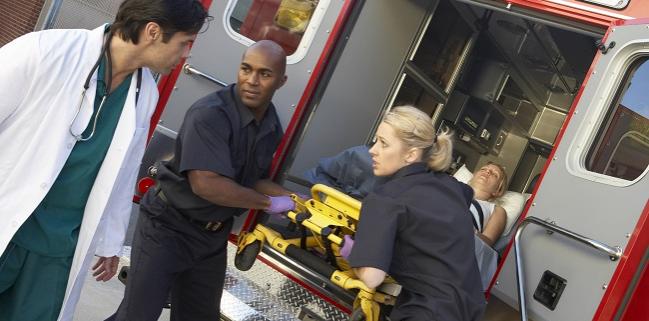 LAS VEGAS, NV—Establishing and enacting regional protocols for the treatment of cardiogenic shock in patients with acute MI, much like those that have already been in place for STEMI care, can lead to earlier diagnosis and improved patient survival over 1 year, according to a new analysis.
"This is a first step in improving outcomes in an area where there hasn't been an improvement in over 20 years," said Babar Basir, DO (Henry Ford Hospital, Detroit, MI), who presented the findings of the National Cardiogenic Shock Initiative (NCSI) here in a featured clinical research session at SCAI 2019 on Tuesday. "Establishing shock protocols, systems of care, and improving the diagnosis and the treatment for these patients can be done rapidly. It's been consistently done across the Metro Detroit area and now nationally across 35 hospitals. It's very reproducible. I think this can potentially be the start of changing outcomes for these patients in the coming decade as we get further trials, including randomized controlled trials, which are ongoing in Europe."
For the study, Basir and colleagues built off of their experience developing cardiogenic shock care protocols at their own institution and worked in tandem with 67 other PCI-enabled centers in the United States—both academic and community hospitals—to screen 289 patients presenting with cardiogenic shock between July 2016 and February 2019. For the analysis, 171 patients from 35 institutions were deemed eligible—eligibility criteria mimicked those of prior trials in cardiogenic shock—and of those, 167 survived the index procedure and 123 survived to discharge.
"The basis of the algorithm is pretty straightforward," Basir explained. "As soon as cardiogenic shock is identified, the cath lab should be activated." For patients in whom there is "no doubt of the diagnosis," femoral access followed by hemodynamic support is preferred. However, "in patients where the diagnosis is still not finalized, they may need to have adjunctive diagnostic tests done such as . . . right heart catheterization imaging," he added.
Comparing results of this study with those from SHOCK, IABP SHOCK, and CULPRIT-SHOCK, Basir highlighted that this cohort of patients was younger, had lower blood pressures, received fewer inotropes—"because we've emphasized [placing] hemodynamic support before escalating vasopressors and inotropes"—and had higher lactate levels. "This is clearly a cohort of patients that are in clear-cut cardiogenic shock," he said. "According to the new guidelines that were addressed at SCAI on Sunday, these were patients who would be considered class C, D, and E of cardiogenic shock. And despite that, they had a survival of 72%."
Basir said he attributes most of the success of the algorithm to "very fast" hemodynamic improvements. "We were able to decrease your diastolic [pulmonary artery] pressure, which can be a surrogate for your [LV end-diastolic volume], within 24 hours from 25 to 19, increase you cardiac power output from 0.67 to 0.88, improve your blood pressure dramatically, and this is associated with one-third of patients being decreased on vasopressors and inotropes, one-third of patients remaining on the same doses, and one-third of patients requiring slight escalation of their vasopressors and inotropes."
Importantly, the researchers were able to predict patient outcomes within 12 to 24 hours of hospital presentation based on cardiac output and inotropes. For those with cardiac outputs greater than 0.6 with one or zero inotropes, "there's a lot of reassurance immediately after taking care of the sickest patients that we do in the cath lab that these patients are going to do okay." However, those with cardiac outputs at or below 0.6, especially those with two or more inotropes, "tend to do extremely poorly, . . . so we need to have further strategies of improving outcomes in those patients which may include escalation of hemodynamic support, which still needs to be further tested," Basir said.
He was careful to note that the etiology of the cardiogenic shock does make a difference in how the patient should be treated. "This is particularly for AMI cardiogenic shock and I do not think that any of our data should be extrapolated to nonischemic cardiogenic shock, particularly acute on chronic heart failure patients who present in cardiogenic shock."
Standardization and Politics
"We've done tremendous benefit to our patients with STEMI systems of care and have reduced mortality to approximately 2%," Basir commented. "However, in those patients who have a STEMI complicated by cardiogenic shock, their mortality unfortunately remains at 50%. It's been that way for over two decades."
Chandan Devireddy, MD (Emory University, Atlanta, GA), who moderated a press conference where the data were presented, said his institution is newly getting involved with the NCSI. "I think as has been highlighted in several presentations throughout this meeting, the outcomes and prognosis for cardiogenic shock have historically been awful so that the numbers that Dr. Basir has presented are very encouraging and provocative," he said. "They do need to be borne out in larger studies; whether that's further registries or randomized controlled trials is up for further discussion. In light of the fact that we really have had few solutions for these type of patients, I think this definitely will accelerate the discussion."
What is most novel about the care algorithm is that it brings standardization to the care process, notably in promoting hemodynamic support, which is "greatly underutilized in the United States," right heart catheterization, and cath lab activation, Basir said, adding that they hope to eventually enroll at least 10% of centers in the NCSI.
But the reasons why centers would pass on this program are plenty, he told TCTMD. "[In] the last 3 years, I've gone hospital to hospital and gotten laughed out of some rooms and been hugged by others," Basir said. "There's a lot of politics that are involved in these decisions. . . . Which hemodynamic support you use and why from a physiologic standpoint has a lot to do with it. Who takes care of these patients: whether there's a general cardiology service, an interventionalist, general medicine intensivist, for example, surgeons. There's a lot of hands in play of who takes care of these patients and how much emphasis healthcare administration wants to put on this disease process." The program requires 80% buy-in from all involved physicians, he explained.
Going forward, Basir expects to report follow-up data at 1 month and 1 year "and we will be tracking their discharge to home versus an extended care facility." The only data currently available is from the 50-patient pilot study conducted at his institution in Detroit in which over 90% of patients were home at 1 month and 1-year survival for that cohort was more than 75%.

Yael L. Maxwell is Senior Medical Journalist for TCTMD and Section Editor of TCTMD's Fellows Forum. She served as the inaugural…
Read Full Bio
Sources
Basir B. Improved outcomes associated with the use of shock protocols: updates from the National Cardiogenic Shock Initiative. Presented at: SCAI 2019. Las Vegas, NV. May 21, 2019.
Disclosures
NCSI is in part funded by unrestricted grants from Abiomed and Chiesi.
Basir reports serving as a consultant for Abiomed, Cardiovascular Systems, Chiesi, LivaNova, and Zoll.