Portico Noninferior to Commercial TAVR Valves in IDE Study
For clinicians, key questions are how new devices can compete against existing valves and what niche they can fill.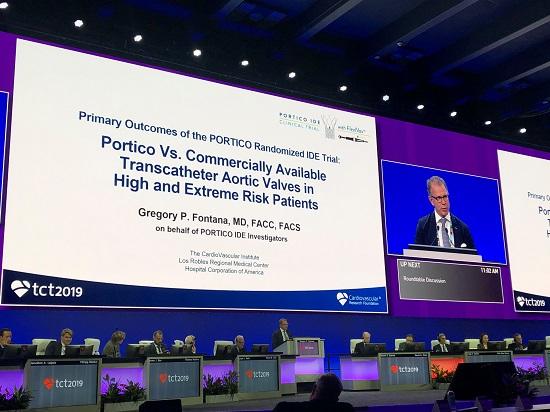 SAN FRANCISCO, CA—Portico, a novel self-expanding TAVR device, is noninferior to commercially available valves in extreme- or high-risk patients with severe aortic stenosis (AS), according to 1-year results of the PORTICO investigational device exemption (IDE) trial released today at TCT 2019.
This news represents a happy twist in the tale of a device that saw its usage paused for nearly a year due to problems of reduced valve leaflet mobility following implantation. That delay resulted in an extended enrollment period during which no fewer than six iterations of the already commercialized valves appeared on the US market. Enrollment in PORTICO wrapped up in October 2017.
Gregory Fontana, MD (Los Robles Regional Medical Center, CA), who presented the results during  a late-breaking clinical trial session, insisted that "the design features of Portico, which were novel in 2014, continue to remain relevant in TAVR practice today."
The investigational device "was designed to address the shortcomings of [the] first-generation valves, with its intra-annular design and early valve functionality that eliminated the need for pacing," he explained, citing Portico's "fully recapturable and repositionable delivery system, large-cell geometry to preserve coronary access, and a stent frame offering minimal protrusion into the left ventricular outflow tract."
For Fontana, these latest "findings suggest the Portico valve may provide an additional transcatheter heart valve type to treat high- and extreme-risk patients with severe AS and help expand patient access to this potentially lifesaving procedure."
Others, including session co-moderator Robert Bonow, MD (Northwestern University Feinberg School of Medicine, Chicago, IL), questioned where a new device might fit in a field that's now "relatively mature."
PORTICO IDE
The prospective, open-label study enrolled 750 patients (mean age 83.3 years; 5.7% women) at 52 sites in the US and Australia between May 2014 and June 2019. Their mean STS score was 6.5%, and 93% had at least one frailty factor at baseline.
Patients at high or extreme risk were randomized to Portico (Abbott) or to valves that were commercially available at the time, including various iterations of CoreValve (Medtronic) and Sapien (Edwards Lifesciences). Procedural success was similar between groups at 96.5% for Portico and 98.3% for the other TAVR devices.
Portico met noninferiority criteria for the primary safety endpoint (all-cause mortality, disabling stroke, life-threatening bleeding requiring blood transfusion, acute kidney injury requiring dialysis, or major vascular complications at 30 days), which occurred at a rate of 13.8% with the newer device versus 9.6% with the commercial valves (P for noninferiority = 0.03). For the primary effectiveness endpoint (all-cause mortality or disabling stroke at 1 year), Portico also performed well compared with the other TAVR devices; rates were 14.9% and 13.4%, respectively (P for noninferiority = 0.006).
The researchers also compared outcomes between the first and second halves of the study, to assess the learning curve. For safety, the mean difference between Portico and commercial valves narrowed from 8.3% to 0.1%. For efficacy, the mean difference also shrank.
"The Portico valve was associated with larger valve areas and lower mean gradients compared with commercial valves at discharge that were maintained at 1 year," Fontana said, adding that both groups had similar symptom reduction.
However, the novel device did not meet noninferiority when it came to moderate/severe paravalvular leak, seen in 7.8% of Portico patients and in 1.5% of commercial valve patients at 1 year. Fontana said a next-generation valve designed to reduce paravalvular leak is now being evaluated in clinical trials.
As part of PORTICO, an observational cohort of 100 patients were treated using a second-generation delivery system, the FlexNav, which added stability and overcame a few limitations of the previous system. In this arm, there were no deaths or strokes. Major vascular complications occurred at a rate of 7.0%, less than the 9.6% seen with Portico when using the earlier system; permanent pacemaker implantation dropped from 27.7% to 14.6% with FlexNav. For commercial valves in the randomized portion of PORTICO, the major vascular complication rate was 6.3%.
The Clinical Niche
"Overall, I think the study shows that this valve pretty much falls in line with what we have available to us right now. I don't see any major glaring concerns or differences in terms of how we practice today," commented Pinak Shah, MD (Brigham and Women's Hospital, Boston, MA), in a press conference.
"Presumably," he said, "it'll be another valve that we'll have available to us in the United States. I think the challenge for all of us is going to be to figure out where it fits in our armamentarium. Is it going to be worth [operators needing] to learn a whole other device? At this point it's hard to say there's a major difference compared to the self-expanding devices we have available to us now."
Asked by TCTMD what Portico brings to the playing field, Fontana said that, in general, the deliverability of self-expandable valves feels "a little bit more controlled."
"With this new delivery system, basically it's a very, very calm, slow delivery," he continued. "The operator can really land [almost] exactly where they want. If they're not happy, they can make some adjustments. I've yet to have a system that I've had in my hands that was as stable. . . . Number two, the option of having these excellent hemodynamics and large cells to engage the coronaries is a unique combination, at least right now for us in the United States. So there are a number of features about this valve that cardiologists, and surgeons as well, might find very attractive."
In discussions following Fontana's Main Arena presentation, panelist Michael Mack, MD (Baylor Scott and White Heart Hospital, Plano, TX), said that "about 80% of [TAVR] patients can get treated with any valve and get generally good results. Then there's about 20% of the population [for whom] it would be preferable for either a balloon-expandable valve or a self-expanding valve."
Portico, he continued, adds another option in the self-expanding category, "with some particular advantages." A high bar has already been set in TAVR, making it hard for newer arrivals to compete, Mack noted. Surgical valves have always been approved based on "objective performance criteria" rather than on RCT data. The question has been when TAVR is ready to drop the need for trials. Based on data that came out at TCT today from PORTICO and SCOPE I, he said, "we're not there yet."
Sources
Fontana GP. A randomized trial of Portico vs. commercially available transcatheter aortic valves in patients with severe aortic stenosis. Presented at: TCT 2019. September 27, 2019. San Francisco, CA.
Disclosures
Fontana reports serving as a national principal investigator, consultant, structural heart scientific advisory board, and proctor for Abbott; principal investigator, consultant and proctor for Medtronic; as well as a consultant and proctor for LivaNova.