PROMISE II: Flow-Diverting Procedure May Save Limbs in CLTI
Rigorous patient selection is needed, as are longer-term data on functional outcomes, says Sahil Parikh.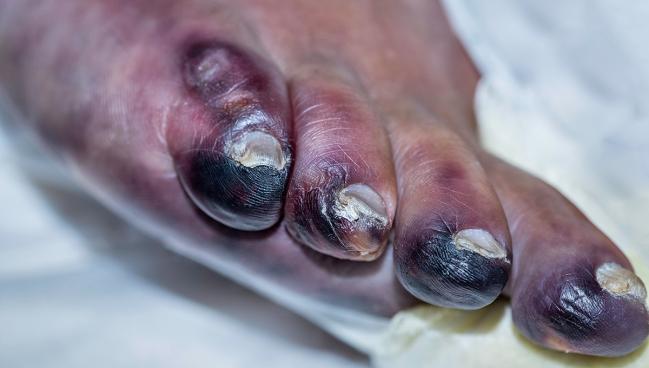 (UPDATED) Diversion of blood flow through arterialization of the foot's deep veins may prevent foot amputation in patients with chronic limb-threatening ischemia (CLTI) who are not candidates for endovascular or surgical revascularization, data from the PROMISE II study suggest.
In the trial of just over 100 patients, 66.1% were alive and amputation-free at 6 months after undergoing the transcatheter procedure.
Deep-vein arterialization itself is not a new concept, having been evaluated surgically more than 100 years ago, but it was associated with multiple complications in that setting, the PROMISE II investigators note in their paper published today in the New England Journal of Medicine.
"One of the problems was that they had no way of preventing 'steal phenomenon,' so the concept died," said Mehdi Shishehbor, DO, MPH, PhD (University Hospitals of Cleveland, OH), the study's lead author.
Steal phenomenon in this case refers to the blood that is trying to reach the foot being "stolen" and returned to the lungs before it can get into the deeper areas of the foot. For the deep-vein arterialization procedure used in PROMISE II, an arteriovenous fistula is created proximal to atherosclerotic tibial arteries with the use of a self-expanding covered stent (LimFlow). The blood flow is diverted, bypassing the area of atherosclerosis in the tibial artery and establishing arterial blood flow into the venous system of the foot, limiting steal phenomenon.
Shishehbor said in some centers, so-called no-option patients like those in the study can account for one-quarter or more of the CLTI population being seen. They typically have no arterial targets for distal runoff or suitable conduits for surgical bypass. The inability to restore blood flow leaves them with pain and open wounds that often result in above-ankle amputation as the last resort. As TCTMD has previously reported, amputation often means death within 2 to 5 years for the most-vulnerable patients, a disproportionate number of whom are Black and economically disadvantaged.
"We feel that deep-vein arterialization is a paradigm shift," Shishehbor added. "We hope that we can save many of those limbs using this technique."
It is very exciting . . . and is an opportunity that hasn't existed before in no-option or previously no-option patients. Sahil Parikh
Commenting on the results for TCTMD, Sahil Parikh, MD (NewYork-Presbyterian/Columbia University Irving Medical Center, New York, NY), said one limitation to keep in mind is that PROMISE II is a single-arm study.
"But, the unique thing is that the patients that were enrolled were otherwise headed for amputation. So, there really isn't any way to randomize patients like that," he said. "In terms of the technique, it is very exciting . . . and is an opportunity that hasn't existed before in no-option or previously no-option patients."
Another caveat, he added, is that selection criteria for this procedure are necessarily strict due to the fact that no-option patients are the sickest sector of the CLTI population, with very high rates of comorbidities and hospitalizations. The trial allowed end-stage renal disease patients, who rarely are included in clinical trials.
"For this procedure you would be looking for people who are typically younger, have a better general health status, and who are going to be able to tolerate what is incredible swelling in the foot that occurs after venous arterial revascularization. They're a very select group of patients," Parikh noted.
High Procedural Success
PROMISE II builds on the results of the pilot PROMISE I study, which established the feasibility of transcatheter arterialization in a small group of patients.
For PROMISE II, more than 200 no-option CLTI patients were recruited from 20 centers in the United States. After evaluation, 105 (median age 70 years; 31% female; 43% Black, Hispanic, or Latino) were deemed suitable for the procedure.
More than three-quarters of the cohort had diabetes, 91% had hypertension, 40% had chronic kidney disease (CKD), and 74% had undergone prior revascularization of the target limb.
All patients enrolled had a nonhealing foot ulcer or gangrene and were Rutherford class 5 (64.8%) or 6 (35.2%). The reasons for being classified as "no-option" were lack of runoff target for traditional intervention in 97% and lack of suitable conduit for bypass in 3%. Arteriovenous crossing locations were posterior tibial artery in 75.2%, peroneal artery in 19%, and tibioperoneal trunk in 5.7%.
Procedural success was 99%, with a median procedure time of 199 minutes, no procedure-related adverse events, and fewer than 2% of patients experiencing contrast-induced nephropathy at 72 hours.
In Bayesian analysis, the posterior probability that 6-month amputation-free survival exceeded a 54% performance goal was 0.993, exceeding the prespecified threshold.
The overall rate of limb salvage was 76%, with 87% of patients alive at 6 months. In prespecified subgroup analyses, those without versus with CKD had higher rates of amputation-free survival and mortality was more than four times greater in those with versus without dialysis-dependent CKD.
Repeat interventions were required in 36.5% of patients to address native arterial disease and blood flow optimization within the arterialization circuit over the follow-up period.
In more than half of patients, target wounds were in the process of healing at 6 months and were completely healed in 25%. Despite the prevention of above-ankle amputations, 30 patients required amputations of toes and 41 had transmetatarsal amputations or revisions.
Future Considerations
To TCTMD, Parikh said that with just 6 months of data so far, the long-term outcome of these patients is unclear.
"We don't know what the functionality of the feet will be and that will be important," he said. "The other ancillary things are: how do you predict who will recover well and who won't? Is frailty going to be a factor? Do they have anything in terms of their health or otherwise that may lead to an inability to properly recover and be off their feet and get the appropriate wound care?"
Shishehbor agreed that wound care is crucial, with patients typically being seen once a week.
"Even if they didn't have this procedure, they would have needed an active engagement with wound care, wound debridement, infection control, and edema control. That is the type of patient who is undergoing this procedure and that is routine in advanced CLTI," he said. "Once they get this procedure, you obviously want to also control the pain, which is increased in the short term because the system is trying to get back to equilibrium. We did have some patients who we managed with pain medication while the [deep-vein arterialization] was maturing."
Operators participating in the study were trained in using the LimFlow system, something that Parikh said will be needed for those who want to be able to do these procedures. While within the skill sets of most, he said these kinds of interventions require added revascularization skills that are "part experiential and part technical."
Another aspect of technical skill that was born out trial enrollment, said Shishehbor, is that no-option can mean different things to different people. He said some operators tried to enroll patients in PROMISE II who they felt they could not help, but who the study committee felt did have either endovascular or surgical options, which accounted in part for why so many patients who were referred were not included.
As for long-term results, while they are still accumulating, Shishehbor related anecdotally that a patient of his who was actually excluded from PROMISE I because of vasculitis, but who was ultimately treated on a compassionate use basis, is doing well and still amputation free more than 5 years later.
Hopefully we're going to have more providers doing this procedure so we can continue . . . adding more options for our patients who've suffered historically without anything being offered to them. Zola N'Dandu
"There's definitely a learning curve and it's not just the procedure itself," said Zola N'Dandu, MD (Ochsner Health System, New Orleans, LA), an operator who had five of his patients accepted into PROMISE II. "But, it is definitely reproducible and it's teachable. In our own experience, we have seen about a 60% to 70% amputation-free survival rate. We've had some incredible success stories, but we've also had some failures."
N'Dandu told TCTMD that the failures highlight the fact that collaboration with others who do this procedure is important, as is perpetually learning about selection and ongoing wound-care needs. While toe amputations like those seen in the trial are not unusual, as operators gain experience with the technique they will also gain an understanding of how to save as many toes as possible, he said.
"But, the goal is always to prevent a major amputation. Losing toes is still a win-win situation versus a major amputation," he added. "Hopefully we're going to have more providers doing this procedure so we can continue learning to get better at providing [this care] and adding more options for our patients who've suffered historically without anything being offered to them."
The US Food and Drug Administration granted LimFlow an investigational device exemption to conduct the trial. Shishehbor said the company hopes to receive approval in the coming months.

Sources
Shishehbor MH, Powell RJ, MF Montero‑Baker, et al. Transcatheter arterialization of deep veins in chronic limb-threatening ischemia. N Engl J Med. 2023;388:1171-1180.
Disclosures
The study was funded by LimFlow.
Shishehbor reports consultant and/or advisory board fees from Medtronic, Abbott Vascular, Boston Scientific, Philips, and Terumo.
Parikh reports serving on the advisory boards of Abbott, Janssen, Medtronic, Boston Scientific, Philips, and Cordis; and receiving consulting fees/honoraria from Terumo, Abiomed, Penumbra, Canon, and Inari.