RECAP: In the Cath Lab, a Lead-free Pad Placed on the Patient Cuts Operator Radiation Exposure
This is an important, rigorously conducted study in an area that is sorely in need of good data, Sunil Rao says.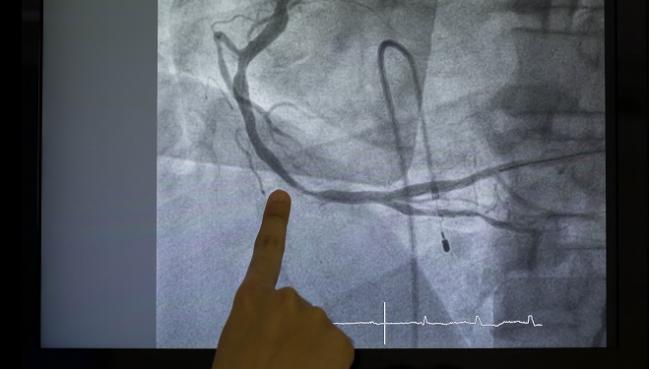 DENVER, CO—Placing a lead-free RADPAD on a patient during PCI or diagnostic catheterization significantly reduces operator radiation exposure, the sham-controlled RECAP trial shows.
Exposure was 20% lower for procedures performed using the drape made of bismuth-antimony than for those performed without a pad and 44% lower compared with procedures completed using a sham pad made of silicone, Wieneke Vlastra, MD (Academic Medical Center, University of Amsterdam, the Netherlands), reported yesterday at TCT 2017.
The effect was consistent across various types of procedures, although it was more pronounced for those typically associated with higher radiation exposure to the patient, she said.
The findings were published simultaneously online in Circulation: Cardiovascular Interventions.
Sunil Rao, MD (Duke University Medical Center, Durham, NC), a panelist at Vlastra's presentation, called the trial "a very, very rigorously done study in an area that is sorely in need of good data."
It's particularly important, he said, because interventional cardiologists are becoming more aware of the occupational hazards of radiation exposure.
"Concepts like radiation protection and robotic-assisted PCI . . . would have been of significantly less interest years ago, but I think as the current generation of interventional cardiologists are getting older and realizing what those occupational hazards are, these things are becoming really, really important," Rao told TCTMD. Evidence of radiation-associated injuries in interventional cardiologists "is, quite frankly, pretty scary," he added.
His said operators have to pay attention to radiation exposure and employ the ALARA (as low as reasonably achievable) principle. "That means lowering your frame rates, using fluoro save, using your shielding, and wearing your dosimeter," Rao said. "And if there are strategies to reduce radiation above and beyond that, then it's important to implement those, too."
Operator Behavior Comes Into Play
It is well known that interventional cardiologists are at risk for radiation-induced diseases. The most common is cataract, with operators carrying a threefold higher rate of posterior lens opacities, Vlastra said. Less common, but more serious, radiation-related problems are left-sided brain tumors.
In order to enhance protection against radiation exposure, interventional cardiologists should aim to minimize scatter radiation, Vlastra said. The RADPAD, a disposable pad that is placed on the patient between the image intensifier and the operator, is one means of doing just that, although there is limited evidence to support its effectiveness, Vlastra said.
The RECAP trial was designed to fill that gap. In the trial, investigators randomized 766 consecutive diagnostic angiograms and PCIs performed during office hours to one of three groups: with a RADPAD, with a sham pad, or with no pad. Conventional protection measures were used in all cases.
The reality is shielding works. It's just you have to use it appropriately, and unfortunately a lot of operators don't do that. Sunil Rao
Overall, 27% of patients presented with ACS. Radial access was used in 79%, and stenting in 45%. Fluoroscopy and total procedure time, as well as radiation exposure to the patients, were similar across groups.
To correct for variations in radiation use across procedures, the primary endpoint was relative operator exposure, which was the ratio of operator exposure to patient exposure. That ratio was lowest in procedures performed with a RADPAD (3.2) and significantly higher in those performed with no pad (4.0) and those performed with a sham pad (5.7; P ≤ 0.01 for both comparisons).
Of note, the difference in relative operator exposure between procedures performed with no pad and those performed with the sham pad was significant (P = 0.009). The reason, Vlastra speculated, might be that operators were less concerned about radiation exposure when the sham pad was present, inducing them to stand closer to the patient than they normally would.
"The reality is shielding works," Rao commented. "It's just you have to use it appropriately, and unfortunately a lot of operators don't do that."
He underscored the importance of maintaining awareness of radiation exposure among interventional cardiologists by pointing to a study that involved conducting eye exams among attendees of the Society for Cardiovascular Angiography and Interventions' annual meeting in 2016. Nearly half (47%) of screened operators had radiation-related damage detected, higher than what would be expected based on age.
"This is not something that is a sky-is-falling kind of thing," Rao said. "This is a real issue that we have to pay attention to."

Todd Neale is the Associate News Editor for TCTMD and a Senior Medical Journalist. He got his start in journalism at …
Read Full Bio
Disclosures
The Heart Center of the Academic Medical Center received unrestricted grants from Philips and Worldwide Innovations & Technologies. The protective and sham shields were supplied by Worldwide Innovations & Technologies, and the dosimeters by Philips.
Vlastra and Rao report no relevant conflicts of interest.