Skyrocketing Popularity Puts GLP-1 Agonists for Weight Loss on Cardiology's Radar
Ongoing trials like SELECT that are aimed at CV outcomes "will certainly change the cardiovascular disease landscape," says Sean Heffron.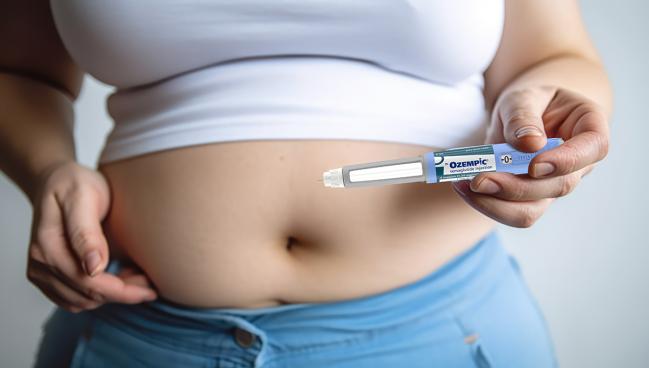 Just weeks ago, Michael Blaha, MD (Johns Hopkins Medicine, Baltimore, MD), saw a patient in his cardiometabolic clinic who'd survived a harrowing MI experience years earlier then gone on to develop diabetes, sleep apnea, atrial fibrillation requiring ablation, and need for a pacemaker. She also was steadily gaining weight, reaching a body mass index (BMI) of close to 40, and her diabetes was showing signs of being poorly controlled on medication.
Blaha started her on a 1 mg per week injection of semaglutide (Ozempic; Novo Nordisk), and over the next 6 months, the changes were drastic.
"She lost 26 pounds, which for her was [about] 12% of her body weight. Her triglycerides had come down from 700 to 300, her LDL dropped 15 to 20 points, and her blood pressure looked good for the first time in a long time. She's walking on a treadmill now, where before she couldn't because of knee pain. So, I think I've done a good thing for her heart failure risk, I think I've done a good thing for her atrial fibrillation recurrence risk, and I think I did a good thing for ASCVD [atherosclerotic cardiovascular disease] recurrence risk," Blaha said.
The patient's reaction? "She smiled at me and said, 'I just feel great,' and that she loves me for helping her feel better," he said. "That's a fairly typical story of patients [in whom] I'm using these medications."
Injectable medications for weight loss—in particular the novel glucagon-like peptide-1 (GLP-1) receptor agonists like semaglutide—are being plugged on TikTok and People, and they even got a nod at the Oscars. But while the drugs can help people lose significant amounts of weight, some say they also have begun to change how cardiologists are thinking about optimizing the CV health of their patients.
"At the end of the day, we know that patients with overweight, obesity, or excess adiposity all have an increased cardiovascular risk," said Maria D. Hurtado Andrade, MD, PhD (Mayo Clinic, Jacksonville, FL). "Right now we're really focusing on treating those patients, not only for the purpose of losing weight, but to improve their cardiometabolic risk."
Offering treatment for overweight and obese patients is recommended by the US Preventive Services Task Force to prevent CVD. Yet the problem of obesity in society is at once visible and subtle. In a scientific statement in 2021, the American Heart Association suggested that belly fat is the greatest drive of obesity-related CVD, even in people with so-called "normal" body weight. The growing obesity epidemic is often cited as a significant barrier to public health efforts to decrease mortality from heart failure and hypertension and make inroads in racial disparities in CVD.
Promise and Popularity
Of the drugs that are currently approved in the United States for the treatment of obesity or overweight, the GLP-1 receptor agonists are the only class with demonstrated evidence for decreasing the risk of ASCVD by altering the vasculature endothelium, reducing oxidative stress, and increasing nitric oxide production in addition to lowering blood glucose, Hurtado Andrade noted.
While there are seven GLP-1 agonists approved for use in the US and elsewhere--the first being exenatide (Byetta, Bydureon; AstraZeneca) in 2005—semaglutide has the most published research, to date, supporting a role in cardiovascular risk reduction.
In SUSTAIN-6, once-weekly semaglutide injection was noninferior to placebo for the primary endpoint of MACE, although it was not associated with a reduction in all-cause or CV mortality in patients with type 2 diabetes. Mortality benefits were seen in the PIONEER 6 study, which showed a 51% relative reduction in the risk of CV death, and a 49% relative reduction in all-cause death compared with placebo in patients with type 2 diabetes taking an oral formulation of semaglutide.
Following US Food and Drug Administration approval of the injectable formulation of semaglutide for glycemic control in patients with type 2 diabetes in 2017, it received a second FDA approval in 2020 for the reduction of major adverse CV events in patients with type 2 diabetes. In 2021, it cleared another hurdle when a new dose formulation (2.4 mg, injected once weekly, marketed as Wegovy) was approved by the FDA as a treatment for obesity or overweight in patients with at least one weight-related condition, such as high blood pressure, type 2 diabetes, or high cholesterol.
Obesity and weight loss lives in a space between specialties. Michael Blaha
Semaglutide along with tirzepatide (Mounjaro; Eli Lilly) have become so popular that they are now on the FDA's list of current drug shortages amid reports that some patients with type 2 diabetes are having trouble filling their Ozempic prescriptions because it is being widely used as a substitute for Wegovy. In fact, Novo Nordisk says it is holding back some starter doses of Wegovy for new patients in the United States to ensure that those already on the drug can get their prescriptions filled.
In a nod to the need to keep cardiologists abreast of this field and its surging popularity, the American College of Cardiology (ACC) has published a decision pathway to guide physicians on the use of both sodium-glucose cotransporter 2 (SGLT2) inhibitors and GLP-1 receptor agonists.
Trials to Watch for CV Benefits
"When we talk about these agents, it's important to zoom out and realize that the potential benefit is far greater than ASCVD. There are potentially huge benefits on quality of life for patients, as well as musculoskeletal outcomes, sleep outcomes, and a variety of other things," noted Blaha.
Preventive cardiologist Sean Heffron, MD (NYU Langone Health, New York, NY), told TCTMD the practical implications of the medications could be far-reaching. "Since the weight-loss indications extend down to a BMI of about 27.5 [with one of those conditions], it's a rare patient that I have that doesn't meet some indication for being on these medications," he said. "Weight loss is certainly an added bonus and definitely a driving factor behind putting people without any cardiovascular disease or obesity-related comorbidities on them, but I think about them all the time in regard to optimizing my patients' cardiovascular risk profile."
While clinical trials haven't yet uncovered a reduction in hard CV outcomes in patients without diabetes, many believe those data will be here soon. The ongoing SELECT trial is looking at CV event reduction in 17,500 patients with obesity or overweight receiving once-weekly semaglutide or placebo out to 5 years.
Blaha said it's probably one of the most important preventive cardiology trials in decades.
"I'm very interested in SELECT because of the ASCVD outcome, but also because some of the secondary and tertiary analyzes may capture a more broad-based look at the benefits of these drugs," he commented. That being said, Blaha agreed that the GLP-1 agonists do bear the burden of showing significant CV-related benefit if they are going to be broadly used by cardiologists and, importantly, be covered by insurers.
"It remains to be seen, but I think there could potentially be even greater impacts on heart failure, at least over the long term, and on atrial fibrillation, both of which are tightly linked to obesity," he added.
"If SELECT definitively shows a class effect for cardiovascular outcomes, then these medications are going to be even more widely prescribed, beyond anything we've seen," Heffron said. "I think a lot of us already want to prescribe them for everybody who needs them, and we do our best to get them for many of our patients, but more data, including from SELECT, will certainly change the cardiovascular disease landscape."
If SELECT definitively shows a class effect for cardiovascular outcomes, then these medications are going to be even more widely prescribed, beyond anything we've seen. Sean Heffron
Blaha noted that another key ongoing trial is SURMOUNT MMO. As TCTMD reported at the time, excitement ran high at the American Diabetes Association 2022 Scientific Sessions when the SURMOUNT trial of once-weekly tirzepatide in obese patients without diabetes demonstrated a magnitude of weight loss similar to what is typically seen with gastric bypass—about 20% of bodyweight versus the typical 15% seen with semaglutide. Unlike semaglutide, which only mimics the effect of GLP-1 hormones, tirzepatide is a dual agonist that mimics both GLP-1 and glucose-dependent insulinotropic polypeptide (GIP).
SURMOUNT MMO will test tirzepatide further by enrolling 15,000 patients aged 40 and over with a BMI ≥ 27 and established CVD, but no diabetes or recent CV events. They will receive escalated doses to a maximum dose, or placebo, and be followed for up to 5 years. The primary endpoint is the time from randomization to first occurrence of MACE (a composite of CV death, nonfatal MI, or nonfatal stroke).
"This will give us an eye toward broader outcomes and implications of these drugs," Blaha said. "This kind of research is unique in a sense because you wouldn't look at statins, for example, and include things like heart failure outcomes. That wouldn't really make sense, but here it does."
After that, cost-effectiveness analyses will be key.
"Those types of analyses will take into account things like patients being able to work more or being less disabled, and along with that there would be potential benefits to employers or insurers," Blaha added.
Maximizing Benefit, Understanding Therapy Duration
Another priority will be sorting out how long people will need to take the injectable medications to get optimum CV benefit.
"With statins, there's evidence that there is some residual benefit even after going off them," Heffron said. "I don't see [GLP-1 agonists] as being any different than other medicine that we use to treat chronic conditions like atherosclerotic heart disease."
While the data are not clear about the maintenance of CV benefits in those going off GLP-1 agents, data from mixed diet and lifestyle intervention studies, for example, do suggest that the cardiometabolic benefits of the lost weight may persist out to 5 years, even if some is regained.
"There have been some data suggesting that our bodies have metabolic memory," noted Hurtado Andrade. The concept comes from studies in diabetic patients in whom early, intensive control of hyperglycemia creates a kind of ongoing metabolic protection against micro- and macrovascular complications, even if hyperglycemia returns.
"Of course, we want to avoid the weight loss and weight regain, because losing and maintaining the weight loss is probably what is going to have the greatest benefit. But, the metabolic memory could be beneficial at the end of the day in some cases," she added.
Since weight regain is common regardless of how people lose weight, the question some might ask is what to do about patients who have been through other weight-loss attempts, including bariatric surgery, then regain to the point that they are again overweight or obese.
Hurtado Andrade said she offers those patients anti-obesity medications, including semaglutide, to try to get them back to losing weight.
"Medications that we are using to treat overweight and obesity work at the level of the brain on the pathways that regulate energy intake. If there is an imbalance or that part of their brain that is controlling energy intake is not working well, we put them on medications to get things back into place," she added. "The reality is that every time I see a patient for overweight or obese treatment, and they are interested in starting a medication to treat this disease, I tell them that we do this with the understanding that the use of the medication will likely be long-term, or maybe for the rest of their lives."
Blaha said he is of the opinion that more "creative" approaches to using GLP-1 agents are coming that may apply to cardiologists looking to put patients on an injectable weight-loss strategy to reduce their CV risk, but more as a helpful boost than a lifelong commitment.
"Maybe the weight-loss plan in the future includes some sort of an induction phase where you lose weight on semaglutide, then you move into a maintenance phase where maybe [you incorporate] exercise, or diet, or intermittent fasting," he said. "This is me speculating, but I'm more optimistic about this maintenance phase concept and that [with] the advent of these drugs we perhaps don't have to think about this in only one way. I'm very interested in the kind of creative things people can come up with to keep weight off in a comprehensive way where we are not just relying on a drug or on lifestyle changes, but some combination of the two."
Looking ahead, there also is reason to be optimistic that these first-generation GLP-1 agonists are just the start of a new pharmacologic concept geared at both weight loss and overall health improvement, said Heffron.
"There are more things in the pipeline with dual agonists similar to tirzepatide, as well as triple-ingredient agonists that may have even greater efficacy as far as weight loss is concerned, and that haven't been tested yet for cardiovascular outcomes," Heffron noted. "All have the GLP-1 receptor agonists as their backbone."
Still, Heffron said, conversations with patients regarding the role of medication-mediated weight loss for improving their overall health and reducing CV risk need to be couched in the understanding that the weight loss, in and of itself, isn't the end game.
"I frame it as a three-legged stool [where] two of the legs are good diet and good exercise and the third is medication," he said. "I tell them that we're fortunate that now, when you need it, we can put on the third leg and steady that stool with different medications, but without those other two legs they're not going to be achieving optimum cardiovascular health."
Side Effects and Cardiometabolic Education
Gastrointestinal symptoms like nausea, constipation, and diarrhea are the side effects most reported by patients on GLP-1 agonists, Heffron noted.
"The GLP-1 receptors are found throughout the gut and they influence gastric emptying, so that probably plays a dominant role in the side effects that can develop," he added. "That's why it's so important to start low and go slow as far as titrating. Certainly not everybody is able to achieve the maximum dose, and you will see some patients who may not even tolerate them at all. The vast majority, if they stick with it, will tolerate it just fine and only a small minority, in my experience, have to stop completely."
Hurtado Andrade added that up to one-third of patients may have some side effects when they start a GLP-1 agent that may require dosage adjustments to find "the sweet spot." But another aspect that's important for patients being prescribed GLP-1 agonists to understand, she added, is that using them in the real world may look much different than in clinical trials.
"We see people in these big clinical trials losing very good amounts of weight, but they also have resources like meeting with health coaches and providers, and . . . basically they are getting a lot of behavioral support within the trial environment," she explained. "It will be important to see and compare real-world experiences [and evaluate] efficacy, because right now we are sort of assuming and looking at this through the lens of the trial patients."
With regard to the next-generation agents that Heffron referenced, Hurtado Andrade said while the GLP-1 agonists do have a 20-year history of safe use in diabetic patients, "as we develop newer versions of these medications, they tend to be more potent. So, we will need to see if that changes anything at all in terms of the safety profile."
That concern is well placed given the fate of taspoglutide. Studies of that once-weekly GLP-1 agonist, which initially looked promising for glycemic control in diabetic patients, had to be scrapped due to unacceptably high rates of nausea/vomiting and injection-site reactions. Additionally, there have been conflicting reports of increased risk of pancreatic cancer in new users of GLP-1 agonists, although a recent multicenter, retrospective study of nearly 500,000 obese diabetic patients who used them between 2006 and 2021 found a lower risk of pancreatic cancer compared with a similar cohort of patients who were on metformin.
For Blaha, the current explosion of interest in the GLP-1 agents has further highlighted the dearth of education in cardiometabolic disease that cardiologists are exposed to in their training.
"Obesity and weight loss lives in a space between specialties. It doesn't fully belong to primary care, it doesn't fully belong to endocrinology, and certainly not historically to cardiology. So, none of us have the expertise needed, which to me means we need to revamp how we educate and train," he said. "The easiest way to imagine that is some sort of a dedicated training in cardiometabolic medicine."
How that will happen, through a fellowship or perhaps a certification program, remains to be determined, Blaha added. But similar to geriatrics, which wasn't always a specialty, an opportunity and a population in need of specialists has once again arisen.
"Over time, I hope that cardiometabolic medicine will grow into something like a specialty," he said. "The details of the connection between the heart and the brain and the gastrointestinal tract are still extremely complicated."

Disclosures
Blaha reports serving on advisory boards for Novo Nordisk and Boehringer Ingelheim and providing independent CME supported by Eli Lilly.
Heffron and Hurtado Andrade report no relevant conflicts of interest.