TCT 2019 Day One: TWILIGHT and Onyx ONE Kick Things Off
The morning focused on the best drug and stent combinations for reducing bleeding without increasing ischemic events.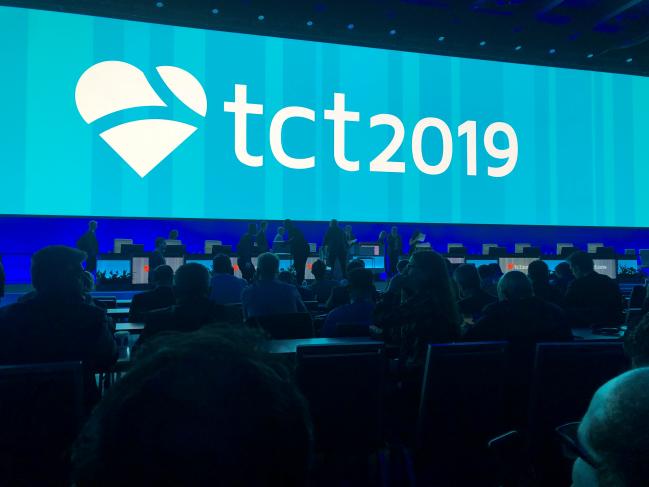 SAN FRANCISCO, CA—Late-breaking clinical trials kicked off this morning in the Main Arena, with TWILIGHT leading the way. Roxana Mehran, MD (Icahn School of Medicine at Mount Sinai, New York, NY), presented this 7,119-patient trial, testing the hypothesis that ticagrelor monotherapy after 3 months would be superior to dual antiplatelet therapy (ticagrelor plus aspirin) among high-risk patients.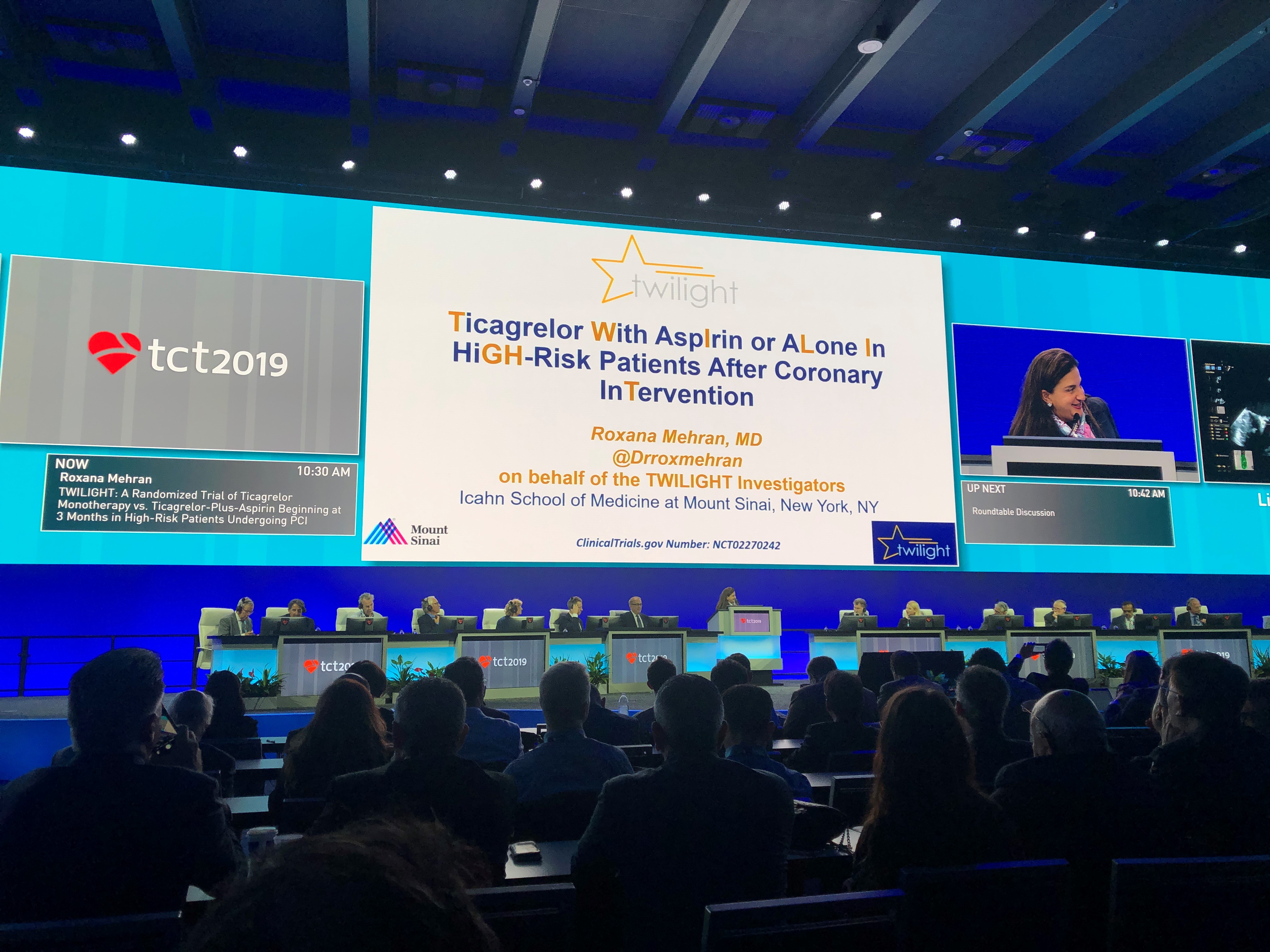 As Mehran showed here, dropping aspirin was, not surprisingly, associated with a significant reduction in the primary endpoint of BARC 2, 3, or 5 bleeding (7.1% vs 4.0%; HR 0.56; 95% CI 0.45-0.68). Importantly, however, this reduction did not come at a price of more ischemic events, which occurred at the same rate in both groups at 3.9%.
During a morning press conference, Robert Harrington, MD (Stanford University, CA), drew attention to the signal of increased stroke, which was numerically higher in the ticagrelor monotherapy arm. On this point, Mehran noted that this trial was not powered to look at stroke endpoints but said that they had been adjudicated by neurologists, and that patients with prior stroke had been excluded from this study. The finding is worth noting, she said, but may also have been the play of chance. By the same token, mortality and stent thrombosis were numerically lower in the ticagrelor-monotherapy arm.
Full details from TWILIGHT are already live on TCTMD.
Super proud of @Drroxmehran presenting #TWILIGHT study results #TCT2019 today. Congratulations for doing what people said couldn't be done in coordinating and executing this important study!!! pic.twitter.com/PfV0sCZIhq

— Ajay Kirtane MD SM (@ajaykirtane) September 26, 2019
*****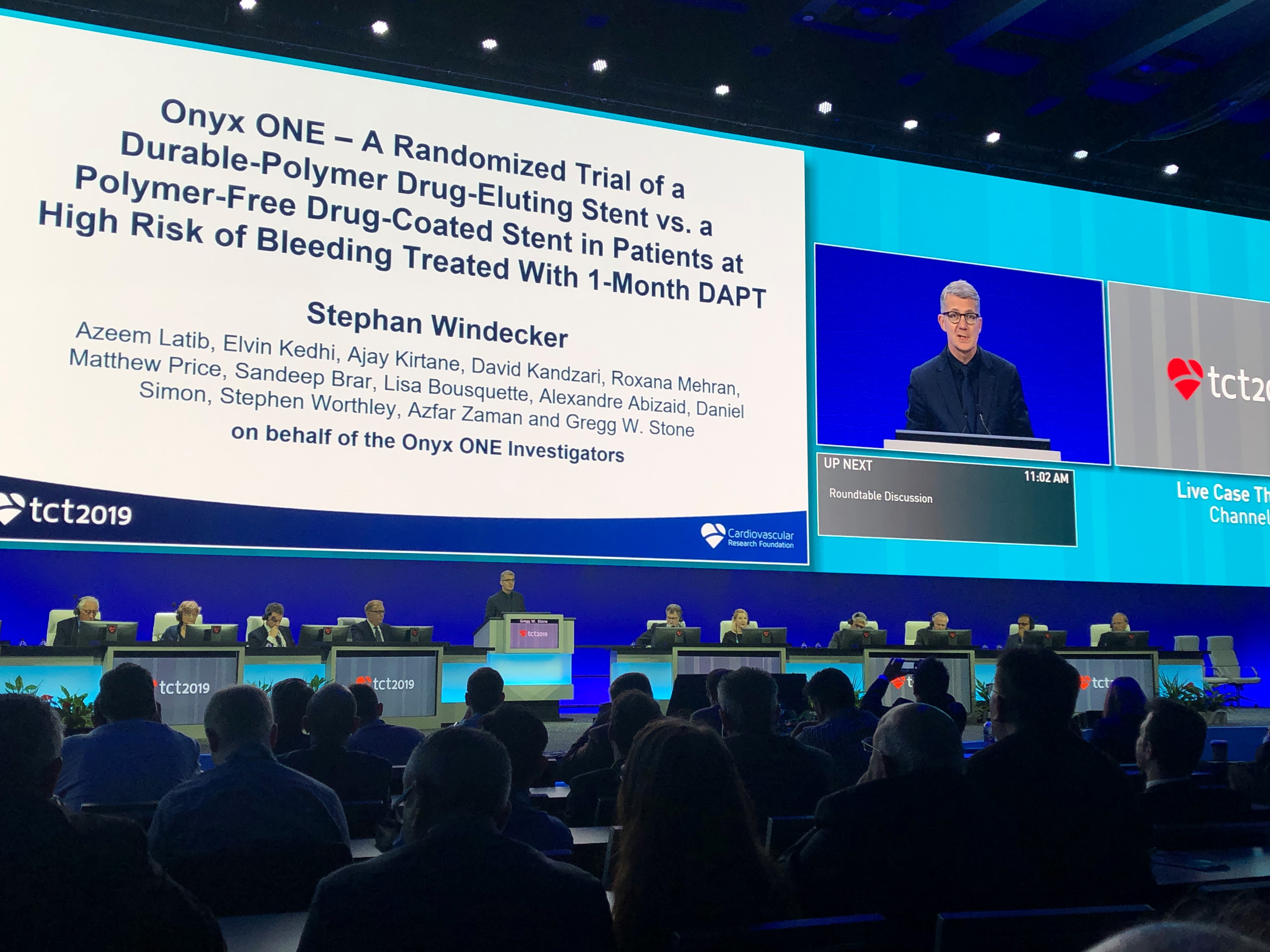 Up next, Stephan Windecker, MD (Bern University Hospital, Switzerland), presented Onyx ONE, a randomized trial of a durable-polymer drug-eluting stent (Resolute Onyx zotarolimus-eluting stent [ZES]; Medtronic) versus a polymer-free drug-coated stent (BioFreedom drug-coated stent [DCS]; Biosensors International) in patients at high risk of bleeding treated with 1-month dual antiplatelet therapy (DAPT).
The trial enrolled 2,000 patients at high bleeding risk, following them for 1 year, at which point the combined rates of the primary endpoint of cardiac death, MI, or definite/probable stent thrombosis were not significantly different: 17.1% in the ZES group and 16.9% in the DCS group. Rates of the powered secondary endpoint of target lesion failure at 1 year were nearly identical between groups: 18.0% for ZES versus 17.9% for DCS. Bleeding rates were also similar.
Noting that this is the first trial to compare these two types of stents, Windecker said that these data confirm that the Onyx device is safe and effective in complex, high-bleeding risk patients in whom 1 month of DAPT is deemed the best strategy.
Click HERE full results for Onyx ONE.
Onyx ONE trial finds no significant differences between Onyx and Biofreedom stents in HBR patients... is it a surprise? Seems to confirm the very small differences among multiple DES available #TCT2019 @shci_sec @secardiologia pic.twitter.com/C720xZLV43

— Felipe Hernández (@pipecardio) September 26, 2019
*****
Carrying on in this same vein (that is, looking for the best combination of antiplatelet and stent), the IDEAL-LM study turned its attention to left main disease treated with the thin-strut everolimus-eluting, bioabsorbable-polymer Synergy stent (Boston Scientific).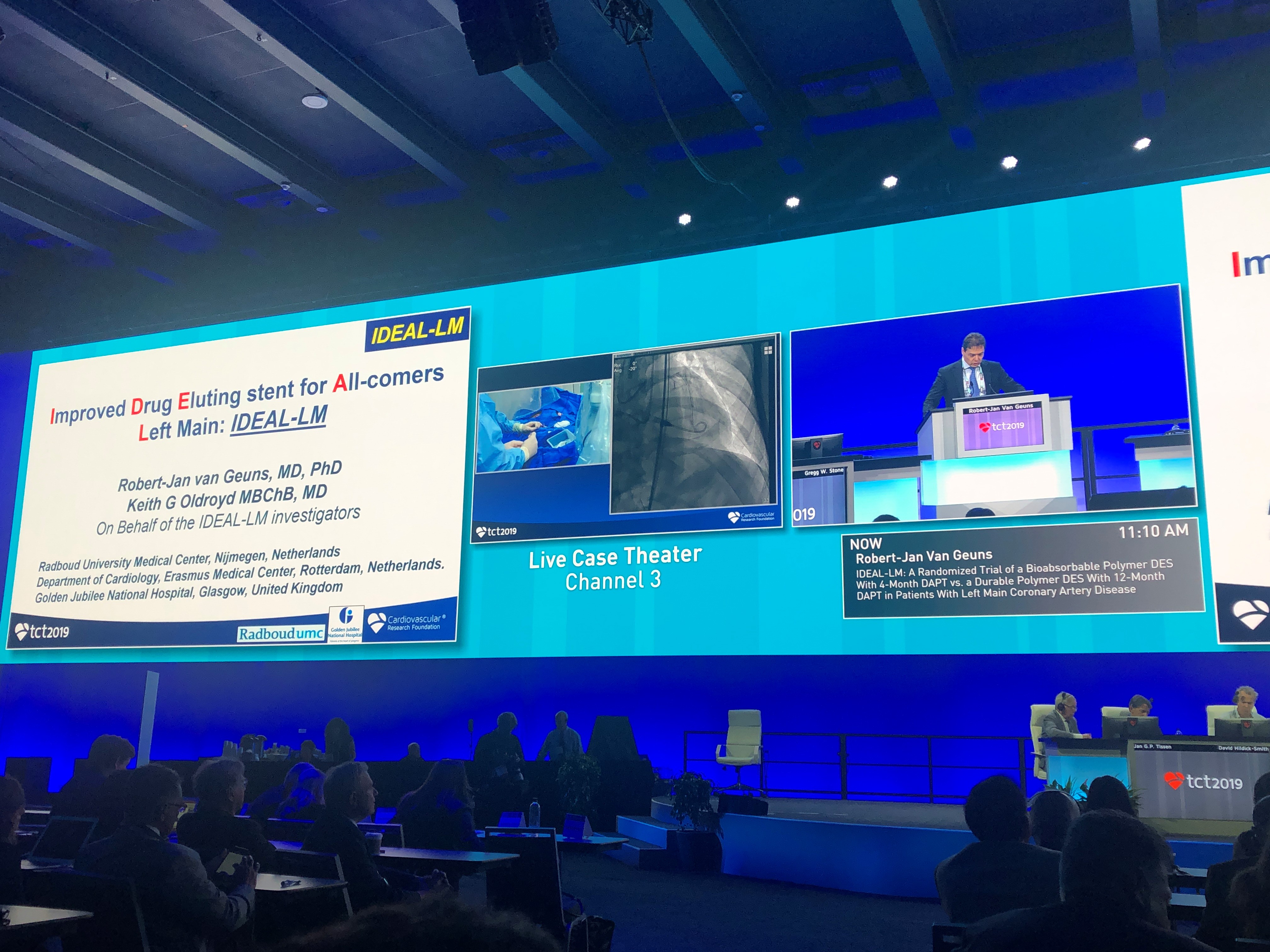 Presenting the results to the press ahead of the late-breaking clinical trial session at TCT 2019, Robert-Jan van Geuns, MD, PhD (Radboud University Medical Center, Nijmegen, the Netherlands), reported that the 12-month rate of major adverse cardiac events, a composite that included all-cause mortality, MI, and ischemia-driven target vessel revascularization, occurred in 14.6% of patients treated with DAPT for 4 months following implantation with Synergy and in 11.4% of patients treated with DAPT for 12 months after receiving a Xience stent (Abbott; P = 0.17).
However, several experts expressed concern over the findings, particularly the trend toward higher ischemic events in secondary endpoints. For example, the risk of MI and probable/definite stent thrombosis were roughly double with Synergy and short-duration DAPT. Speaking in the morning press conference, several physicians said the new findings likely won't sway their current practice, with many stating that when using the Synergy stent for patients with left main coronary artery disease they would still opt for 12 months of DAPT.    
#ACCIC #TCT2019 #EAPCI
Am I the only one concerned?

7.5% noninferiority margin & event rate of control 11.4%
Secondary endpoints numerically higher pic.twitter.com/5XmMFB8vGs

— ᗰIᖇᐯᗩT ᗩᒪᗩᔕᑎᗩG مرفت الأصنج (@mirvatalasnag) September 26, 2019
Be concerned: this is not something we should be moving to based on this study data #TCT2019

— Sukh Nijjer (@SukhNijjer) September 26, 2019
Very unconvincing study barely reaching an already very generous non-inferiority margin which is wider than standard . I will definitely not incorporate it in my practice. #TCT2019 pic.twitter.com/wuSP9akbsu

— الدكتور كمال أيوب J1M267 (@DRKAMALAYOUB) September 26, 2019
Get all the nuances for IDEAL-LM on TCTMD here.
*****
The late-breaking clinical science presentations later this morning contain a mix of trials, again probing the best drug regimen for reducing ischemic events without increasing the risk of bleeding. The most recognizable name in this batch is AUGUSTUS, first released at the American College of Cardiology 2019 Scientific Session, looking at different antithrombotic strategies in A-fib patients who have ACS or who are undergoing elective PCI. New insights were unveiled today during a late-breaking presentation by Stephan Windecker, MD (Bern University Hospital), who zeroed in on key trial endpoints of bleeding and hospitalization across the different subgroups of patients.
Here, said Windecker, using apixaban plus a P2Y12 inhibitor—and leaving off aspirin—reduces bleeding and hospitalization compared with vitamin K antagonist-based regimens, with consistent effects regardless of patient presentation.
Apixaban-based dual therapy was beneficial in ACS patients who were treated medically, ACS patients who underwent PCI, and patients undergoing elective PCI for stable coronary disease, said Windecker. Importantly, the addition of aspirin increased major bleeding without having a significant effect on ischemic outcomes.
TCTMD's full story is live on TCTMD.
Rounding out Thursday's late breaking clinical science session were MODEL-U-SES, EVOLVE Short DAPT, and a thrombogenicity substudy from TWILIGHT.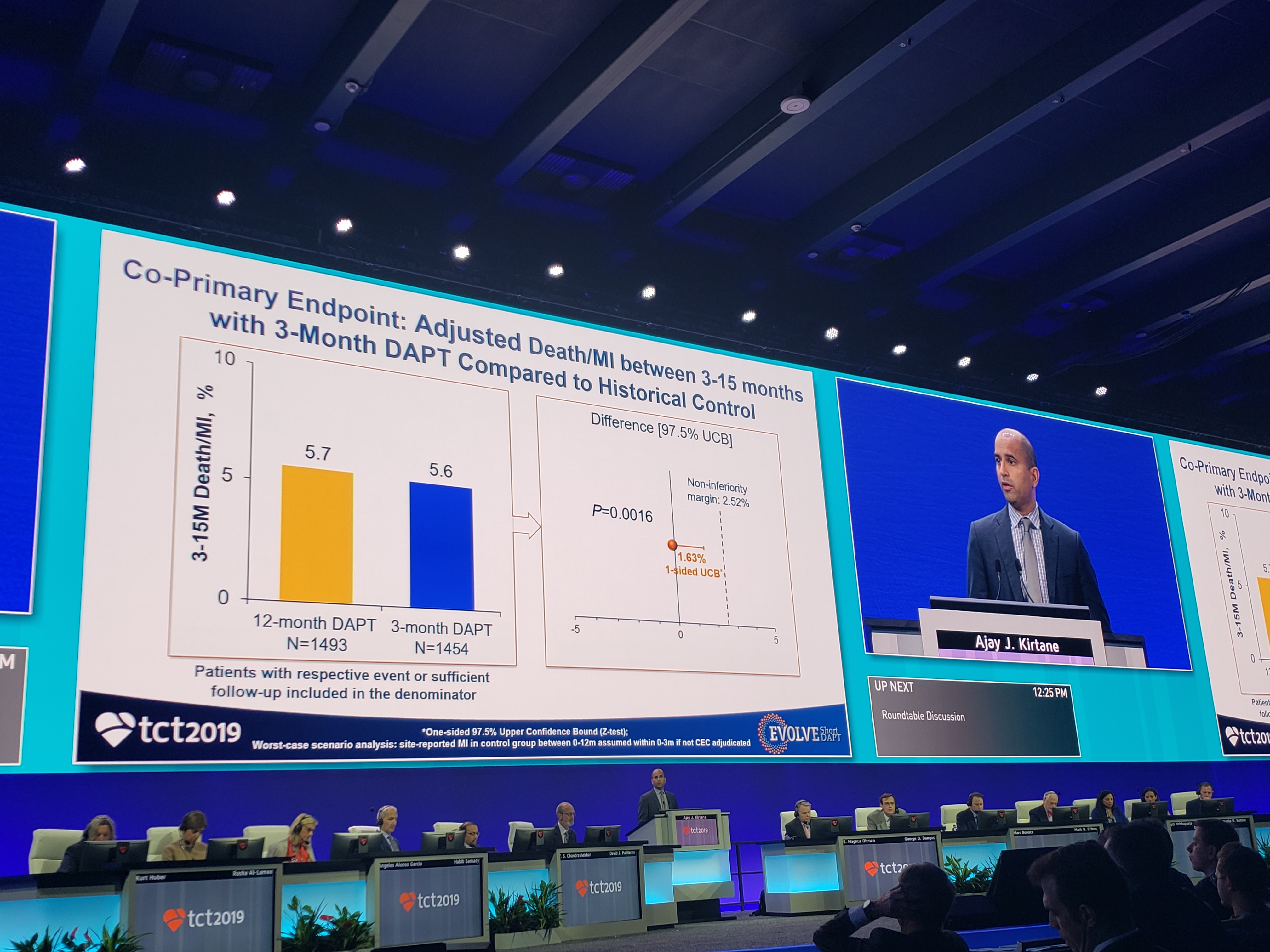 Speaking during a morning press conference today, Ajay Kirtane, MD (NewYork-Presbyterian/Columbia University Irving Medical Center, New York, NY), who presented the EVOLVE Short DAPT results, reminded the audience that the recommendation for 1 year of DAPT was a relatively arbitrary decision by the US Food and Drug Administration in response to the stent thrombosis scare of 2006. This interest in safely "de-escalating" DAPT is clear across many of the trials presented here today. For a US trial such as EVOLVE Short DAPT, however, the lack of devices approved for use with shorter dual antiplatelet duration complicates the ability to study this issue.
The single-arm EVOLVE Short DAPT trial found that elderly patients at high bleeding risk who receive Synergy everolimus-eluting stents (Boston Scientific) can, if needed, stop taking their P2Y12 inhibitor at 3 months then continue on aspirin alone for the next 12 months. In the study, patients free from stroke, MI, revascularization, and stent thrombosis after the 3-month DAPT regimen were eligible to discontinue their P2Y12 inhibitor.
As Kirtane said in the late-breaking session, ischemic event rates were "favorable" between 3 and 15 months: 5.6% for death/MI, 0.3% for definite probable stent thrombosis, and 1.9% for MI alone. BARC 2,3,5 bleeding was 6.26% with 3-month DAPT and 4.17% with 12-month DAPT (P = 0.98).
"These data support the use of Synergy with a 3-month duration of DAPT in high-bleeding-risk patients," he concluded.
Another important trial:
#EVOLVE
short DAPT presented by
@ajaykirtane

🌟evaluated the safety of DAPT discontinuation at 3 months in HBR patients treated w/ SYNERGY🌟

🌟supports the use of SYNERGY with a 3-month duration of DAPT in HBR patients🌟#TCT2019 @crfheart #ACCIC pic.twitter.com/EobZXBI9Df

— Poonam Velagapudi (@Pooh_Velagapudi) September 26, 2019

Shelley Wood is Managing Editor of TCTMD and the Editorial Director at CRF. She did her undergraduate degree at McGill…
Read Full Bio