AI Predicted to Play Major Role in Cardiac CT and CV Care in the Coming Decade
AI can yield more information from a CT image than just coronary narrowing. How it's used and by whom remains to be seen.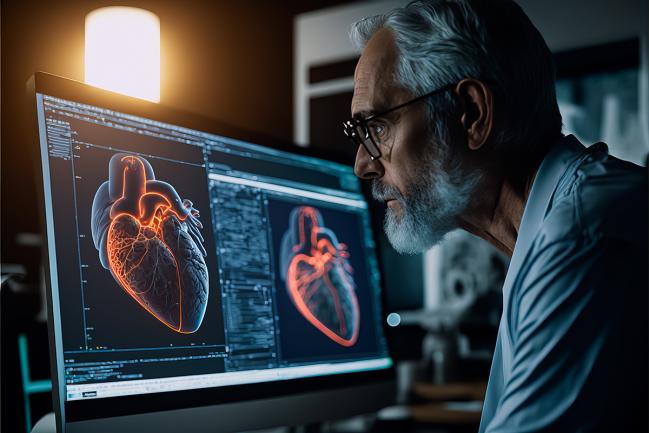 BOSTON, MA—In the coming years, the amount of information that can be gleaned from a cardiac CT scan will be enhanced with artificial intelligence (AI) algorithms, and that's expected to improve clinical decision-making and increase the use of individualized therapies, attendees heard here at the recent 2023 Society of Cardiovascular Computed Tomography (SCCT) meeting.
The meeting had a dedicated AI track, with presentations across three sessions focused on the types of information that can be obtained from CT with AI assistance, ethical and legal implications, economics, issues around clinical implementation, future outlook, and more.
There has been not only increasing interest in AI in the realm of CT in recent years, but also substantial growth in the types of technologies being developed, with a primary focus on image postprocessing to improve the assessment of coronary stenosis and to provide more in-depth information on plaque, blood flow, and perivascular fat, Andrew Choi, MD (George Washington University School of Medicine, Washington, DC), a member of SCCT's board of directors, commented to TCTMD.
Previous tools were time-consuming because they required manual assessment, he added. "While there was a large body of evidence that showed the advantage of doing plaque quantification, it wasn't incorporated into clinical practice because it was too hard to do."
Now, with the help of AI, "the broad picture is moving from a single assessment of narrowing and [toward] really doing quantification of the entire coronary vasculature," said Choi, who gave a talk on what the next decade will look like in terms of AI-guided treatment of CAD with cardiac CT.
Applying AI to CT Now and in the Future
The most exciting area in which AI is already making an impact, Choi said, is in plaque assessment and quantification, with some technologies already having approval from the US Food and Drug Administration.
"The interest is not trying to duplicate what we already do, but trying to identify patients that we don't see based on our current approach to clinical care," Choi said. "And so looking at prevention, looking at health across a healthy population but at higher risk, deploying the AI for those patients, picking up early-state disease, and treating them earlier or even deferring treatment. Especially in younger patients, say age 40 to 60 years old, in which a calcium score may not be able to detect disease or may not be able to detect the extent of high-risk disease."
During his presentation, Choi noted that research, including the Miami Heart Study and SCAPIS, has shown that roughly half of asymptomatic patients have plaque and that roughly one in every six patients have plaque but a calcium score of 0.
There are also developments in using AI to aid in the assessment of flow, with technology that provides CT-derived estimates of fractional flow reserve (FFR-CT). Another approach, called AI-guided quantitative coronary CT angiography analysis (AI-QCT), is also being evaluated for the rapid assessment of atherosclerotic plaque burden and characteristics.
Across all of the technologies now available or in development, clinicians can obtain in-depth information on stenosis, plaque, flow, and fat attenuation, Choi said. "The question that we're faced with is: do we need to do all four . . . or do we choose more selectively? And I think that's one of the next steps as a field we have to think about."
We have to be ready to embrace the changes that are coming through AI. Andrew Choi
Beyond image postprocessing, there have been additional developments around automation of image acquisition, which would provide some relief from the issues caused by a current shortage of qualified technologists, Choi said.
"The society has been very focused on training new technologists and improving image quality, but I think the need for CT after implementation of class 1 guidelines in the United States, of class 1 guidelines in Europe, has created such a need for CT imaging that we can't keep up with that demand," he explained. "These automated AI solutions that are coming . . . that use a series of machine-learning algorithms to check landmarks on the patient to be able to do the initial preplanning of a scan and automate the scan and optimize the scan parameters I think will be important to help address this workforce crisis that we have."
One other way in which AI, and AI-QCT in particular, might make an impact on cardiovascular medicine is by easing new drug development, Choi predicted. Before moving to a large-scale outcomes trial, smaller studies evaluating the impact of new molecules on plaque using AI-QCT can identify the candidates most likely to succeed in phase III trials. "I think it will help accelerate drug discovery and it also will tell us how the drug is helping prevent that heart attack, how it improved that outcome, and really help us to bring these therapies into a personalized realm," Choi said.
Use in Cardiology More Broadly
In another talk during the final AI session at the meeting, Dipti Itchhaporia, MD (University of California, Irvine), a past president of the American College of Cardiology, broadened the scope of the discussion to include cardiology in general, noting that AI in medicine has been an increasingly popular topic, particularly after the launch of ChatGPT last year.
And it's already well established, she said, pointing out that hundreds of clinical, patient-facing AI algorithms have been cleared by the FDA—they're mostly used in radiology but there are also dozens that fall within cardiology. In addition, there are hundreds of other nonclinical algorithms embedded within health IT systems to analyze data and improve efficiency.
The market is growing and is expected to increase to a value of $45 billion by next year, according to numbers reported by Itchhaporia. And by 2026, it is projected the AI would have saved $150 billion in healthcare costs.
"We're always being asked to bend the cost curve, particularly in cardiology. Why? Because it's the number one killer and obviously we spend so much money on cardiovascular care," Itchhaporia said.
Automation won't replace physicians, but I think those using automation will replace those who don't. Dipti Itchhaporia
AI will play a key role in managing all of the data coming from patients via their wearable devices and using the information to better guide their care, she indicated. "Medicine is really becoming an information science," she said. "What an individual patient wants is for you to look at all of their information head to toe and tell them what's wrong with them now, what potentially can go wrong with them, and how to keep them healthy."
In cardiology specifically, AI has been applied to CT, echocardiography, nuclear imaging, and ECG to provide insights into a number of patient conditions, including coronary disease, heart failure, congenital heart disease, and valvular disease. By acting on raw data that has not yet been converted for human readers, it might be able to provide new insights, Itchhaporia said. "I think that's the promise that we're looking for."
What's the Clinical Impact?
Choi and Itchhaporia both said, however, that there's an important question around the evidence base regarding how AI is influencing patient outcomes.
Some hints about how it might have a clinical impact in the types of patients evaluated by cardiac CT can be seen in a study out of Choi's group published recently in JACC: Cardiovascular Imaging, with Nick Nurmohamed, MD (Amsterdam University Medical Centers, the Netherlands, and George Washington University School of Medicine), as lead author. The investigators evaluated the prognostic value of atherosclerotic burden derived from AI-QCT in a cohort of patients referred for suspected coronary disease and compared it with manually assessed coronary CT angiography (CCTA), coronary artery calcium scoring, and clinical risk scores.
AI-QCT improved the prediction of MACE over follow-up of about 10 years compared with the other methods. "Where it helps us is with incorporating plaque in a way that captures all of the information that we can't get from a calcium score," Choi said.
Another study that Choi was involved in, an analysis of the CONSERVE trial published earlier this year, indicated that AI-QCT could be an effective gatekeeper, potentially reducing invasive coronary angiography in stable symptomatic patients by 87% to 95% and cutting costs without affecting 1-year MACE rates.
Choi acknowledged, however, that "we do need larger trials to show how AI can help change treatment."
Bringing AI Into Everyday Practice
To fully gain the potential of AI, the first thing that needs to be addressed is the technical infrastructure, Choi said, adding that AI will have to be integrated into existing electronic medical record (EMR) systems. Additionally, he said, questions need to be answered regarding data security, legal ramifications, and who is responsible if something goes wrong with an AI algorithm—is it the clinician, the company that developed the technology, or someone else?
Along with those issues, Itchhaporia highlighted others that need to be addressed, including the actual impact on clinical care from AI predictive models; training biases, oversimplified or made-up information, and other potential problems with technologies like ChatGPT; the potential for unethical collection and use of health data; patient privacy; and the accuracy and robustness of the data used to train the models.
Once those issues are worked out, AI-guided technologies will be used as decision-support tools for physicians, "helping to put all the options in context and giving us an output based on the plaque volume in combination with clinical variables that are in a large-scale EMR database that let us leverage gaps that we have in lipid management, that let us address health not only for our individual but across the healthcare system, and then to be able to integrate the healthcare data, the imaging data, the serum data that we have so that we can really personalize that care and then address those people that may not be responding to our initial treatment plan and really individualize it to that patient," Choi said.
A key issue—yet to be fully hammered out—is who is going to pay for these new AI technologies, particularly in the field of cardiac CT, which has already seen declining reimbursements in recent years. "How we answer that question first is on proving the value of the AI technology, and we have started to show some data on reduced downstream testing, reduced excess testing through the more-accurate approach that we get through AI. And so that helps show us value," Choi explained. If AI-enhanced CT is eventually shown to reduce MIs and other costly events, that too will establish the value, he added.
Choi noted that there are 20 million people in the US with established coronary disease and another 60 to 100 million who are at risk. "We have to decide: is it of high value for us to better prevent events in those patients? And if we value that highly, which I think we do as a field and as a cardiovascular community, then the cost will be justified."
He said the current situation involving the emergence of AI has echoes of 30 years ago, when there was initial skepticism of the utility of assessing coronary calcification, and of 15 years ago, when some balked at basic CT scanning.
"I think that what AI is presenting us is really the next era in cardiovascular medicine and in cardiac CT imaging because of the new data that it's providing us, and we have to figure out now what do we do with this data: how do we actually help our patients and how do we leverage this in a way that is meaningful, that improves outcomes, and that improves access?"
'Embrace the Changes'
Choi stressed that AI won't be putting anybody out of work. "I see this as augmented intelligence," he said. "AI will help us automate things that we don't do well already and contribute to an augmented intelligence, or collaborative intelligence, so that we can bring all of this quantitation and data and incorporate it into the bedside."
Moreover, AI will accelerate the learning process for physicians, Choi predicted, noting that an expert clinician who has been in practice for 40 years understands through experience how best to take care of patients in certain situations. "We want to capture all of that knowledge and experience through big data, through the collaborative intelligence that AI provides, and our AI imaging [allows us] to be able to deliver actionable care in a rapid way to our patients," Choi said. "So our jobs are safe, our jobs are going to be enhanced through this care, and whether we are ready for it or not, we have to be ready to embrace the changes that are coming through AI."
Itchhaporia agreed that AI isn't coming for anyone's job, but she said it could still have an impact on the workforce: "Automation won't replace physicians, but I think those using automation will replace those who don't."
The technology will be particularly useful in the current healthcare climate with high levels of burnout, she indicated. "With the pressures that we all feel about improving care, cutting costs, dealing with a barrage of incoming data, and translating the latest medical advances and knowledge to an actionable plan, I think clinical decision-making for cardiologists is ever so becoming more and more challenging."
In that context, "AI certainly holds a lot of promise" for improving health while reducing costs and addressing health equity, Itchhaporia said. "I think cardiology is certainly at the forefront of the AI revolution in the medical field, and I think the development of AI methods for accurate prediction of cardiovascular disease outcomes, noninvasive diagnosis of coronary artery disease, detection of malignant arrhythmias though wearables, [and] the diagnosis and treatment and [prediction of] outcomes for heart failure demonstrates the potential for AI in the future of cardiology."

Todd Neale is the Associate News Editor for TCTMD and a Senior Medical Journalist. He got his start in journalism at …
Read Full Bio
Sources
Multiple presentations. SCCT 2023. July 29, 2023. Boston, MA.
Disclosures
Choi reports receiving consulting fees from Siemens and having stock/stock options in Cleerly.
Itchhaporia reports no relevant conflicts of interest.