Anatomic Disease After PCI Linked With Worse Outcomes: VA CART
Leveraging the VA SYNTAX score, data show poor prognosis if ischemic disease remains after PCI in ACS and non-ACS patients.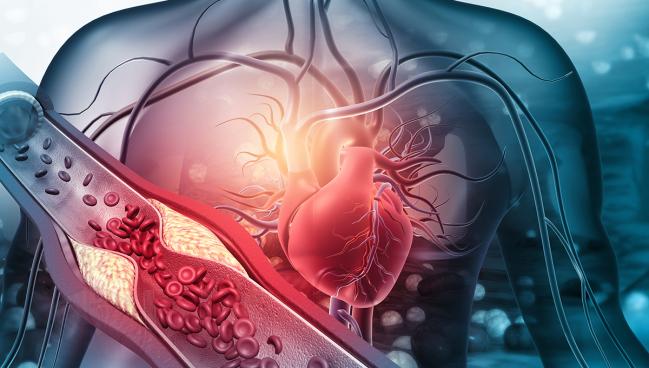 Residual ischemic disease after PCI is associated with a significantly higher risk of major adverse cardiovascular events when compared with complete revascularization, according to data from a large cohort of patients treated within the Veterans Affairs (VA) healthcare system. 
Patients with the most residual ischemic disease, which was based on the VA SYNTAX score calculated after the procedure, had a more than twofold higher risk of death, MI, repeat revascularization, and stroke at 1 and 3 years, as well as a higher risk of death and MI, compared with those who were completely revascularized.
"We leveraged the VA SYNTAX score to determine whether or not anatomic disease after PCI was associated with clinical outcomes. It appears to be," senior author Stephen W. Waldo, MD (University of Colorado/Rocky Mountain Regional VA Medical Center, Aurora, CO), told TCTMD. "The more residual anatomic disease that's left behind, the worse the potential outcome."
The VA SYNTAX score, which is derived from the original SYNTAX score used to assess anatomic complexity, is a simplified calculation that focuses on coronary dominance, location of stenosis and coronary segment, ostial location, calcification or thrombus associated with the lesion, and bifurcation status. Waldo said it's calculated every time a coronary angiogram is performed in the VA healthcare system, but these new data suggest the score should be calculated after PCI to assess the amount of residual ischemic disease.
"This is a potential avenue we can use to improve the quality of care that we provide in the healthcare system," he said. "Every patient is different, and every patient needs to be treated with optimal medical therapy regardless of whether revascularization is pursued, but for those with a significant burden of disease, and a relatively low risk of procedural complications from further stenting, these data would suggest a potential benefit that should be further investigated in subsequent clinical trials."
Kevin Bainey, MD (Mazankowski Alberta Heart Institute/University of Alberta, Edmonton, Canada), who wasn't involved in the study, said that while the SYNTAX score is an excellent prognostic tool, it is cumbersome to use in real-world practice. "What impressed me about this study is that [the VA SYNTAX score] is automated," he told TCTMD. "There's a lot less work than doing it on your own with the traditional SYNTAX score. It's a major step forward, and it's something I could see being implemented in other labs and other registries."
The new study, said Bainey, validates the importance of complete revascularization for reducing the risk of future clinical events, although he stressed the data are stronger in ACS patients.
"For ACS, it's clear that complete revascularization improves clinical outcomes long term, starting with the COMPLETE trial," he said, also highlighting positive data from the Alberta COAPT registry showing its benefits across ACS subtypes. "The sticking point is the non-ACS patient. Do we know if complete revascularization in those patients improves long-term outcomes? If you look at ISCHEMIA and COURAGE, it would say that medical therapy works best in those patients. To me, this is the part that's unclear."
SYNTAX Score a Little Cumbersome
The SYNTAX score was developed more than a decade ago, but Waldo said it has some significant limitations, including that it can be difficult to calculate. In 2019, researchers developed a modified version to make it easier to use at the point of care. In an earlier study, they showed that when using the simplified score, there was an association between increasing anatomical complexity and adverse events among patients undergoing PCI.
"The VA SYNTAX score was novel because it took data directly from the electronic medical record [EMR] without user input, other than the clinical documentation of a given procedure, to compute an objective, anatomical risk score," said Waldo. "Like the SYNTAX score, the VA SYNTAX score was associated with long-term outcomes."
It's a major step forward, and it's something I could see being implemented in other labs and other registries. Kevin Bainey
The new study, which was published in JACC: Cardiovascular Interventions and used data from the VA Clinical Assessment Reporting and Tracking (VA-CART) program, included 57,476 patients (mean age 66.1 years; 2.2% women) from 77 hospitals who underwent PCI from 2007 to 2020. The researchers calculated the VA SYNTAX score after PCI using data from the EMR to assess the completeness of anatomical revascularization.
In total, 36% had complete revascularization and 64% had incomplete revascularization, with those treated incompletely divided into tertiles based on the residual VA SYNTAX score. Across the increasing tertiles of VA SYNTAX scores, which reflects a larger extent of residual ischemic disease, patients were older, had more comorbidities, and more frequently presented with acute MI than those in the lower tertiles.   
Major Adverse Cardiovascular Events by Residual VA SYNTAX score
| | | |
| --- | --- | --- |
| Tertile (VA SYNTAX score) | CV Events at 1 Year, HR (95% CI) | CV Events at 3 Years, HR (95% CI) |
| Complete Revascularization | 1.0 (reference) | 1.0 (reference) |
| 1 (< 4) | 1.24 (1.16-1.32) | 1.18 (1.13-1.23) |
| 2 (4-7) | 1.71 (1.60-1.82) | 1.47 (1.40-1.54) |
| 3 (> 7) | 2.64 (2.49-2.79) | 2.06 (1.98-2.15) |

In addition to the higher risk of MACE with incomplete anatomic revascularization, there was also a significant association with the secondary endpoint of death, MI, or revascularization, at both 1 and 3 years. Higher rates of mortality and MI were observed in PCI-treated patients with a residual VA SYNTAX score of 4 or greater. Additionally, any residual anatomic disease was associated with higher rates of revascularization at 1 and 3 years.   
To TCTMD, Waldo said that complete revascularization has been consistently shown to be associated with better clinical outcomes in ACS patients undergoing PCI. The VA CART analysis, however, included patients presenting with ACS and non-ACS, but the data did show there was an incrementally higher risk of MACE, as well as a higher risk of the individual endpoints death, MI, and repeat revascularization, in both ACS and non-ACS patients with higher residual VA SYNTAX scores. 
This analysis, said Waldo, questions whether the anatomic completeness of revascularization is associated with better clinical outcomes in patients with stable coronary artery disease. Despite their data, this is something that can only be addressed in randomized, clinical trials, he said.
"There have been a number of studies over the last 3 to 5 years, all of which have suggested that at least in stable coronary artery disease, there are questions about the efficacy of revascularization at all," said Waldo. "If you look to COURAGE, ISCHEMIA, and now REVIVED-BCIS 2 that looked at revascularization in patients with reduced ejection fractions, data from this particular observational cohort would show something of the opposite. That is, the more that we revascularize from an anatomic perspective, outcomes seem to improve. That's obviously with the caveat about confounding that can occur in observational research."
From a practical perspective, Bainey said if an operator finishes a case in a non-ACS patient, but the VA SYNTAX score suggests there is still some degree of residual ischemic disease, it can spur some action to reduce the risk. That might be tackling other lesions, but it may also mean treating these patients more aggressively with secondary-prevention therapies and ensuring that all risk factors are adequately controlled.
Angiography Alone Not Enough to Guide PCI
In an editorial, Morton Kern, MD, and Arnold Seto, MD (VA Long Beach Healthcare System, CA), say that, at least intuitively, "this study makes sense and suggests that we should move beyond visual angiography alone and incorporate, at the least, an angiographic scoring system routinely into our daily practice."  
Still, despite their belief that angiography alone is not enough, Kern and Seto say the observational study does have limitations, including the potential for unmeasured confounding. Additionally, generalizability to women is an issue. They also point out that the residual VA SYNTAX score is presumed to be a measure of ischemic risk, but these residual anatomic scores, including the original SYNTAX, have only a moderate correlation with ischemia.
"Although the VA SYNTAX score still requires prospective validation, the relationship between angiographic CAD severity and observed events in this retrospective study support using more than just 'eyeball' estimates of CAD," write Kern and Seto. The poor outcomes of patients with high residual VA SYNTAX scores "should discourage incomplete revascularization strategies," they write. The present study may point to a "future with automated angiographic scoring providing actionable prognostic information both before and after PCI," they add.
To TCTMD, Bainey said there are a number of physicians who are "believers" in functional assessments, such as fractional flow reserve (FFR) or instantaneous wave-free ratio (iFR), to guide complete coronary revascularization. However, a number of trials, such as FLOWER-MI and FUTURE, have suggested that complete revascularization guided by angiography isn't inferior to functional testing, said Bainey. "Every trial has its limitations, but the way I read it right now is that the standard of care should be angiographic complete revascularization until we have a clinical trial that can prove otherwise," he said.
The COMPLETE-2 trial, which is being led by Shamir Mehta, MD (McMaster University/Population Health Research Institute, Hamilton, Canada), will help shed some light on those two complete revascularization strategies. In this study, investigators are testing physiology- versus angiography-guided PCI in nonculprit lesions of roughly 5,000 patients with acute MI and multivessel CAD. Results of that trial aren't expected for several years.

Michael O'Riordan is the Associate Managing Editor for TCTMD and a Senior Journalist. He completed his undergraduate degrees at Queen's…
Read Full Bio
Disclosures
Waldo reports grants from the National Institutes of Health and VA Health Services Research. He reports investigator-initiated research support to the Denver Research Institute from Abiomed, Cardiovascular Systems, and Janssen Pharmaceuticals.
Kern reports speaking fees from Abbott Vascular, Boston Scientific, ACIST Medical Systems, and Opsens Inc.
Seto reports speaking and/or consulting fees from Terumo, General Electric, Janssen, Medtronic, and Frond Medical.
Bainey reports consulting/speaker fees from Abbott, AstraZeneca, and Bayer.