As COVID-19 Vaccine Boosters Roll Out to Younger Kids, Will Myocarditis Cases Rise?
Early numbers hint the already low risk could be even lower after boosters. Pediatric cardiologists—and parents—weigh in.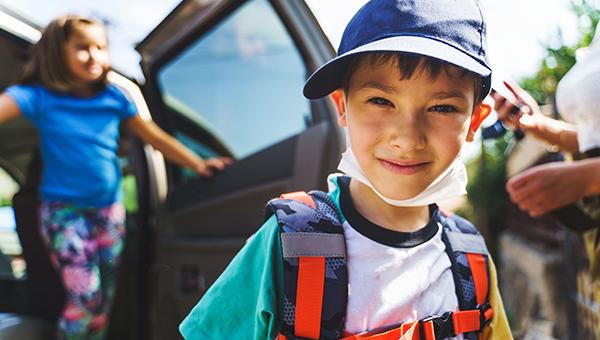 Reports of myocarditis developing after receipt of one of the mRNA-based COVID-19 vaccines from Pfizer/BioNTech and Moderna are understandably concerning, though the complication appears rare and has typically been associated with mild consequences, if any. But it remains unclear whether myocarditis might be more of a problem as additional booster doses roll out to younger age groups that are more likely to develop the side effect.
Preliminary numbers reported out of Israel and the United States, presented during a meeting of the Advisory Committee on Immunization Practices (ACIP) last week, hint that the opposite is true—that vaccine-associated myocarditis occurs at lower rates after booster doses than after second doses in adolescents and young adults.
And that, according to pediatric cardiologists interviewed by TCTMD, is reassuring, even as the medical community awaits additional information while the number of boosted individuals grows.
"We always want to be concerned and don't want to blow off potential complications, but I think what we have seen thus far, both from the original vaccine data and the booster data, to me is reassuring that we ought to be more afraid of COVID," said Stuart Berger, MD (Ann & Robert H. Lurie Children's Hospital of Chicago, IL), who chairs the American Academy of Pediatrics Section on Cardiology and Cardiac Surgery.
In general, Berger said, vaccine-associated myocarditis has involved "a handful of cases, mild, the kids go home, and they seem to have no residual issues."
On the other side are the risks associated with COVID-19 itself. The pediatric population has fared better than adults throughout the pandemic, but severe outcomes and death, as well as development of the multisystem inflammatory syndrome in children (MIS-C), are still possible, Berger pointed out. Moreover, during the current surge in cases driven by the Omicron variant of SARS-CoV-2, hospitalizations are spiking in younger age groups.
"In previous outbreaks, and even now, we are seeing kids with significant lung issues. We are seeing kids with MIS-C and everything associated with that, including the cardiac effects of MIS-C, although Omicron seems to be a little less severe from what we can tell," Berger said. "I don't think we've found any of the signals from myocarditis related to the vaccine as serious as the disease itself. So I still feel, and this has certainly been the recommendation for my patients, including my patients with congenital heart disease: get the vaccine and if you qualify for the booster based on age, get it, because we're still not over kids getting COVID and getting sick from COVID."
Initial Numbers After Boosters
Reports of myocarditis in people who had received one of the mRNA-based COVID-19 vaccines started popping up in the spring of 2021, first from Israel and then from other parts of the world, with US and European regulators taking notice in late April/early May. In June, data from the US Centers for Disease Control and Prevention (CDC) confirmed that myocarditis was occurring at higher-than-expected rates after mRNA vaccination in young people. As evidence accumulated, it became clear that the risk, though low, was concentrated in younger males. Additional studies demonstrated that patients with vaccine-associated myocarditis generally had mild symptoms that resolved quickly with no or minimal intervention.
To me it's a no-brainer. And I know that's very easy for me to say, but if you have a safe way to avoid the disease I don't know why you wouldn't take that route. Stuart Berger
The complication typically occurs after the second of the two doses of the initial vaccination series for the mRNA-based vaccines, raising the possibility that exposing people to yet another dose—the booster—could bump up rates further. The issue has taken on greater importance as boosters are starting to be recommended for younger age groups—after a supportive vote during ACIP's meeting last week, the CDC expanded booster eligibility to include kids as young as 12.
Evidence to inform this question is limited, but there are some hopeful signs coming out of the preliminary data presented last week to ACIP members.
John Su, MD, PhD, of the CDC COVID-19 Vaccine Task Force, presented data from Vaccine Adverse Events Reporting System (VAERS) on 976,882 16- to 24-year-olds who had received a booster dose of Pfizer/BioNTech. Of 13 preliminary myocarditis reports, four met the CDC's case definition, and all patients recovered.
Information on boosters in the 12- to 15-year-old group was available from Israel. Sharon Alroy-Preis, MD, MBA, of the Israel Ministry of Health, reported that among more than 41,600 12- to 15-year-olds who had received a Pfizer/BioNTech booster, there were two cases of myocarditis identified 3 to 4 days after the shot—in a 13-year-old boy with a history of pericarditis and in a 14-year-old boy. Both were released in good condition after a few days in the hospital, she reported, calling the booster safety data "very reassuring."
And the CDC's Sara Oliver, MD, provided an additional look at the Israeli data, showing that myocarditis rates generally were lower after the booster dose than after the second dose, except in 16- to 19-year-old females, who had a numerically greater risk after the booster dose. In the 16- to 19-year-old males, for instance, the rate of myocarditis per 100,000 was 6.5 after the booster and 15.3 after the second dose.
Elizabeth Profita, MD (Stanford Children's Health, Palo Alto, CA), a pediatric cardiologist who specializes in heart failure and transplant and who helped spearhead a protocol for managing patients with vaccine-associated myocarditis at her center, said those preliminary data are consistent with what she's been seeing clinically and gleaning from colleagues: "So far we haven't really seen a big signal of any boosted cases. I haven't heard of any boosted cases."
Why myocarditis would be less likely after a booster dose than after a second dose, despite the additional vaccine exposure, is not clear, though it might have to do with the timing of the shots, Profita suggested.
"I think this is an overactivation of the immune system that's leading to edema and inflammation that is sort of attacking the heart a little bit that's leading to those troponin leaks and this sort of pro-inflammatory cascade. And that's what's causing this vaccine-associated myocarditis that we're finding," she proposed. Thus, the longer interval between the second and booster dose compared with the first and second dose (5 to 6 months versus 3 weeks) may allow for the body to start at a lower level of immunogenicity before receipt of the booster.
"It seems to me that it'd be very reasonable to think that we won't see an increase after boosters because they're at such a later time point," Profita said. "So you've already recovered from your first two doses, you've developed some immunity, you have some memory to this vaccine, and then you're just reactivating that down the road."
Consistent with this theory, she said, is that among the population of immunocompromised transplant patients she treats, there have been no cases of myocarditis related to COVID-19 vaccination.
A similar theory was proposed last year to explain why rates of myocarditis might be higher in Israel and the United States—where second doses were given within 3 to 4 weeks of the first—as compared with other countries where the doses were spaced by several months.
'As a Parent, as a Doctor'
As for how concerned people should be about the hazard of vaccine-associated myocarditis when weighing the risks and benefits of COVID-19 vaccination, the pediatric cardiologists interviewed by TCTMD were in agreement that the rare event should not dissuade families from getting the shots.
Matthew Elias, MD (Children's Hospital of Philadelphia, PA), had a clear message: "I strongly recommend the COVID-19 vaccine for everyone who's eligible to receive it as soon as possible, and that includes eligible children and includes the boosters for those who are eligible."
Ultimately it comes down to a comparison of the risks of not being vaccinated and exposed to the potential harms of COVID-19 versus the possible side effects of the vaccine. There are rare cases of vaccine-associated myocarditis, and fortunately, they're generally mild and either self-resolving or treatable with minimal medications, Elias said.
As a parent, as a doctor, I'm glad that children relatively do quite well with COVID. But that's not always the case, and children have died and children have had severe disease and children have had heart issues from the infection, including from myocarditis. Matthew Elias
On the other hand, it's been known since the early days of the pandemic that COVID-19 can affect the heart in many ways. It is a myth, Elias said, that children are spared from COVID-19. "As a parent, as a doctor, I'm glad that children relatively do quite well with COVI. But that's not always the case, and children have died and children have had severe disease and children have had heart issues from the infection, including from myocarditis." Even if an infected child does not get very sick, they are at risk of transmitting the virus to others or later developing MIS-C, he added.
"There's not a risk-free choice," Elias said, "but the risk is much higher if you're not vaccinated."
That goes for all age/sex subgroups, according to Elias, who said data on potential vaccine complications, including myocarditis, have been captured adequately through multiple mechanisms to allow for informed risk-benefit discussions within each subset of children.
"Without hesitation, I think the benefits of the vaccine always outweigh the risk," he said. "Even though some children do well, we're seeing just from the Omicron surge itself a substantial increase in infections and hospitalizations across children's hospitals, including kids who are quite sick. And children can die from this. Even at the lower age range, for instance the 5- to 11-year-old group, where the risk of severe disease will be less than probably if you're older or have other comorbidities, the benefits of the vaccine would outweigh the risk," he said, adding that he has a child in that younger age group who has been vaccinated and will get the booster when eligible.
Profita said that she has noticed that after an initial spike in cases of vaccine-associated myocarditis when adolescents first became eligible for vaccination, reports have dwindled, even as younger children ages 5 to 11 have become eligible for the shots. She counsels a lot of patients, typically with underlying heart disease, and their families about the COVID-19 vaccines, and many are concerned about side effects like myocarditis. She tells them that "the rates are still low. This is still a very rare side effect."
And she agreed with Elias that the risk of myocarditis is lower than the risks that come with COVID-19. "I would, even for my own children, take that risk of vaccine-associated myocarditis . . . over the risk of COVID and MIS-C and some of these other complications," said Profita, a mother of two young sons. "I think every one of us in the field would agree that it's worth taking this small risk to help protect children from COVID disease and also [to contribute to] the great public health benefit as well."
Many Unknowns Remain
Despite strongly coming down on the side of vaccination, all three cardiologists pointed out that there's still much to learn about COVID-19 itself and the effects of vaccination in the pediatric population.
Profita said additional studies are needed to assess how cases of vaccine-associated myocarditis will resolve over the long term, what factors predispose to the complication, and why males are so much more likely to be affected. Also, if this turns into a situation in which annual COVID-19 vaccines will be required, the medical community will have to figure out what to do about people who have developed a complication like myocarditis after a prior dose. "While these cases are rare, I don't want any of those individuals to get booster doses right now until we know more about how they would respond and how the myocardium would respond," Profita said, advice consistent with CDC guidance.
I would, even for my own children, take that risk of vaccine-associated myocarditis . . . over the risk of COVID and MIS-C and some of these other complications. Elizabeth Profita
Berger said the field needs to continue monitoring both the effects of COVID-19 in the pediatric population—including the impact of Omicron and other additional variants that might emerge—and the safety of the vaccines.
"It's always a fear of the unknown, and to me the fear of the unknown is more with the virus itself. I think the vaccine has proven that it's safe and certainly proven that it's effective," Berger underscored, noting that the majority of young people landing in the hospital with COVID-19 have been unvaccinated. "If you have a way to avoid COVID, do it. To me it's a no-brainer. And I know that's very easy for me to say, but if you have a safe way to avoid the disease I don't know why you wouldn't take that route."
The mechanisms underlying vaccine-associated myocarditis still need to be worked out, and that process should include investigations into why myocarditis that comes after a COVID-19 shot looks different compared with myocarditis that develops in the setting of COVID-19 or MIS-C, according to Elias. Whether there are any long-term consequences of vaccine-associated myocarditis needs to be monitored as well, he said.
"That has not seemed to be the case at all, but I know that's a question that often comes up from families, and I understand, because they want to do whatever's best for their child," he said.
As for boosters, data are still limited when it comes to assessing the risk of myocarditis and that will need to be tracked going forward, he said, particularly if additional booster doses start to be introduced.
For now, doctors can play an important role in overcoming any hesitation families might have regarding vaccination, Elias indicated, pointing to surveys showing that people are more likely to get vaccinated if they receive a recommendation from a trusted healthcare professional. "If families have very strong opinions against vaccines, that can be a tough conversation, but I think it's worthwhile making sure that the families know that their doctor, who hopefully they trust, recommends this vaccine and reasons why if they would like to hear that," he said. "I think that's always beneficial. So I'll try to emphasize that to all of my patients, and over time, for more and more of them, the response is, 'Absolutely he or she has been vaccinated,' which is good to hear."

Todd Neale is the Associate News Editor for TCTMD and a Senior Medical Journalist. He got his start in journalism at …
Read Full Bio
Disclosures
Berger, Elias, and Profita report no relevant conflicts of interest.