ESC 2021: Trials, Guidelines, and Channel Surfing at This Year's Virtual Congress
Empagliflozin in HFpEF, finerenone in diabetic kidney disease, a new LAA occluder, DOACs in TAVI, valve guidance, and more.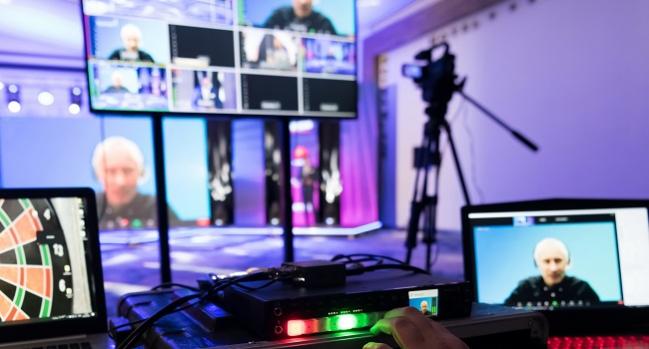 For the second year in a row, the annual European Society of Cardiology (ESC) Congress will be fully virtual, but Program Committee Chair Stephan Windecker, MD (Bern University Hospital, Switzerland), said that the decision was the right one, allowing conference planners to learn from and build upon the 2020 offerings.
"We were hoping to have a live meeting [in 2021], but we quickly recognized early this year that this was rather optimistic and unfeasible, and therefore we opted again for a digital format," he told TCTMD. "I think our experience last year was actually great and our outreach of more than 100,000 participants shows you all of the potential and pros of doing digital meetings."
Still, he continued, "there were some things that could be learned in terms of improving on the overall performance of the platform, navigability, and user friendliness, and that certainly is something that we have tried improve on for this year." 
A total of 20 studies were accepted as Hot Lines for ESC 2021, spread across four dedicated sessions, one per day. "What is amazing," said Windecker, "is that they really cover the entire field of cardiology from prevention, to arrhythmias, to intervention, to antithrombotic therapy."
Hot Line 1
Among the trials that will air in the first Hot Line session at 2:30 PM local time, Friday, August 27, Windecker highlighted EMPEROR-Preserved. That study, in patients with heart failure and preserved left ventricular ejection fraction (HFpEF), looks at whether the sodium-glucose cotransporter 2 (SGLT2) inhibitor empagliflozin (Jardiance; Boehringer Ingelheim/Eli Lilly) reduces rates of cardiovascular death and HF hospitalization. Top-line results, released last month, announced that the trial had met its primary endpoint, but getting the details will be a "highlight," Windecker said, particularly since a second analysis in this same session, EMPEROR-Pooled, will look at a broader patient cohort from this series of trials.
GUIDE-HF, looking at whether pulmonary artery pressure-guided heart failure management improves outcomes, and SMART-MI, testing an implantable cardiac monitor in post-MI patients, round out Hot Line 1.
Hot Line 2
Hot Line 2, taking place at 2:00 PM local time Saturday, features two antithrombotic trials, two studies of the investigational drug finerenone (Kerendia; Bayer) in chronic kidney disease and diabetes, and two ablation studies in atrial fibrillation (AF).
For Windecker, the ones to watch include the finerenone FIGARO-DKD and FIDELITY studies. Top-line results for the former were previously announced, and the US Food and Drug Administration has in fact already approved the agent in this setting through its priority review and fast-track designations.
Additionally, Windecker highlighted MASTER-DAPT, looking at short versus extended dual antiplatelet therapy (DAPT) in high-bleeding-risk patients broken down by concomitant need for anticoagulation, and ENVISAGE-TAVI, testing the direct oral anticoagulant (DOAC) edoxaban (Daiichi Sankyo) against a vitamin K antagonist after TAVI in patients with AF. This is the latest trial trying to carve out a role for a DOAC in this setting after GALILEO, ATLANTIS and POPular TAVI, Windecker noted. "Actually within a very short period of time, you have now four major randomized clinical trials in the field of TAVI and antithrombotic therapy, so that's one that I think will be interesting."
Also in this session are APAF-CRT, testing AV junction ablation for patients with permanent AF and narrow QRS, and DECAAF II, looking at targeting atrial fibrosis during ablation of patients with persistent AF in the hope of improving procedural outcomes.
Hot Line 3
Two trials out of the five in Sunday's 2:00 PM Hot Line 3 have piqued Windecker's interest. TOMAHAWK, comparing immediate versus delayed angiography in patients with out-of-hospital cardiac arrest, is the largest trial to date to probe this important clinical dilemma. ACST-2, which randomized patients with tight, asymptomatic carotid stenosis to stenting or surgery, has been hotly anticipated for some time and "will be important" no matter which strategy wins out, he said. Filling out the rest of this afternoon slot are LOOP, using an implantable loop recorder to screen for AF and stroke prevention; SSaSS, testing a salt substitute to reduce cardiovascular events and death; and RIPCORD 2, evaluating whether routine fractional flow reserve (FFR)-guided management of chest-pain patients results in better resource utilization as well as better patient-reported outcomes. Back in 2013, the original RIPCORD study suggested that routine FFR changed management plans for one in four patients.
Hot Line 4
The final Hot Line session, Monday 2:00 PM, also bridges a wide range of subspecialties. IAMI is investigating influenza vaccination following MI. STEP addresses persistent questions about intensive versus standard blood-pressure lowering in older hypertensive patients. Amulet IDE is the pivotal trial required by US regulators to see whether the Amplatzer Amulet left atrial appendage closure device (Abbott) could achieve comparable outcomes to the market-approved Watchman occluder (Boston Scientific) in patients with nonvalvular AF—the device received FDA approval this week based on these data, which haven't yet been released. An ACS substudy from STOPDAPT-2 (first presented in 2019), looks at shorter-duration DAPT followed by clopidogrel monotherapy in this unstable subset.
The final study in this batch—and the one highlighted by Windecker, due to its novelty at a cardiology meeting—is PRONOUNCE. This trial is comparing the cardiovascular safety of two cancer drugs, degarelix (Firmagon; Ferring Pharmaceuticals) and leuprolide (Lupron; Abbvie), in patients with advanced prostate cancer and CVD. Seeing this study at the ESC Congress speaks to the increased awareness and attention being paid to the safety profile of these drugs and the growing field of cardio-oncology, he said.
New Guideline Releases
Four new sets of ESC guidelines will be released at this year's Congress—heart failure, valvular heart disease, cardiac pacing, and CV prevention—with each getting a full hour of programming at 3:30 PM each day, smack in the middle of the Hot Line trials. The acute and chronic heart failure guidelines, last published in 2016, are poised to see some major changes, given the range of new pharmaceutical and interventional trials published in recent years, Windecker noted. The valve guidelines, likewise, should also attract some attention, not least of which because they were co-developed with the European Association of Cardio-Thoracic Surgery, a relationship that has seen some friction in recent years, most notably over the 2018 myocardial revascularization guidelines.
Acknowledging that controversy, Windecker said: "At the end of the day, both associations know that the best way forward is collaboration, rather than confrontation. Debate can always be constructive or it can be destructive, and I think the majority of people like to engage in the constructive debate. Some of the criticisms can help to improve the understanding, but all in all, I think to the benefit of both associations obviously it's much better if both work together. 
Navigating the Program
The virtual meeting will be broadcast across a "Prime Time" station plus 15 additional channels over 4 days. The Hot Line sessions and new guideline releases will take place on the main station, along with a "Day in Focus" recap at the end of the day (local time). In lieu of conference attendees being able to stroll to the exhibit hall, presumably, industry-sponsored sessions have also been scheduled in this Prime Time slot, interspersed between trial presentations and guideline sessions, although Windecker stressed that these are clearly differentiated from the core program content.
The spotlight theme for this year's meeting is sudden cardiac arrest, and programming related to this intractable problem—affecting so many areas of cardiology—can be seen throughout the program, he noted.
Channel 1 features high-profile topics, changing each day, with two of the days devoted to COVID-19. A total of ten of channels are designated for different cardiology subspecialties and each of these, said Windecker, will include live programming twice per day so viewers can interact with presenters, as well as late-breaking studies not featured as Hot Lines. A "Core Cardiology" channel, offering an abbreviated series of essential lectures, takes the place of similar programming introduced at in-person meetings in the past, while a new "Cardiology Toolbox" channel provides clinicians with how-to lectures tackling specific, common, clinical scenarios. An "Awards and Named Lectures" channel and an "International Joint Sessions" channel round out the program.
"What we are proud of is the wealth in content," Windecker stressed, adding they're already anticipating registrations from more countries than last year. "I think our success will obviously [be measured by] participation and networking in a digital way, and our biggest hope is that we can start with a live meeting again next year, in 2022."

Shelley Wood is Managing Editor of TCTMD and the Editorial Director at CRF. She did her undergraduate degree at McGill…
Read Full Bio