'Fascinating' Unlocking Coronary Stent Prompts Cautious Praise
It's too early to know if a device that uncouples itself with time, leaving behind a healthier, supple vessel, can fill an unmet need.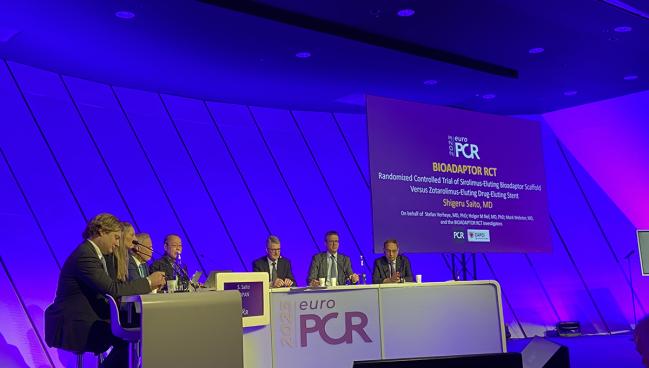 PARIS, France—It's not a stent in a traditional sense, nor a scaffold that completely disappears over time, but a new device—one that "unchains" itself over time—has cleared an early hurdle by proving just as good as a workhorse drug-eluting stent in treating patients with coronary artery disease.
The device, called the DynamX Bioadaptor (Elixir Medical), met a primary endpoint of noninferiority when compared with the Resolute Onyx zotarolimus-eluting stent (Medtronic). Additionally, researchers observed other positive changes with the scaffold, including the restoration of vessel function and plaque stabilization.
The findings, which were presented during a hotline session at EuroPCR 2023, highlight the "promising potential of DynamX on coronary atherosclerosis," said lead investigator Shigeru Saito, MD (Shonan Kamakura General Hospital, Japan).
The sirolimus-eluting scaffold is made up of three metallic helical strands joined circumferentially by a thin PLLA-bioresorbable polymer. Once the polymer is resorbed over 6 months, the scaffold is "unlocked," which disconnects the three helical strands. Unlocking the scaffold is meant to facilitate a return to normal vessel function while the disengaged cobalt-chromium strands provide scaffolding support.
"I think it's fascinating," said William Wijns, MD (Lambe Institute for Translational Medicine and CÚRAM, Galway, Ireland), who chaired the press conference where the results were announced. "You need scaffolding in the radial direction. Who says you need scaffolding in the longitudinal direction?"
Ajay J. Kirtane, MD, SM (NewYork-Presbyterian/Columbia University Irving Medical Center, New York, NY), said that what's ultimately going to drive this technology forward will be late clinical outcomes.
The acute results, nonetheless, look good, including those showing advantages in terms of late lumen loss with DynamX. "My feeling is that this is 445 patients and is something that certainly needs to be studied in a larger patient population," Kirtane told TCTMD. "It's something a lot of people would be interested in seeing what that would show."
Plaque Volume Regression
Stent-related adverse events typically continue to accrue after year one at a rate of approximately 2% per year. As a result, researchers have looked for new ways to improve short- or long-term outcomes, prompting investigation of bioresorbable scaffolds (BRS). The BRS technology, though, "has failed to live up to its promise," said Saito, noting the devices—specifically the BRS developed by Abbott that was ultimately discontinued—have been plagued by late events.   
In the BIOADAPTOR study presented by Saito, the primary endpoint of target lesion failure at 12 months was 1.8% with DynamX and 2.8% with Resolute Onyx, meeting the noninferiority definition specified in the trial (P < 0.001). There were no cardiovascular deaths with DynamX, and no difference in target-vessel MI and clinically driven TLR between devices. Definite/probable stent thrombosis occurred in 0.5% of patients in both treatment groups.
Using intravascular imaging in a subset of 100 patients, investigators also looked at vessel pulsatility, which they assessed as the percent change in lumen area between systole and diastole. At the completion of the procedure, vessel pulsatility was constrained with both DynamX and Resolute in the proximal, mid, and distal sections of the device. At 12 months, however, vessel pulsatility was restored across the entire device segment with DynamX.
On angiography, the percent diameter stenosis at 12 months with DynamX was significantly less than with Resolute, a benefit that was seen in the LAD, small vessels, and long lesions. Late lumen loss was also significantly lower with DynamX, including in the high-risk subgroups.
Finally, investigators showed that use of DynamX led to positive changes in plaque volume. At 12 months, plaque volume measured behind the device increased just 3% with the novel scaffold as opposed to 12% with Resolute. When operators looked only at noncalcified lesions, plaque volume decreased in patients treated with DynamX, but still increased in the Resolute group.
"When I saw the results, I was very much excited and surprised," said Saito, referring to the change in plaque volume.
Kirtane was also taken by the changes in plaque volume observed in the study, pointing out that in-stent restenosis remains a clinical problem.
"Almost 10% of patients coming to the cath lab—if you look at bigger series—are coming for in-stent restenosis," he said. "That's not great. You get a good result early, and there are no issues in the first year, but then there's a steady accrual of events. The idea would be to try to prevent those, and whether this method does or does not remains to be seen."
Potentially reducing plaque burden with DynamX could have an impact on late-occurring events, but longer-term follow-up in larger studies will be needed, he said.  
A larger study is underway. The INFINITY-SWEDEHEART registry-based randomized trial will see 2,400 patients treated with either DynamX or Resolute Onyx and followed for 5 years, although the primary endpoint is TLF at 1 year.
What Happens Beyond 1 Year?
Ron Waksman, MD (MedStar Health, Washington, DC), one of the discussants following the presentation, said any new device needs to be able provide an incremental benefit over today's excellent stent technology.
"The results seem to be good," Waksman told TCTMD. At the time of implantation, the device behaves like a regular stent, but gains flexibility as it's unlocked around 6 months, he said. "As for why the plaque behind the stent goes away, I don't know if I have explanation. Maybe there is less trauma because you have a device that's a little more conformed to the vessel. One of things that creates plaque is the stimulus of the foreign body, the rigidity of the vessel."
Improvements in pulsatility and compliance were also impressive, said Waksman. With many thin-strut stents there is some recoil, especially when placed into very calcified vessels, he added. With DynamX, the unlocked cobalt-chromium helical strands are just 71 μm, but there appeared to be no recoil, which would be a positive development. "I'm careful not to praise [the device] too much, but these are signals we have not seen before," he said.
Waksman stressed there is a need to determine "what's going to happen beyond 1 year," wondering even if it might not be "too little, too late." Although the DynamX bioadaptor is not just another "me-too" device, it's making its way in a crowded field. Clinical outcomes with today's stents are very good and their prices have fallen dramatically, too. Unless the DynamX provides incremental reduction in hard clinical outcomes, hospitals aren't going to pay more for a device simply to increase pulsatility, said Waksman. 
Robert A. Byrne, MBBCh, PhD (Mater Private Hospital, Dublin, Ireland), also wondered about the "unmet need" for this device but thinks it could play a role in patients with diabetes and those with complex or diffuse disease. "Drug-eluting stents are good, but when you look at PCI versus CABG trials, there is still a gap in patients with complex disease patterns," he told TCTMD. "If a newer-iteration stent technology can close that gap, then it would be welcomed."
Like others, Byrne said these early results look good, especially the low rate of TLF against a very good comparator stent. Some of the other endpoints used in the trial are less familiar to clinicians, he said, noting that the clinical significance of these various endpoints is unknown.
Stephan Windecker, MD (Bern University Hospital, Switzerland), who chaired the hotline session, wondered what the new device should be called. "What's the correct terminology?" he asked. "Is it a stent, is it a scaffold? How do you classify this technology?"
The company says it's called a bioadaptor, Waksman called it a hybrid device, and Byrne called it a stent, adding that he thinks such confusion around what to call these devices isn't helpful.
"I think it's a stent," said Byrne. "I also think a scaffold is a stent."  

Michael O'Riordan is the Associate Managing Editor for TCTMD and a Senior Journalist. He completed his undergraduate degrees at Queen's…
Read Full Bio
Sources
Saito S. Randomized controlled trial of sirolimus-eluting bioadaptor scaffold versus zotarolimus-eluting drug-eluting stent. Presented at: EuroPCR 2023. May 17, 2023. Paris, France.
Disclosures
Saito reports consulting fees from Elixir Medical.