Intravascular Imaging to Inform PCI Should Be Routine: ACC Interventional Council
Time and cost are limitations to adoption, but proponents believe these challenges can be overcome.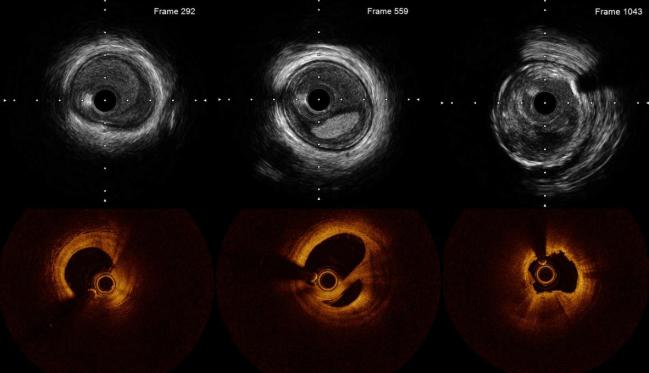 A new review from the American College of Cardiology (ACC) Interventional Council is taking one of the strongest stances to date when it comes to the use of intravascular imaging for PCI guidance. 
Intracoronary imaging should now be a routine part of clinical practice, say experts, as it can be used to assess the lesion prior to the intervention, to prepare it for stent deployment, and to assess how well the stent was placed.
"This is probably the most definitive [and] aggressive stance on imaging as taken by an interventional society, but we're proud of that because I think it's about time," senior author Ajay J. Kirtane, MD (NewYork-Presbyterian/Columbia University Irving Medical Center, New York, NY), told TCTMD. "At this point, most of us feel pretty strongly that there's enough data out there that we feel that this represents modern-day PCI. If folks are putting stents in without assessing the lesion preparation or optimizing their stents, then I personally feel that that's care I would not want for my family member."
Prior studies have shown the beneficial effects of PCI guided by intravascular imaging, including IVUS and OCT, on long-term outcomes, even mortality. While imaging rates have risen in Asia and Europe in recent years, hospital culture and physician preference have tended to impede the adoption of these technologies into contemporary US practice.
Amir Kaki, MD (Ascension St. John Hospital, Detroit, MI), who wasn't involved in drafting the new review, agreed with the recommendations.
"It's critically important that we start to make intravascular imaging the standard of care in PCI," he told TCTMD. "We need to implement strong recommendations in the guidelines and incentivize people to take the extra step, because I believe that the data suggest that we can have a more durable result and safer procedure, not only in the short term but also in longer-term outcomes."
Practical Suggestions
In the document, published in the February 14, 2023, issue of the Journal of the American College of Cardiology, Alexander G. Truesdell, MD (Inova Heart and Vascular Institute, Falls Church, VA), Kirtane, and colleagues outline the history of intravascular imaging and the currently available technologies including IVUS, OCT, and near-infrared spectroscopy (NIRS); review the most recent studies in the PCI space; and discuss best practices.
According to Kirtane, the most important section is a list of recommendations broken into suggestions at the operator, institution, and national levels suggestions.
For the operator, for example, they say that intravascular imaging should be an "essential adjunct to angiography" for specific lesion subsets including left main, proximal LAD, in-stent restenosis, stent thrombosis, calcified coronary arteries, and chronic total occlusions or "any scenario where angiography may inadequately elucidate anatomy." On the institutional level, the authors say that all US cath labs should have intravascular imaging available, ideally both IVUS and OCT, and use it regularly enough to maintain a high level of competency. At the national level, Truesdell and colleagues endorse training programs prioritizing an "adequate volume" of intravascular imaging to meet competency and encourage professional societies to get involved by "offering lifelong training opportunities and competency tools."
"Fellowship training programs and any forthcoming documents are going to need to have to incorporate these, in my opinion," said Kirtane. "They are going to have to be revised in a way such that this can be done so that our trainees can know what's going on."
If folks are putting stents in without assessing the lesion preparation or optimizing their stents, then I personally feel that that's care I would not want for my family member. Ajay J. Kirtane
For Kaki, who does about 90% or more of his procedures with intravascular imaging, these training recommendations specifically are vital. "I feel very strongly that intravascular imaging and physiology assessment—so interpretation of the intravascular imaging, ultrasound, OCT interpretation, FFR interpretation—should be a part of the core curriculum of the interventional fellowship," he said. "I also think it should be a core competency for a modern-day interventional fellow prior to their graduation."
While skeptics might cite the added time it takes to perform interventional imaging as a reason not to incorporate it into routine practice, Kaki said the converse is true once it becomes engrained. He estimates that the data acquisition and interpretation adds about 2 minutes to every procedure now.
But, Kaki stressed, "that 2 minutes saves us a lot of time compared to not having that data. We also do a lot of post-PCI imaging on most of our cases, if not all, because the IVUS catheter is open and the data that we get from the post-IVUS is actionable. We can identify if the stent is malapposed, if it's underexpanded, if there's edge dissection, et cetera."
Because most US cath labs do have readily available access to intravascular imaging, Kaki said it should be "very feasible" to make the changes the review document is suggesting. "There's tremendous resources to learn," he continued. "We have dedicated courses for this, there's a lot of online resources, this technology is highlighted at every national meeting and every fellows meeting. . . . Even if someone says, 'At my institution, our attending interventional cardiologists have a low penetration of intravascular imaging,' I don't think that should be a barrier for a young interventional cardiologist coming out of training to not understand the utility of the technology."
Kirtane agreed. "The biggest change that's going to have to be made is that people are going to have to use it and use it programmatically, and the expectation is going to need to be that for certain cases it is going to be done," he said.
For him, the experience of training at a program that did not use a lot of intravascular imaging, and then working at his current institution that does, led to changes in his practice. "I started implanting stents that were bigger than those I put in fellowship," Kirtane said. "We always should be introspective and look at ourselves, and when we do that, we'll notice that there are things we can do to make things better."
What also might be holding some operators back is a lack of randomized controlled data in this space, according to Kirtane. He pointed to the RENOVATE-COMPLEX-PCI study, which will be presented next month at the 2023 ACC meeting, and others coming later this year that should hopefully be "reaffirming." If these studies are negative, "then we'll have to readjust what we said, but I think the way the data goes currently, it would be hard for me to imagine that there's not some signal in those trials," he added.
Note: Kirtane is a faculty member of the Cardiovascular Research Foundation, the publisher of TCTMD.

Yael L. Maxwell is Senior Medical Journalist for TCTMD and Section Editor of TCTMD's Fellows Forum. She served as the inaugural…
Read Full Bio
Disclosures
Truesdell reports serving as a consultant for/on the Speakers Bureau of Abiomed and Shockwave Medical.
Kirtane reports receiving institutional funding to Columbia University and/or Cardiovascular Research Foundation from Medtronic, Boston Scientific, Abbott Vascular, Amgen, Cardiovascular Systems Inc, Philips, ReCor Medical, Neurotronic, Biotronik, Chiesi, Bolt Medical, Magenta Medical, Canon, SoniVie, and Merck; in addition to research grants, institutional funding includes fees paid to Columbia University and/or Cardiovascular Research Foundation for consulting and/or speaking engagements in which he controlled the content; receiving consulting fees from IMDS; and receiving travel expenses/meals from Medtronic, Boston Scientific, Abbott Vascular, Cardiovascular Systems Inc, Siemens, Philips, ReCor Medical, Chiesi, OpSens, Zoll, and Regeneron.
Kaki reports serving as a speaker for and consultant to Abbott.