Live From Denver: TCT 2017, Day Four
This blog aims to capture headline news, as it breaks, plus random tidbits from the ground at TCT 2017. It will be updated throughout the day.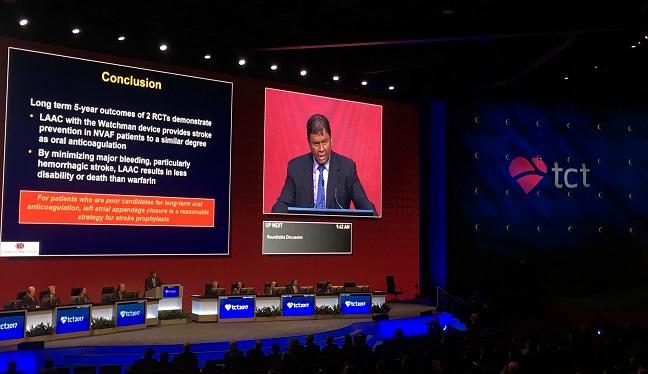 Bleary-eyed and blistered, I've made it to Day Four of TCT 2017: a half-day that will no doubt feel longer. I hope conference goers and readers off-site have enjoyed following along on the blog. Please make sure you read TCTMD's in-depth coverage of the same trials and topics I've tried to capture on this blog.
10:30 AM November 2, 2017: FAME 2 at 3 Years
Last but not least, William F. Fearon presented the 3-year results from FAME 2. With results that will no doubt be discussed in the wake of ORBITA, the long-term findings showed that patients with stable CAD and an abnormal fractional flow reserve (FFR) fared better with PCI than with medical management, at similar costs, over the long term.
Among the 888 patients originally enrolled in FAME 2 on the basis of having an FFR < 0.80, MACE occurred in 10.1% of patients randomized to PCI and in 22.0% of patients randomized to medical therapy (P < 0.001), a difference driven by a reduction in the rate of urgent revascularization (4.3% vs 17.2%, P < 0.001).
"Compared with best medical therapy alone, performing PCI in patients with stable CAD and at least one coronary lesion with an abnormal FFR leads to improved clinical outcome, less angina, and improved quality of life at similar cost over 3 years of follow-up," Fearon concluded. 
Read the full story by TCTMD's L.A. McKeown here. 
FAME 2 shows PCI in pts w/ stable CAD & 1 or more lesions & abnormal FFR has improved clinical outcome & similar cost @ 3 yr f/u #TCTDenver pic.twitter.com/WaLXsfSP2x

— C. Michael Gibson MD (@CMichaelGibson) November 2, 2017
10:00 AM November 2, 2017 – PCI in ORBITA: Has it All Been a Sham?
The highly anticipated ORBITA study was the second late-breaking clinical trial in today's batch. Hotly anticipated (and simultaneously published in the Lancet), ORBITA was a double-blind trial randomizing 200 patients with stable angina and single-vessel CAD to PCI or a sham procedure at five sites in the United Kingdom. All patients were symptomatic with angiographically significant lesions of 70% or greater.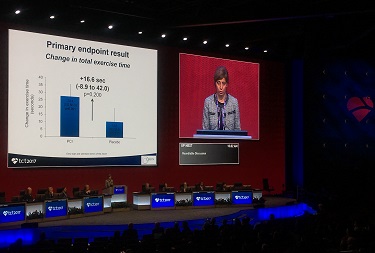 As TCTMD reporter Mike O'Riordan will soon be telling you about in full, patients first went through a 6-week medical optimization period then underwent PCI or a sham procedure. Six weeks later there was improvement in exercise times from baseline (statistically significant in the PCI arm, but not the sham arm), but the difference was not significant between the two. Secondary endpoints related to quality of life, angina symptoms showed improvements in both arms, but again with no differences between the two. PCI did improve markers of improved hemodynamics, "but despite these, there was no significant difference between PCI and placebo in exercise time increment."
In a press conference, Al-Lamee stressed that the patients had single-vessel disease only and the results cannot be extrapolated to stable CAD patients with more complex disease. Moreover, she acknowledged, the run-in period of optimized antianginal medications meant that a substantial proportion of patients were angina-free going into the randomization. Moreover, the intensity of medical management was guideline-recommended, but not necessarily something that is common in medical practice today, Al-Lamee said.
"This is the first placebo-controlled trial of angioplasty," said Al-Lamee in a morning press conference. "Of course, it's something that's interesting and will stimulate debate, and may even be used in guideline discussions, but the guidelines are based on thinking about the whole population. To use [ORBITA] to downgrade angioplasty in the guidelines—and I say this as one of the investigators—would be an incredibly large overreach."
For all the nuances, check out Michael O'Riordan's story.
@SukhNijjer Need results of the Ischaemia trial to really put this in context #TCTDenver https://t.co/ODQKalvazR

— Ravi Assomull (@CardiacDoctor) November 2, 2017
9:30 AM November 2, 2017: Has LAA Closure PREVAILED?
The Late-Breaking Clinical Trials session this morning featured the 5-year results from the PREVAIL trial of the Watchman left atrial appendage (LAA) occluder. TCTMD reporter Todd Neale will have the full story for you soon, but in a nutshell, provocative 5-year results from PREVAIL show that even at this late stage, the first composite co-primary endpoint of stroke, systemic embolism (SE), or cardiovascular/unexplained death did not achieve noninferiority (as was seen at earlier time points) while the second co-primary endpoint of postprocedure ischemic stroke/SE did achieve noninferiority. When combined with 5-year results from the PROTECT AF trial, however, the combined data set yielded better results: the composite endpoint was similar between groups (HR 0.820; P = 0.27), as were all-stroke/systemic embolism (HR 0.961; P = 0.87). Importantly, differences in hemorrhagic stroke, disabling/fatal stroke, cardiovascular/unexplained death, all-cause death, and post-procedure bleeding favored LAA closure. The combined analysis suggests that the LAA occluder provides "stroke prevention in a nonvalvular AF patients to a similar degree as oral anticoagulation, Saibal Kar said in the late-breaking session. "By minimizing major bleeding, particularly hemorrhagic stroke, LAA closure results in less disability or death than warfarin. For patients who are poor candidates for long-term oral anticoagulation, left atrial appendage closure is a reasonable strategy for stroke prophylaxis."
TCTMD reporter Todd Neale has the details here.
5yr f/u data from PREVAIL is encouraging for LAA closure #TCTDenver #TCT2017 pic.twitter.com/MivusRII1F

— Dr. Sameer Gupta (@SGuptaMD) November 2, 2017

Shelley Wood is Managing Editor of TCTMD and the Editorial Director at CRF. She did her undergraduate degree at McGill…
Read Full Bio