New Expert Consensus Papers Aim to Boost Management, Outcomes in HFpEF
The decision pathway supplements HF guidelines by "walking" clinicians through diagnosis and referrals, notes Mitchell Psotka.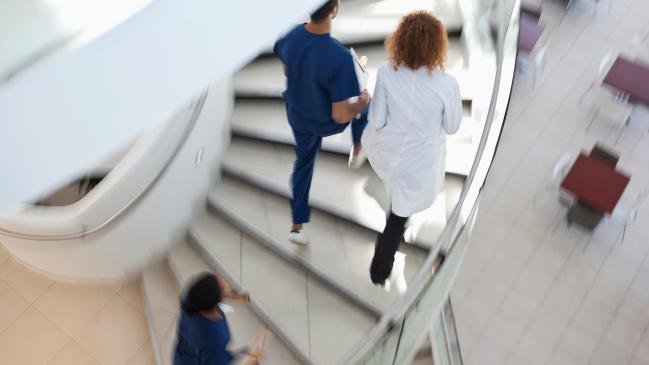 Two new documents from the American College of Cardiology add to ongoing efforts to understand and properly manage the diverse patient population living with heart failure with preserved ejection fraction (HFpEF).
A scientific statement, chaired by Barry A. Borlaug, MD (Mayo Clinic, Rochester, MN), highlights pivotal issues surrounding HFpEF, including epidemiology, pathophysiology, risk factors, diagnosis, and treatment.
"HFpEF has grown to become the most common type of heart failure in the United States and is strongly tied to the presence of excess body fat, sedentary behavior, and older age, which are mirrored in the secular changes we are seeing in the demographics of Americans," Borlaug told TCTMD. "HFpEF, while very common, remains severely underdiagnosed and underrecognized, but newer approaches to diagnosis are now in place that are evidence-based that will hopefully be taken up more in the community, including amongst noncardiologists, to improve diagnosis and recognition."
In recent years, he noted, HFpEF treatment has gotten a boost from the EMPEROR Preserved and DELIVER trials, which showed that the sodium-glucose cotransporter 2 (SGLT2) inhibitors empagliflozin (Jardiance; Boehringer Ingelheim/Eli Lilly) and dapagliflozin (Farxiga/Forxiga; AstraZeneca) reduced the risk of hard outcomes, while improving health status or quality of life.
The scientific statement, published today in the Journal of the American College of Cardiology, provides clinicians with updated algorithms for evaluation, diagnosis, and treatment, emphasizing the importance of being vigilant in ruling out "masqueraders," such as cardiac amyloidosis, valvular heart disease, pericardial constriction, and severe CAD.
"These are very important to consider [because] we can't just call it all HFpEF. All of those disorders have very specific treatments that differ to some extent from what we do for patients with HFpEF," Borlaug noted. "For example, if you had pericardial constriction, you'd refer a patient to surgery to remove the pericardium. If you had cardiac amyloidosis, you may consider treatment with specific drugs like tafamidis, which alter the natural history of that disorder but would not be effective at all for patients who have HFpEF."
The scientific statement also makes the case for the importance of lifestyle changes such as diet and exercise, which Borlaug said "often get superficial lip service, but we really wanted to emphasize that these are important lifestyle interventions that can also really help our patients."
Although cardiac rehab is only reimbursed in the US for heart failure with reduced ejection fraction (HFrEF), the strong evidence base supporting its role in improving functional capacity and quality of life should be part of discussions with HFpEF patients, he added.
Decision Pathway Offers Practical Solutions
The second document, published in parallel to the scientific statement in the same journal, is an expert consensus decision pathway meant to supplement clinical practice guidelines and "encourage clinicians to consider a range of important factors as they define treatment plans for their patients," chair Michelle M. Kittleson, MD, PhD (Cedars-Sinai Hospital, Los Angeles, CA), and colleagues write.
"In a way, HFrEF diagnosis is easy. The echo tells you whether they have it or not. HFpEF is subtle," she told TCTMD. "There's this complex interplay with comorbidities that can contribute to the physiology and also worsen patient's symptoms and outcomes. So, in the document we focus on the importance of actively managing hypertension, diabetes, obesity, atrial fibrillation, coronary disease, and chronic kidney disease."
Another key element of the decision pathway document is its emphasis on multidisciplinary collaboration.
It's important to know when to involve specialists, ranging from those in heart failure to electrophysiology, interventional cardiology, endocrinology, nephrology, and pulmonology. Michelle M. Kittleson
"It's important to know when to involve specialists, ranging from those in heart failure to electrophysiology, interventional cardiology, endocrinology, nephrology, and pulmonology," Kittleson explained. One innovative way the document helps with this is through catchy acronyms—CHECK-IN and INHALE.
Kittleson said the acronyms were a nod to I NEED HELP, which was part of an earlier decision pathway for HFrEF, with each of the letters in the acronym being a prompt to assist in making choices about referral to advanced HF specialists.
"With CHECK-IN, this is really [aimed at] when should a primary care physician check in if what you're doing isn't working, or if you're unsure of the diagnosis or the treatment plan. It focuses on features of the patient that are making their course more complicated or they're not doing as well as you expect," she said.
The ultimate goal is to assist primary care physicians in having "the clarity from a specialist that 'Yes, you're on the right path of the diagnosis, I confirm the diagnosis is correct, and I agree with this management plan put forward.' I think that'll be really helpful to improve the care of so many patients living with HFpEF," said Kittleson. "Putting together a pathway to provide better care means hopefully touching all the multidisciplinary conditions that have to collaborate to care for these patients."
The decision pathway also amplifies the universal definition of HF with HFpEF-specific considerations.
"Again, this is a condition with subtleties, but you can use this structure of the universal definition to guide your thinking as you work the diagnosis," Kittleson explained.
A Welcome Addition
Weighing in on both papers, Mitchell Psotka, MD, PhD (Inova Heart and Vascular Institute, Falls Church, VA), told TCTMD that the scientific statement "is a nice amalgamation of all of the different specialty documents that have been published so far, including up-to-date published literature on the nitty gritty of heart failure with preserved ejection fraction."
He added that the decision pathway will be useful for "walking somebody through how to move from symptoms that a patient may present with, to perhaps a diagnosis, knowing who to refer them to, and then what the future of taking care of that patient really is going to look like. The most recent heart failure guidelines didn't really do that, so it's a welcome addition."
While the memorable CHECK-IN and INHALE acronyms are a good step toward trying to create an easily recognizable reference, they may suffer from the same problem as I NEED HELP, which is that "it has a lot of elements to remember and it doesn't quite flow off the tongue easily," Psotka said.
"When it comes down to it, the appropriate care of these patients requires building a referral network where there is good communication back and forth . . . between specialists and primary care to achieve the appropriate care for these patients," he added. "That's what we need to focus on."
There's also still lots of room for improvement, Borlaug noted.
"We need more therapies. That's the most pressing issue and I think in order to get there, we need to better understand the pathophysiology and the phenotyping," he added. "In HFrEF there are these commonalities of increased neurohormonal activation which can be targeted by the four pillar drugs and that very consistently work for most patients even though there may be very different causes for muscle dysfunction in their heart. We had hoped that that would be true, and it may be too true to some extent, in HFpEF. But, there's also increasing evidence that there are a lot of different phenotypes in HFpEF and that we shouldn't be considering all HFpEF patients to be the same."
Borlaug said more-rigorous phenotyping based on pathophysiology and subtypes may open up avenues for more individualized treatments similar to what has occurred in amyloidosis, and that is a major motivator for future research.

Disclosures
Kittleson and Psotka report no relevant conflicts of interest.
Borlaug reports grant funding from AstraZeneca, Axon, GlaxoSmithKline, Medtronic, Mesoblast, Novo Nordisk, Rivus, and Tenax Therapeutics; serving as a consultant for Actelion, Amgen, Aria, Axon Therapies, BD, Boehringer Ingelheim, Cytokinetics, Edwards Lifesciences, Eli Lilly, Imbria, Janssen, Merck, Novo Nordisk, NGM, NXT, and VADovations; and is named inventor for the tools and approach for a minimally invasive pericardial modification procedure to treat HF.