US Cardiologists' Pay, Productivity Held Steady in 2022: MedAxiom Survey
Interventionalists and EPs again led the pack. In a surprise, private equity and advanced imaging saw little growth.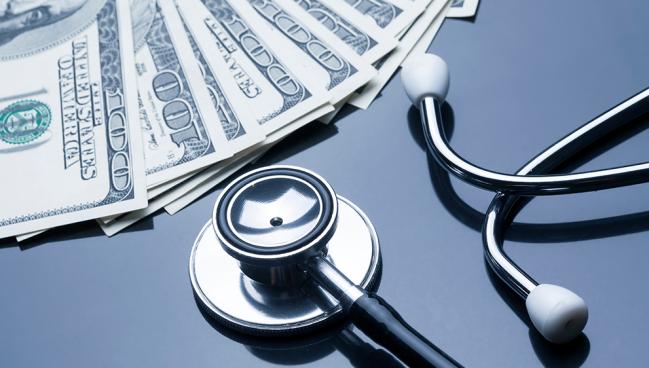 Cardiologists' pay and workloads in the United States are mostly holding steady, according to new survey data reflecting the year 2022. And while there are some evolutions afoot, many of the expected changes—a shift in practice setting due to an influx of private equity, for example, and growth in advanced intravascular imaging—haven't yet made their mark.
At the top of the best-paid list are electrophysiologists (EP) and interventional cardiologists, who took in median amounts of $714,976 and $709,714, respectively, in 2022. Invasive (noninterventional) cardiologists made $662,006, while advanced heart failure (HF) and general/noninvasive cardiologists were paid $575,000 and $585,849, respectively.  Overall, cardiologist salaries barely shifted from 2021 and 2022, and productivity, as measured by work relative value units (wRVUs), changed less than ± 3% for all of the specialties.
The highest-paid cardiologists resided in the South (median $698,881) and the lowest paid were in the Northeast (median $548,192).
Joel Sauer, MBA, who authored the report summarizing the MedAxiom survey along with Karen Wilson, MHA, said it's intended for a broad audience of "multiple, different constituencies."
These include "the physicians who are impacted—they are using these data to negotiate with hospitals and provide peer comparisons throughout the country," as well as hospitals that use the survey for the "same purpose but obviously from the other side of the bargaining table," he told TCTMD.
In addition, healthcare administrators can apply details about volumes and organizational metrics when managing programs at their institution. And finally, the data can inform the experts whose job it is to evaluate whether healthcare entities, as stipulated by various regulations and laws, are paying physicians what's considered fair market value.
The report by MedAxiom, an American College of Cardiology company, notes that there are over 3,000 active cardiology practices in the United States and approximately 32,000 practicing cardiologists.
For the 2023 survey—which reflected 2022 data—a total of 198 programs responded. Among the 5,806 cardiovascular providers in these programs, half were full-time cardiovascular physicians and nearly a third were full-time cardiovascular advanced practice providers (APPs). Most (85%) worked in cardiology, 10% in cardiac surgery, and 5% in vascular surgery. Fifty-seven percent practiced in programs with 10 or fewer CV physicians.
Most of the full-time cardiologists (87%) were male and 13% were female. The men both earned more than women (median pay of $628,601 vs $559,174) and had higher productivity (median wRVUs 10,540 vs 8,417). However, the amount of compensation per wRVU was lower for male as compared with female cardiologists (median $61.76 vs $67.37).
Cardiac surgeons, meanwhile, made $873,762 in 2022 (after peaking in 2021 at just under $1 million). Vascular surgeons saw their income grow to a median of $625,000 (up from $546,054 the prior year). These two specialties had similar median wRVU values despite the gap in compensation. Among the APPs, median pay was $149,275 in cardiac surgery, $121,018 in cardiology, and $120,513 in vascular surgery.
On top of these findings, Sauer pointed to several specific areas of interest: the influence (or lack thereof) of private equity, the subspecialties of structural heart and advanced imaging, and the fallout from COVID-19.
Private Equity in Healthcare
As reported by TCTMD, there has been much debate over the potential advantages and pitfalls of outpatient care at ambulatory surgical centers and office-based labs, many of which are privately owned. The report paints a similar picture, noting: "The impact of private equity on cardiology ownership, particularly as it relates to groups employed by a hospital or health system, continues to be a hot topic at MedAxiom meetings, on listservs, and in healthcare news."
In 2022, however, just 18% of cardiologists and 7% of surgeons worked at centers where the ownership model was private, as opposed to integrated (employed and professional services agreement) or academic.
That's not to say that there isn't a move toward private ownership, Sauer commented. It may well be that the shift is already occurring now, but the data lag behind. "Private equity is going to play a big role, and I can't tell you if it's good or bad, [but] we know it's going to be there," he said.
The type of ownership model appeared to impact compensation in 2022, most notably for the lowest-paid specialties. Advanced HF and general/noninvasive cardiologists made 20% and 22% less, respectively, if they worked in private versus integrated environments. By comparison, the gap in pay was just 2% for EPs and interventional cardiologists.
Structural Heart and Advanced Imaging
Sauer said the findings held some other surprises as well.
In particular, the survey revealed that structural heart, sometimes called a "super subspecialty" of interventional cardiology, is not a single entity. It turns out that community is "extremely heterogenous," the report highlights. "Some spend most of their time performing structural heart work, while others spend the majority performing cardiac interventions and providing some structural heart services."
As Sauer observed, "You can't find anything to say, 'Oh, that's what a structural heart physician should look like,' because the data were just all over the place."
Advanced imaging also stands out as an area that "defies definition," the survey's summary notes. Moreover, despite technological advances and new guideline recommendations, use of these tests hasn't surged as much as might be expected, Sauer noted.
Median Cardiac Imaging Studies per 1,000 Patients
| | | | | |
| --- | --- | --- | --- | --- |
|   | 2019 | 2020 | 2021 | 2022 |
| PET | 21 | 31 | 28 | 24 |
| CT Angiography | 10 | 14 | 15 | 16 |
| MRI | 3 | 4 | 5 | 4 |

Although 93% of programs offered echocardiograms and 82% offered nuclear single-photon emission computed tomography in 2022, far fewer offered cardiac CT angiography (42%, up from 34% in 2021), cardiac MRI (23%, up from 22% in 2021), and cardiac positron emission tomography (17%, up from 16% in 2021).
"One thing to point out is our data are completely based on cardiologists reading and interpreting studies—as we know, radiology does a ton of that work across the country," said Sauer. So, it could be that there is growth occurring on the radiology side that's not evident in these responses.
COVID-19's Lasting Influence
And finally, in another noteworthy pattern, the survey shows that COVID-19 still has lingering effects, after cath lab volumes took a hit in 2020 due to facility closures and fears of infection. Even 3 years later, in 2022, "invasive procedures have not fully reverted to prepandemic levels," the report says.
Median Catheterization Lab Volumes per 1,000 Patients
| | | | | |
| --- | --- | --- | --- | --- |
|   | 2019 | 2020 | 2021 | 2022 |
| Diagnostic Cath | 72 | 64 | 69 | 67 |
| PCI | 29 | 27 | 27 | 27 |

"The pandemic obviously had profound impacts on medicine in 2020: less so in 2021, the recovery was pretty quick," said Sauer. "But the big take-home in 2022 is how similar it was to 2021. We're now hitting this new 'normal.'" Cardiovascular disease "is still the number one killer in the world," he added, "and you can only put off heart care for so long."