COVID-19: TCTMD's Daily Dispatch for November
We're curating a list of COVID-19 research and other useful content, and updating it daily.


TCTMD reporter Todd Neale is keeping up on breaking news and peer-reviewed research related to COVID-19 and will update daily. If you have something to share, tell us. All of our COVID-19 coverage can be found on our COVID-19 Hub.
November 30, 2020
We'll have to wait a little bit to see whether the US Thanksgiving holiday will spark a surge in COVID-19 cases, STAT reports: "It will take a few days for those who got infected to start feeling sick, to get tested, and to get their results back. It will be 2 weeks or so before people who get sick enough to need hospital care show up in emergency departments. And it could be another 2 weeks after that before the seriously ill die, and a bit longer before those deaths are recorded in official tallies. It's why experts describe metrics such as hospitalizations and deaths as lagging indicators—the results of transmission that occurred weeks prior."
The primary efficacy analysis of the phase III trial evaluating Moderna's COVID-19 vaccine candidate demonstrates an overall efficacy rate of 94.1% and an efficacy of 100% against severe COVID-19, confirming results seen in an earlier interim analysis, the company announced Monday. No serious safety concerns were reported. Moderna said that it plans to ask the FDA for an emergency use authorization immediately and that the agency has said there will be an advisory committee meeting on December 17 to discuss it.
The Advisory Committee on Immunization Practices (ACIP), which provides vaccine recommendations to the Centers for Disease Control and Prevention (CDC), will hold an emergency meeting on Tuesday to vote on who should be given priority access to a COVID-19 vaccine when one becomes available, CNN reports. "We are meeting because the FDA, the Operation Warp Speed, have asked states and other jurisdictions to please submit their plans on Friday of this coming week," ACIP's chair said. The group met last week to discuss vaccine priorities but did not vote on any recommendations.
STAT's Helen Branswell details disagreements among US officials both about when the first COVID-19 vaccine will be authorized and about which Americans should get it first. "The conflicting views risk sending mixed signals to public health authorities at the state level who are racing to try to finalize plans for deploying limited doses of vaccines within, as the administration insists, 24 hours of the vaccines being cleared for use by the FDA," she writes. A senior government official told Branswell, "It's going to be messy."
The pandemic has been associated with a small but significant delay in the delivery of IV thrombolysis, but not in various thrombectomy time metrics, for patients with acute ischemic stroke, according to a study in Stroke. The median delay in door-to-needle time was 4 minutes in patients receiving thrombolysis, mostly related to a longer interval between imaging and bolus.
A poll conducted recently in the United States by the de Beaumont Foundation underscores the wide political divide in terms of how serious Americans consider COVID-19 and what steps should be taken to address it. In particular, 62% of Democrats, compared with 33% of Republicans, say the current situation is extremely serious. "Based on our findings, our leaders need to remove politics and partisanship from their messaging and give Americans a better reason to comply other than because it's good for them," pollster Frank Luntz said. "They must remind people that it's also good for the people they love and will speed up the return to a strong economy and a normal life."
The safety committee of the European Medicines Agency (EMA) has recommended that product information for drugs containing chloroquine and hydroxychloroquine be updated after a review confirmed a risk of psychiatric disorders and suicidal behavior with the medications, which continue to be used to treat COVID-19 in some places despite a lack of evidence for efficacy.
Arterial thrombotic events lead to a markedly increased rate of in-hospital mortality (40%) among adults hospitalized with COVID-19, a French study in Mayo Clinic Proceedings affirms. Such events occurred in 5.6% of patients and were predicted by a D-dimer level above 1,250 ng/mL.
A Canadian group has weighed in on returning to sports during the COVID-19 pandemic in the context of concerns about virus-related myocarditis. Writing in the Canadian Journal of Cardiology, the authors "recommend that highly active persons with suspected or confirmed COVID-19 infection refrain from exercise for 7 days after resolution of viral symptoms before gradual return to exercise. We do not recommend routine troponin testing, resting 12-lead electrocardiogram (ECG), echocardiography, or cardiac magnetic resonance imaging before return-to-play. However, medical assessment including history and physical examination with consideration of resting ECG and troponin can be considered in the athlete manifesting new active cardiac symptoms or a marked reduction in fitness. If concerning abnormalities on the initial medical assessment are encountered then referral to a cardiologist who cares for athletes is recommended."
---

November 27, 2020
Chilblain-like lesions, cropping up in younger adults living in temperate regions, have been another unique and perplexing phenomenon seen during the COVID-19 pandemic. A brief report in JAMA Dermatology explores the potential link with SARS-CoV-2 infection and concludes that these cutaneous lesions "represent manifestations of a viral-induced type I interferonopathy." The catch: none of the 40 patients in the series tested positive for SARS-CoV-2 on real-time PCR. Criteria compatible with the disease were reported in fewer than one-third of the cohort, and 30% had positive SARS-CoV-2 serology results.
In an audio interview in the New England Journal of Medicine, executive managing editor Stephen Morrissey, PhD, interviews editor-in-chief Eric Rubin, MD, PhD, and deputy editor Lindsey Baden, MD, to get their take on emerging studies of COVID-19 transmission as well as recent disappointing results with convalescent plasma and hydroxychloroquine. 
Will COVID-19 vaccines be cost-effective? Economist and researcher John Appleby crunches the numbers in the BMJ. "As the world has painfully learnt, health (and care) and our economic lives are (and always have been) inseparable," he writes.
The European Medicines Agency has endorsed a statement put out by the International Coalition Medicines Regulatory Authorities (ICMRA) urging all stakeholders to commit to long-term follow-up in vaccine trials "beyond the time when the predefined cases of COVID-19 disease for final analysis in a trial have been reached." This will be key for getting more precise information on longer-term safety as well as efficacy of these fast-tracked therapies, the statement points out. 
The US Food and Drug Administration has issued new guidance for the use of dry heat to help "support" the single-user reuse by healthcare personnel of specific particulate filtering facepiece respirators (FFRs), including N95 respirators, when supplies are running thin. The aim is "bioburden reduction," not full decontamination, an agency release clarifies. "There exists sufficient evidence demonstrating that there is a reduction of microbial load on certain respirators when exposed to certain dry heat parameters," said Binita Ashar, MD, director of the Division of Surgical Devices in the FDA's Center for Devices and Radiological Health. "Today's guidance is another example of how FDA is working to address critical shortages in personal protective equipment and help protect health care personnel during the COVID-19 public health emergency."
Characteristics of more than 22,000 adults and children presenting with COVID-19 to emergency departments across the United Kingdom over a 2-month period early in the pandemic differ in important ways from patients presenting without the viral illness, according to an observational cohort study published in PLOS One. The findings offer insights for patient triage and suggest that policies to avoid unnecessary emergency department visits likely "achieved their aim," authors conclude.
Among 156 frontline healthcare workers from a multistate hospital network who tested positive for SARS-CoV-2 in the spring of 2020, 94% experienced a decline in antibodies when they were retested 60 days later. A full 28% seroreverted to levels below the threshold used to indicate a positive result. Healthcare personnel who had higher initial antibody responses were more likely to have antibodies detected at follow-up than those whose antibody response was lower on initial testing. "SARS-CoV-2 antibodies decline over weeks following acute infection," researchers conclude in Morbidity and Mortality Weekly Report. "Negative SARS-CoV-2 serologic results do not exclude previous infection, which has significant impacts on how serologic studies are interpreted."
One in three patients with cancer in the Netherlands report changes in cancer care during the early days of the pandemic, according to a cross-sectional study of patients participating in the Dutch Patient Reported Outcomes Following Initial Treatment and Long-term Evaluation of Survivorship (PROFILES) registry. Long-term outcomes warrant monitoring, the authors conclude. The full report is published in JAMA Oncology. 
The New York Times takes a deeper dive into the uncertainties dogging the preliminary results released from the AstraZeneca/University of Oxford vaccine trial. "Scientists and industry experts said the error and a series of other irregularities and omissions in the way AstraZeneca initially disclosed the data have eroded their confidence in the reliability of the results," the story notes.
The Times also examines how US retailers are trying to avoid becoming Black Friday "superspreader" events on what has traditionally been the biggest shopping day of the year for Americans. 
Shelley Wood contributed today's Dispatch.
 
---
November 26, 2020
More people are hospitalized by COVID-19 in the United States today than at any other time in the pandemic to date—more than twice the number 2 months ago, NPR reports. "On the ground, equipment and staff shortages are already straining the system and changing how hospitals provide care. An NPR data analysis supports what health care leaders and researchers have cautioned: this stress may even be contributing to higher death rates."
Deaths passed 2,200 per day in the US on both Tuesday and Wednesday this week, the New York Times reports. Different states are trying a range of tactics. "In New Mexico, grocery stores are being ordered to close if four employees test positive. In Los Angeles County, CA, restaurants can no longer offer in-person dining. And in Pima County, AZ, which includes Tucson, cases have reached record levels and officials have imposed a voluntary curfew. New York had sought to restrict attendance at faith-based gatherings to 10 in "red zones" where infections are rampant and to 25 in less-dangerous "orange zones." Those restrictions, however, were overturned by the US Supreme Court yesterday.  
The US Food and Drug Administration (FDA) has published a safety and efficacy evidence synopsis justifying its decision to approve Remdesivir (Veklury; Gilead) back in October. Last week, the World Health Organization (WHO) recommended against the use of the agent, largely on the basis of the WHO-sponsored SOLIDARITY trial results. The FDA, noting that its decision was based on three trials: ACTT-1, sponsored by National Institute of Allergy and Infectious Diseases, and two SIMPLE trials, sponsored by Gilead. The FDA is "aware" of the SOLIDARITY findings, the statement reads. "Based on the findings of the ACTT-1 trial, benefit to patients for Veklury was demonstrated including a shorter time to recovery and better odds of clinical improvement. The SOLIDARITY results do not refute these findings of benefit to patients."  
In the BMJ, executive editor Kamran Abbasi offers a blistering takedown of DANMASK-19—or rather, its interpretation on social media. "Masks don't work," was the widespread interpretation of the trial before its publication on social networks and in the media. "When the mythical trial was finally published last week in the Annals of Internal Medicine we didn't need to read it. We already knew its damning verdict on mask wearing. Social media told us as much," Abbasi writes. "Except that if you read the published paper you find almost the exact opposite."
James Brophy, MD, PhD, summed up the DANMASK-19 findings and misinterpretation in a BMJ blog earlier this week.
Researchers writing in CMAJ investigated the most common symptoms associated with a positive SARS-CoV-2 swab in children. Among 2,463 children over age 5 tested in Alberta, Canada, 1,987 had a positive result and slightly more than one-third were symptomatic. Cough (24.5%) and rhinorrhea (19.3%) were the most common symptoms, but they were also common in children with a negative test result. As such, the symptoms more likely to be uniquely associated with a positive swab were anosmia/ageusia, nausea/vomiting, headache and fever.
"Fit is it" for weathering COVID-19, future viral outbreaks, and for overall health, conclude Carl "Chip" Lavie, MD, and colleagues in an editorial in Mayo Clinic Proceedings this week. They reference a small study published last month in the same journal showing that higher exercise capacity is associated with significant and substantially lower odds for COVID-19 hospitalization. "Increasing physical activity and overall fitness, both cardiorespiratory fitness as well as muscular fitness, is an essential approach to preventing CVD and adverse CVD outcomes, as well as likely improving prognosis in future pandemics," they write.
Shelley Wood contributed today's Dispatch.
---
November 25, 2020
 One in three parents polled in a national survey by researchers at C.S. Mott Children's Hospital say the benefits of gathering with family for the holidays are worth the risk of catching or spreading COVID-19. Half of 1,443 parents surveyed said COVID-19 has "substantially decreased the amount of time their children spend with extended family members and some may be growing weary of these separations," a press release quotes Mott Poll co-director Sarah Clark, MPH. Among parents whose children usually see extended family on Thanksgiving, 61% still plan to meet for the Thanksgiving holiday in person, but just 18% plan to include people from out of state, even though 40% say their celebrations usually involve people from farther afield.
Asked on PBS News Hour what he'd say to people who are travelling and gathering for Thanksgiving, despite expert advice not to do so, Anthony Fauci, MD, director of the National Institute for Allergy and Infectious Diseases (NIAID), said, "They should know that they're putting themselves and their family members at risk. . . . Maybe a sacrifice now of something that you really like would pay off in the protection of the health and safety of a loved one." It's a message, he acknowledged, that is very hard to hear.
Postexposure treatment with hydroxychloroquine did not prevent SARS-CoV-2 infection or symptomatic illness in healthy persons exposed to a PCR-positive case patient, investigators for the Barcelona Postexposure Prophylaxis Study against SARS-CoV-2 (BCN-PEP-COV2) trial have concluded. Incidence of adverse events was markedly higher in patients randomized to receive the study drug instead of usual care (56.1% versus 5.9%), but no serious treatment-related events were reported, investigators report in the New England Journal of Medicine.
Also in NEJM yesterday, a small randomized controlled trial in adults hospitalized with severe COVID-19 has found no benefit to convalescent plasma. Researchers for the PlasmAr Study Group report no differences in clinical status, overall mortality, or adverse events. "This finding is in contrast to the findings of a series of nonrandomized studies claiming convalescent plasma to be of substantial benefit and illustrates the importance of randomized, controlled trials, especially in the context of a pandemic," they write.
In the latest of the BMJ webinar series, Navjoyt Ladher, MD, the journal's education head, is leading an expert panel discussion on managing respiratory failure in COVID-19, Thursday, November 26, at 3:30 PM GMT. Registration is free.
Getting a handle on the COVID-19 pandemic requires a better understanding of "transmission heterogeneities" driven by demography, behavior, and interventions, authors argue in Science. Using detailed patient and contact-tracing data from Hunan, China, the authors conclude that successfully controlling SARS-CoV-2 will entail a synergistic combination of case isolation, contact quarantine, and population-level interventions.
France's most recent lockdown has successfully slashed the rate of new infections, French President Emmanuel Macron said Tuesday, noting that new cases last week were one-third the rate at the beginning of the month, the New York Times reports. Nonessential businesses can start opening on Saturday, November 28, and places of worship can resume services with a maximum capacity of 30 people. Personal travel will be extended from a 1-kilometer radius, but bars and restaurants will likely remain closed until the New Year.
The United States has just set a record for new cases—more than 2 million in 2 weeks—and states are trying different approaches to curb infections. Pennsylvania, for example, is banning the sale of alcohol after 5 PM Wednesday "in an effort to head off uninhibited pre-Thanksgiving gatherings where the coronavirus could spread rapidly."
A feature story in Nature explores efforts around the globe to train dogs to sniff out COVID-19. "Scientists involved with the efforts suggest that canines could help to control the pandemic because they can screen hundreds of people an hour in busy places such as airports or sports stadiums, and are cheaper to run than conventional testing methods such as the RNA-amplification technique PCR," writes Holly Else. So far, little of the research has undergone peer review.
A critical shortage of nasopharyngeal swabs early in the COVID-19 pandemic prompted researchers to try printing them using a point-of-care 3D printer to make up the shortage. Results from a clinical trial, testing the ability of the swabs to gather enough viral cells and retain them until testing, as compared with the standard flocked swab, will be presented at next week's virtual Radiological Society of North America (RSNA) 2020 meeting. 
Shelley Wood contributed today's Dispatch.
---

November 24, 2020
Americans flooded airports over the weekend despite recommendations from the Centers for Disease Control and Prevention (CDC) to stay home for Thanksgiving. More than 1.04 million people went through security checkpoints on Sunday, the most since mid-March, NPR reports: "The numbers are still less than half those for travelers who flew last year on commercial airlines the weekend before Thanksgiving, but this year's figures suggest airports are more crowded and planes fuller than they've been at any time since the pandemic began."
A New York Times story probes a happy mistake that scientists are still grappling with now: why did AstraZeneca/Oxford University's candidate vaccine perform best in patients who accidentally received a half-dose for their first injection? "Surprisingly, the vaccine combination in which the first dose was only at half strength was 90% effective at preventing COVID-19 in the trial," the Times reports. "In contrast, the combination of two, full-dose shots led to just 62% efficacy."
When a COVID-19 vaccine becomes available, four groups are likely to get priority access, according to the Advisory Committee on Immunization Practices (ACIP), which provides guidance to the CDC: healthcare workers, other essential workers, adults with high-risk medical conditions, and adults 65 and older (including residents of long-term care facilities). The body outlined its ethical principles for allocating initial vaccine supplies in Morbidity and Mortality Weekly Report. ACIP met Monday and made it clear that people from racial/ethnic minority groups would also be prioritized in recognition of the greater impact the pandemic is having on these communities, STAT reports.
The prevalence of serious psychological distress among US adults remained high between April and July 2020, which "suggests that the pandemic's longer-term disruptions are important drivers of distress," researchers report in JAMA. More than 60% of adults who indicated serious distress cited the impact of disruptions to education, employment, and finances.
Also in JAMA, Gregory Piazza, MD, and David Morrow, MD, review what is known about the diagnosis, management, and pathophysiology of arterial and venous thrombosis in the setting of COVID-19. "Arterial and venous thrombosis are common in COVID-19, especially in critically ill patients," they say. "Thromboprophylaxis should be considered for all hospitalized patients with COVID-19 in the absence of contraindications. Ongoing investigation will determine optimal preventive regimens in COVID-19 in the intensive care unit, at hospital discharge, and in nonhospitalized patients at high-risk for thrombosis."
A related review in the Journal of the American Heart Association tackles COVID-19-related thrombosis and coagulopathy. "This review will describe the pathophysiology of the cardiovascular involvement following infection by SARS‐CoV‐2, with a focus on thrombotic and thromboembolic manifestations and implications for antithrombotic management."
A study of nearly 136,000 US patients younger than 25 who were tested for SARS-CoV-2 between January 1 and September 8, 2020, published in JAMA Pediatrics, found that 4% were positive. Testing rates were lower, but positivity rates were higher, among racial/ethnic minority groups. Clinical manifestations of infection were usually mild, with just 7% of infected patients getting hospitalized. Of the hospitalized group, 28% required ICU admission and 9% required mechanical ventilation.
A clinical trial called ANTICOV will be conducted at 19 sites in 13 African countries to identify therapies that can be used to treat mild and moderate cases of COVID-19 and "prevent spikes in hospitalizations that could overwhelm fragile and already overburdened health systems in Africa," according to the Drugs for Neglected Diseases Initiative (DNDi), which is coordinating the effort. The trial will begin by studying hydroxychloroquine, which remains standard of care for COVID-19 in many African countries, and the HIV antiretroviral combination lopinavir/ritonavir.
In the International Journal of Cardiology, researchers report that severe COVID-19 acute respiratory distress syndrome "is associated with a specific phenotype of RV radial impairment with sparing of longitudinal function. Clinicians should avoid interpretation of RV health purely on long-axis parameters in these patients. RV-PA coupling potentially provides important additional information above standard measures of RV performance in this cohort."
A study conducted across 34 stroke centers in France, Italy, Spain, and Belgium, published in Stroke, delves into the early outcomes of mechanical stroke thrombectomy in patients with COVID-19. "The 29% rate of 30-day mortality . . . is not negligible," the authors say, noting that abnormalities of lymphocyte count, lactate dehydrogenase, and aspartate may help predict poorer outcomes.
---

November 23, 2020
The US Food and Drug Administration (FDA) has issued an emergency use authorization for Regeneron's antibody cocktail—consisting of casirivimab and imdevimab—for patients 12 and older who have mild-to-moderate COVID-19 and are at risk for progressing to severe disease. The combination was shown to reduce COVID-19-related hospitalization or emergency room visits in patients at high risk for disease progression within 28 days of treatment. This is one of the treatments President Donald Trump received when he was hospitalized with COVID-19 in October.
The FDA also announced that it will convene a meeting of its Vaccines and Related Biological Products Advisory Committee on December 10 to consider the request from Pfizer and BioNTech for an EUA for its COVID-19 vaccine candidate. The vaccine is 95% effective, according to recently released results of a phase III trial.
On Sunday, AstraZeneca announced that its vaccine candidate developed with the University of Oxford had an average efficacy of 70% according to an interim analysis of clinical trials in the United Kingdom and Brazil. There were no hospitalizations or severe COVID-19 cases in participants who received the vaccine, and no serious vaccine-related safety events, the company said in a press release.
Prominent UK cardiologist Anthony Gershlick, MBBS, died late last week from COVID-19 in the hospital where he worked for 30 years, the University of Leicester and University Hospitals of Leicester NHS Trust announced. In an obituary by TCTMD's L.A. McKeown, friends and colleagues remember a pioneering interventionalist, committed researcher, and lover of jazz.
There are two new COVID-19 related papers in Morbidity and Mortality Weekly Report. One tracks cases in Minnesota that were tied to the 10-day Sturgis Motorcycle Rally held in August in neighboring South Dakota—that includes 51 cases among Minnesota residents who attended the event and 35 among household, social, and workplace contacts. The other shows that after the governor of Kansas issued a statewide mask mandate in July, COVID-19 incidence decreased in the counties that complied and continued to increase in the counties that didn't.
The BigData@Heart public-private consortium in Europe will hold a webinar looking at the impact of "long COVID" on cardiovascular disease. It starts at 2:30 PM Paris time (8:30 AM ET) on Tuesday, November 24. You can register at this link.
More than one-quarter of adults 65 and older who present to the emergency department with COVID-19 have delirium, according to a study in JAMA Network Open, making it the sixth most common symptom or sign. Of those with delirium, which was associated with an ICU stay and death, 37% had none of the typical COVID-19 symptoms, such as cough and fever.
Another study in JAMA Network Open has some encouraging information for pregnant women: SARS-CoV-2 infection during pregnancy was not associated with adverse pregnancy outcomes. Infection was observed in about 3% of infants, mostly among those born to mothers with no or mild symptoms.
In a JAMA viewpoint, researchers go over evidence "suggesting that, counter to expectation, older adults as a group may be more resilient to the anxiety, depression, and stress-related mental health disorders characteristic of younger populations during the initial phase of the COVID-19 pandemic."
COVID-19 test sensitivity is not as important as the frequency of testing and the speed with which results are reported when it comes to controlling spread of the virus, a modeling study in Science Advances suggests. "We therefore conclude that screening should prioritize accessibility, frequency, and sample-to-answer time; analytical limits of detection should be secondary," the researchers say.
The US National Institutes of Health (NIH) has put up another $45 million to expand the research network of the Rapid Acceleration of Diagnostics Underserved Populations (RADx-UP) program, "which aims to enable and enhance COVID-19 testing of populations disproportionately affected by the disease, including African Americans, American Indians/Alaskan Natives, Latinos/Latinas, Native Hawaiians, older adults, pregnant women, and those who are homeless or incarcerated."
---

November 20, 2020
Just stay home for Thanksgiving. That's the recommendation made yesterday by the US Centers for Disease Control and Prevention (CDC). "More than 1 million COVID-19 cases were reported in the United States over the last 7 days. As cases continue to increase rapidly across the United States, the safest way to celebrate Thanksgiving is to celebrate at home with the people you live with," the agency said.
The government of California has issued a mandatory overnight stay-at-home order for most of the state in response to rising COVID-19 numbers, the Los Angeles Times reports. The order, issued by the California Department of Public Health, prohibits all but essential activities outside the home between 10 PM and 5 AM, starting Saturday.
As expected, Pfizer and BioNTech will submit a request to the US Food and Drug Administration (FDA) for an emergency use authorization (EUA) for their COVID-19 vaccine on Friday, after recently released results from the phase III trial indicated an efficacy rate of 95%.
On Thursday, the FDA issued an EUA for baricitinib, a janus kinase inhibitor, in combination with remdesivir for the treatment of suspected or lab-confirmed COVID-19 in hospitalized patients who require supplemental oxygen, invasive mechanical ventilation, or extracorporeal membrane oxygenation (ECMO). That treatment approach was shown to reduce the time to recovery in a clinical trial.
Regarding remdesivir, however, the World Health Organization (WHO) has recommended against use of the antiviral in patients with COVID-19 in new guidance published in the BMJ: "The panel concluded that most patients would not prefer intravenous treatment with remdesivir given the low-certainty evidence. Any beneficial effects of remdesivir, if they do exist, are likely to be small and the possibility of important harm remains. They acknowledged, however, that values and preferences are likely to vary, and there will be patients and clinicians who choose to use remdesivir given the evidence has not excluded the possibility of benefit."
More than 20% of patients hospitalized with COVID-19 in the United States die before discharge or are referred for hospice care, with respiratory complications being the dominant cause of death, according to a snapshot of nearly 15,000 people included in the American Heart Association's COVID-19 CVD Registry presented earlier this week at the virtual AHA Scientific Sessions. As TCTMD's Michael O'Riordan reports, that grim finding is backed up by a second analysis, this one based on the electronic health records of more than 28,000 patients across 52 health systems.
In a JAMA viewpoint, the authors say the Medicare program can be leveraged for a COVID-19 vaccination campaign, noting that it was done before during the 2009 swine flu pandemic. "Once a vaccine became available for the H1N1 influenza virus, analysts were able to link special billing codes for vaccination to beneficiary claim records and to monitor vaccine uptake, including by region of the country and by race and ethnicity," they write. "These data supported efforts to enhance vaccine uptake in African-American and Latinx populations, whose vaccination rates were lower than White populations."
Two studies in Morbidity and Mortality Weekly Report provide insights into which Americans are being affected most by the pandemic. One shows that 22% of US assisted living facilities had at least one case among residents and staff, with 21% of residents with COVID-19 dying (compared with 3% in the general population). The other, focused on New York City in the first few months of the outbreak, shows that incidence, hospitalization rate, and mortality were highest Black and Hispanic individuals, those living in high-poverty areas, 75 and older, or with underlying medical conditions.
Nearly half of patients with COVID-19 who underwent prolonged invasive mechanical ventilation developed full-thickness tracheal lesions and/or tracheoesophageal fistulas, according to a retrospective study in JAMA Otolaryngology – Head & Neck Surgery. "Attempts to prevent these lesions should be made and quickly recognized when they occur to avoid potentially life-threatening complications in ventilated patients with COVID-19," the researchers say.
Livestock plants accounted for 6% to 8% of US COVID-19 cases and 3% to 4% of deaths through July 21, a study in PNAS estimates. "Ensuring both public health and robust essential supply chains may require an increase in meatpacking oversight and potentially a shift toward more decentralized, smaller-scale meat production," the authors conclude.
A study in the Lancet Microbe indicates that infectiousness in patients with SARS-CoV-2 infection peaks early on—in the first week after symptom onset. "These findings highlight that isolation practices should be commenced with the start of first symptoms, including mild and atypical symptoms that precede more typical COVID-19 symptoms," the researchers say. "However, given potential delays in the isolation of patients, effective containment of SARS-CoV-2 might be challenging even with an early detection and isolation strategy."
---

November 19, 2020
Hospitals in at least half of US states are dealing with massive staffing shortages—involving doctors, nurses, and other workers—amid rising COVID-19 numbers, STAT reports: "The situation has gotten so bad that in some places, severely ill patients have been transferred hundreds of miles for an available bed—from Texas to Arizona, and from central Missouri to Iowa." 
This news comes as the US has surpassed a quarter of a million deaths related to COVID-19, NPR reports, noting that the figure more than doubles the number of US military members killed in World War I. A bit of good news: the infection fatality rate is declining as the medical community gets better at treating the disease.
According to the Johns Hopkins COVID-19 Dashboard, there are more than 56 million confirmed COVID-19 cases and 1.35 million deaths around the world, with the United States leading in both categories.
And Americans from racial/ethnic minority communities are bearing the brunt. Black and Hispanic individuals accounted for the majority of hospitalizations (59%) and deaths (53%) captured by the American Heart Association (AHA) in its COVID-19 CVD Registry, data presented at the virtual AHA 2020 Scientific Sessions show. Significant racial/ethnic disparities in terms of in-hospital death and MACE were not observed. "Everyone should just face the fact that we need to fix the structural racism that makes people at risk for any kind of illness like this," Kim Williams, MD, told TCTMD.
Other data from the AHA's COVID-19 CVD Registry show that obesity, especially when severe, increases the use of mechanical ventilation and death in COVID-19 and carries particular risk for younger adults. "I think it should reinforce the notion, especially for young individuals—and many of them may currently think they are not at risk for significant COVID disease—that if they are obese, they actually are at higher risk for hospital admission. And if they get admitted to hospital, they then are also at risk for needing mechanical ventilation or dying," Ron Blankstein, MD, commented to TCTMD Managing Editor Shelley Wood.
In a JAMA viewpoint, researchers propose three phases of SARS-CoV-2 infection: acute infection, postacute hyperinflammatory illness, and late inflammatory/virological sequelae including cardiac, neurological, and psychological symptoms. "A theoretical framework describing illness periods of SARS-CoV-2 infection (including clinical presentations and timing of onset), their pathophysiological underpinnings, and associated key laboratory findings may contribute to a more inclusive and ordered understanding of the natural history of SARS-CoV-2 infection and enhance research efforts," they write.
Cardiac injury is indeed associated with increased risks of mortality, ICU admission, mechanical ventilation, and coagulopathy in patients with COVID-19, a meta-analysis in the American Journal of Cardiology affirms. Cardiac injury was not significantly associated with acute respiratory distress syndrome or acute kidney injury.
A news story in Science details how schools around the world are trying to provide education during the crisis. The data aren't clear on the role in-school transmission is playing in the pandemic, causing uncertainty about whether schools should stay open or shut down. So in some areas, schools continue to hold in-person classes, whereas in others—like New York City, which shuttered its public schools Thursday—the risk is deemed high enough to keep kids at home. 
A provocative study in Tumori Journal reports on the detection of SARS-CoV-2 antibodies in blood samples from participants in an Italian lung cancer screening trial obtained before the pandemic, suggesting the virus was circulating there before it first became apparent in China in December 2019. However, the findings have been met with skepticism and calls for additional scrutiny from experts, according to Reuters. The World Health Organization (WHO) has said that the possibility the virus circulated elsewhere before cropping up in Wuhan can't be ruled out.
A phase II clinical trial shows that the COVID-19 vaccine candidate being developed by the University of Oxford and AstraZeneca provides a similar immune response across all age groups after a booster dose, although it appears to be better tolerated in older adults. The findings were reported in the Lancet.
The European Medicines Agency (EMA) will hold a public meeting on December 11 to provide information about regulatory processes for the approval of COVID-19 vaccines and the EMA's role.
---

November 18, 2020
Wednesday morning, Pfizer/BioNTech announced in a press release that its phase III trial has been completed, demonstrating 95% effectiveness against COVID-19 beginning 28 days after the first dose. That's based on an assessment of 170 confirmed cases of COVID-19 (162 in the placebo group and eight in the vaccine group). The companies plan to submit data to the US Food and Drug Administration (FDA) for an emergency use authorization within days.
All Americans can expect to receive a COVID-19 vaccine in the spring if everything proceeds according to plan, US National Institutes of Health (NIH) Director Francis Collins, MD, PhD, told MSNBC's Ali Velshi. In the meantime, everyone should focus on washing their hands, social distancing, and wearing a mask, he said. Collins made similar comments in an interview with PBS NewsHour's Judy Woodruff about early results with vaccine candidates from Pfizer/BioNTech and Moderna.
More than 900 staff members across the Mayo Clinic system have been diagnosed over the past 2 weeks, the Twin Cities Pioneer Press reports based on information from the health system's dean of clinical practices. The vast majority of those cases (93%) were traced back to the community, and most of those infected at work "did so while eating in a break room with a mask off."
The US Foo
d and Drug Administration (FDA) has issued an emergency use authorization for the first COVID-19 test designed for self-testing at home. The test, which provides rapid results, is the Lucira COVID-19 All-In-One Test Kit. "While COVID-19 diagnostic tests have been authorized for at-home collection, this is the first that can be fully self-administered and provide results at home," FDA Commissioner Stephen Hahn, MD, said. "This new testing option is an important diagnostic advancement to address the pandemic and reduce the public burden of disease transmission." A company press release says it anticipates the test will cost in the range of $50.
A Chinese COVID-19 vaccine candidate containing inactivated SARS-CoV-2—called CoronaVac (Sinovac Life Sciences)—appears to be safe and provokes an immune response in healthy adults, according to phase I/II data published in the Lancet. The vaccine is the same one being tested in Brazil, where the vaccine trial earlier this week was briefly put on hold, then restarted.
An estimated 9 million childhood vaccination doses could be missed in the United States this year due to the pandemic, data from the Blue Cross Blue Shield Association (BCBSA) indicates. That's a year-over-year decrease of up to 26%. "The US is on the precipice of a severe immunization crisis among children," said Vincent Nelson, chief medical officer of BCBSA. "The COVID-19 pandemic has significantly interrupted adherence to vaccination schedules, and the possibility that preventable diseases, like polio, could become a threat to public health once again is particularly concerning."
A STAT story details how the COVID-19 pandemic has been brought under control in Cherokee Nation: "With a mask mandate in place since spring, free drive-through testing, hospitals well stocked with PPE, and a small army of public health officers fully supported by their chief, the Cherokee Nation has been able to curtail its COVID-19 case and death rates even as those numbers surge in surrounding Oklahoma, where the White House coronavirus task force says spread is unyielding."
A paper in Morbidity and Mortality Weekly Report, describes implementation of a pooled surveillance testing program for asymptomatic SARS-CoV-2 infections at Duke University. "SARS-CoV-2 transmission was limited in this congregate setting by integration of prevention strategies that included identification of asymptomatic infections through frequent testing," the authors note. "Pooled testing reduced the need for resources while allowing high throughput with high sensitivity and rapid turnaround of results."
 In the European Journal of Heart Failure, a look at 21 mechanically ventilated COVID-19 patients shows that their hemodynamic profile "is characterized by combined cardiopulmonary alterations," researchers report. "Low pulmonary vascular resistance, coherent with a blunted hypoxic vasoconstriction, is associated with high cardiac output and postcapillary pulmonary hypertension that could eventually contribute to lung stiffness and promote a vicious circle between the lung and the heart."
---

November 17, 2020
The American Medical Association (AMA) has adopted a policy calling for better measures to prevent the spread of SARS-CoV-2 in correctional facilities and immigrant detention centers. The policy is aimed at ensuring those facilities implement evidence-based COVID-19 infection, prevention, and control guidance; have adequate personal protective equipment (PPE), testing kits, sanitizing and disinfecting equipment; and adhere to safe quarantine protocols for people who are exposed or who test positive for the virus. The AHA's statement comes a day after a report from the National Academy of Sciences, Engineering, and Medicine was published in JAMA, stating that clinicians, healthcare systems, and Medicaid authorities should assist with the compassionate release and post-release medical needs of incarcerated individuals and their families during the pandemic.
Under laboratory conditions, mouthwash containing at least 0.07% cetylpyridinium chloride can reduce SARS-CoV2 activity in saliva within 30 seconds, according to a paper, not yet peer-reviewed, released on the preprint server medRxiv. Three over-the-counter mouthwashes sold in the United Kingdom—Listerine Advanced Gum Treatment, Dentyl Dual Action, and Dentyl Fresh Protect—eradicated the virus completely. The researchers say clinical RCTs are now warranted.
The US Food and Drug Administration (FDA) has updated its guidance on investigational COVID-19 convalescent plasma, allowing continued access to it for the treatment of hospitalized patients through February 2021. The guidance includes a new recommendation that convalescent plasma not be collected from people who have received an investigational vaccine.
The American College of Physicians (ACP) is calling on President Donald J. Trump and General Services Administrator Emily W. Murphy to give President-elect Joe Biden and his transition team immediate access to resources, planning and consultation under the Presidential Transition Act. In a statement attributed to ACP President Jacqueline W. Fincher, MD, the society says that each day the Biden team and their public health experts cannot formalize the transition process, "is a day of work that is lost on helping to heal our country and our patients, and a day lost to preventing additional infections, illnesses, and deaths."
High levels of stress from months of dealing with the pandemic have led many physicians and nurses to switch careers or retire early, the New York Times reports. While some say they are mentally and financially exhausted from sourcing the PPE they need for their small practices, others worry about the toll the ongoing stress is taking on their own health and about what it would mean, because of their age or comorbid conditions, to contract the virus.
A study published online today in the Annals of Internal Medicine finds that the pandemic has led to profound shifts in care patterns for common behavioral and psychiatric illnesses in the United States. Compared with the 2 years prior, about 3 million fewer patient visits for anxiety, depression, overactivity disorder, bipolar disorder, insomnia, and opioid use disorder occurred in the first quarter of 2020. The researchers say the findings "underscore the importance of further work to assess how different treatment settings, including the delivery of care through telemedicine platforms, may affect patients' experiences and health outcomes."
A 37-year-old Canadian woman with COVID-19, who is sedated on a ventilator, gave birth last week to a healthy baby boy via cesarean section. The baby was born 2 weeks premature and tested negative for the virus. The mother, who also has a 2-year-old child, was admitted to the hospital on November 6 complaining of breathing problems.
The more than 170,000 residents of the Navajo Nation have entered into a 3-week stay-at-home lockdown to stem the spread of COVID-19 following a rise in cases and deaths that mirrors that of other US states, NPR reports. The reservation is spread across parts of Arizona, New Mexico, and Utah. A prior lockdown took place between March and August.
L.A. McKeown contributed today's Dispatch.
---

November 16, 2020
The European Medicines Agency (EMA)'s human medicines committee said yesterday it has begun a "rolling review" of available data on Moderna Biotech Spain's COVID-19 candidate vaccine, known as mRNA-1273, until enough evidence is accumulated to support a formal marketing authorization application. Subsequently, the US National Institutes of Health announced good news: a Phase III trial of the vaccine has shown it is safe and well-tolerated, with an efficacy rate of 94.5%. Moderna could become the second company, after Pfizer, to seek authorization in the United States. Pfizer and BioNTech announced last week that their mRNA-based vaccine candidate is more than 90% effective in preventing COVID-19. Following Moderna's announcement, multiple media outlets reported that that company's stock was up 11%.
In the last few days, governors and mayors in the United States have begun to enact stricter measures to slow the spread of COVID-19. Chicago's stay-at-home order goes into effect today, Michigan has closed all schools, North Dakota has announced its first-ever mask mandate, and New Jersey plans to reduce the permitted indoor gathering number from 25 people to 10, effective tomorrow. An article in the New York Times notes that the new measures come on the heels of warnings this weekend from Anthony S. Fauci, MD, that 200,000 more deaths may occur in the US by spring, even with an effective vaccine.
Cardiologists in the United States are expressing optimism that greater efforts will be undertaken to control the COVID-19 pandemic once President-elect Joe Biden assumes office in January 2021, Todd Neale reports. The physicians also told TCTMD that restoring public confidence in science, clinical research, and doctors, is high on their list of priorities.
As Americans prepare to celebrate Thanksgiving next week, an article in Wired warns against buying into the idea that family gatherings are fine "as long as everyone has gotten tested." An infectious disease researcher quoted in the article recommends that everyone who intends to gather with family first go into full quarantine for 2 weeks prior to the visit, then drive to their destination without coming into close contact with anyone else. Another approach would be to go into full quarantine for several days while continuing to practice masking and social distancing—adding testing into the mix, if feasible.
An opinion article in Scientific American describes how virtual reality (VR) research can pivot to take aim at pandemic-related anxiety and depression. "VR is not just for gamers anymore. It is a new type of mental health treatment that can make things easier when times are hard," writes Brennan Spiegel, MD.
The US Food and Drug Administration (FDA) continues to be concerned about products that falsely claim to prevent or cure COVID-19. At the FDA's request, the US Department of Justice has filed a civil complaint against Natural Solutions Foundation and two individuals associated with the group to stop the sale of what they say is a misbranded and unapproved new drug. The makers of the nano silver product have previously not heeded warnings to stop selling the product, which has no clinical or other credible scientific data to back up its claims.
Amid a surge of new cases in Europe, the Associated Press (AP) is reporting that it has obtained an internal email stating that 65 staff members who work at the headquarters of the World Health Organization (WHO) in Geneva, Switzerland, have tested positive for COVID-19. The WHO has previously denied having any cases among its staff. According to the AP, 49 cases have occurred in the last 8 weeks.
L.A. McKeown contributed today's Dispatch.
---

November 13, 2020
The CoronaVac trial studying the Sinovac vaccine candidate in Brazil, which was suspended abruptly Monday night citing a "serious" unspecified event, will resume, the New York Times reports. Experts within Brazil's health regulatory agency "were convinced that the death of a volunteer last month did not raise concerns about the trial's safety."
The daily number of new cases in the United States passed 150,000 for the first time (and in fact, was more than 160,000).
The Heart Failure Academic Research Consortium has released recommendations on conducting research as the COVID-19 crisis continues, TCTMD's Todd Neale reports. Co-author William Abraham, MD (Ohio State University, Columbus, OH), told TCTMD the statement "provides, I think, a lot of really practical guidance in regard to conducting heart failure clinical trials during the COVID-19 pandemic."
In an interview with the Guardian, BioNTech's chief executive, Uğur Şahin, MD, said he is optimistic the Pfizer/BioNTech vaccine candidate will have an effect, even if it doesn't prove effective in asymptomatic infections. "If the question is whether we can stop this pandemic with this vaccine, then my answer is: yes, because I believe that even protection only from symptomatic infections will have a dramatic effect," he said.
Researchers studying the genetic footprint of SARS-CoV-2 say that, to date, the genome can be classified according to six major types involving 14 "signature single nucleotide variations." Just one of these, type VI, the strain first reported in China, makes up more than 95% of samples collected after mid-May 2020. "Understanding nucleotide variations in the SARS-CoV-2 genome will provide useful insight for the developmental history of the pandemic, and even the disease management, if the biological significance is understood," researchers write in PNAS.
A lack of consistent mask use and social distancing at a wedding in rural Maine this past summer had dire consequences, explored in an article in Morbidity and Mortality Weekly Report. Among 55 guests who attended the indoor gathering, 177 people were ultimately infected through secondary and tertiary contacts, including residents of a care facility 100 miles away and a correctional institute 200 miles away. Seven hospitalizations and seven deaths (four of them among the hospitalized patients) were ultimately traced back to the nuptials.
Confirming a phenomenon seen elsewhere, investigators who retested patients who'd had COVID-19 followed by a negative test results found that 18% still tested RT-PCR positive for SARS-CoV-2 RNA after clinical recovery. Only one patient, however, had replicating virus in the nasal/oropharyngeal swab sample. "In the 31 remaining patients (who were asymptomatic), their positive result likely represented either recurrent or resolving infection, but in either case, they were unlikely to be infectious," write Flora Marzia Liotti, PhD, and colleagues in JAMA Internal Medicine. "Further studies are needed to verify whether such patients can transmit the virus."
A modelling study that draws a line from school disruptions to decreased educational attainment to lower life expectancy (based on prior research linking quality and quantity of education to life expectancy) makes the case for keeping schools open to save lives. Across a total of 24.2 million children aged 5 to 11, closure of US primary schools in the early months of 2020 could be estimated to cause 5.53 million years of life lost down the road. But those estimates need to be balanced against years of lives lost due to pandemic-related deaths—JAMA Network Open has the math.
In BMJ, researchers delve into the accuracy of the AbC-19 Rapid Test lateral flow immunoassay to detect prior infection with SARS-CoV-2. In their analysis, "if 1 million key workers were tested with AbC-19 and 10% had actually been previously infected, 84,700 true-positive and 18,900 false-positive results would be projected. The probability that a positive result was correct would be 81.7%."
A viewpoint in JAMA reviewing the need for more and better tests for COVID-19 makes the point that even as tests get faster and more accurate, they will never be a stand-alone solution. "What will remain equally important to prevent spread of infection to others is what happens before and after test results are delivered," write Yukari C. Manabe, MD, and colleagues. "Even the perfect test cannot go it alone."
Also in JAMA, a second viewpoint published today mulls the impact of universal masking in curbing hospital transmission of the virus. 
Shelley Wood contributed today's Dispatch.
---

November 12, 2020
As the United States continues to see more than 120,000 new COVID-19 cases each day, the New York Times delves into where, currently, the virus situation is the worst. The answer? It depends on what metric you're looking at. The Minot, ND, area has more cases per capita than anywhere else in the country, while Wisconsin has seen the most rapid rise in infections. Los Angeles County has had the most cases identified since the beginning of the pandemic, and Texas has the most cases of any state.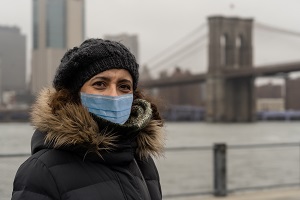 According to a STAT story, "the consensus among major COVID-19 modelers is that we could see 20,000 to 25,000 deaths in just the next 2 weeks, and 160,000 more by Feb. 1. That would be a frightening acceleration as winter approaches. The experts and their models also agree on the familiar tools at hand that can bend the curve: universal mask-wearing and social distancing. Even so, they say it's too late for us to head off the surge ahead, as many Asian countries have been able to do."
In New York, Governor Andrew Cuomo announced new restrictions to combat rising COVID-19 numbers. As of Friday, bars, restaurants, gyms or fitness centers, and any State Liquor Authority-licensed establishment will be required to close from 10 PM to 5 AM each day. Restaurants will be allowed to provide curbside pick-up or delivery service after 10 PM. In addition, indoor and outdoor gatherings at private residences will be capped at 10 people.
A "preliminary communication" in JAMA indicates that fluvoxamine, a selective serotonin reuptake inhibitor, decreases the likelihood of clinical deterioration over 15 days in adult outpatients with symptomatic COVID-19 compared with placebo. "However, the study is limited by a small sample size and short follow-up duration, and determination of clinical efficacy would require larger randomized trials with more definitive outcome measures," the authors say.
In a JAMA viewpoint, Anthony Fauci, MD, and colleagues discuss the critical need for therapies geared toward early COVID-19. "There is a noteworthy absence of treatments proven to be efficacious for patients with early or mild infection," they write. "Immediate benefits of such treatments include improvement of patient outcomes and prevention of hospitalizations. Longer-term benefits may include prevention of the chronic sequelae of infection as well as prevention of transmission by shortening the period of infectiousness. Outpatient treatments for COVID-19, coupled with an effective vaccine, would have significant implications for the ability to end this pandemic."
As COVID-19 surges across the United States, Francis Collins, MD, PhD, director of the US National Institutes of Health (NIH), gives some advice on celebrating the upcoming holidays, suggesting in a blog post that people consider sending gifts, making videos, or sharing a meal remotely. If you're going to attend an in-person gathering, he says, "it's important to remain vigilant, even when interacting with dear friends and loved ones. The greatest risk for spread of COVID-19 right now is these family gatherings. Remember there are risks associated with travel and with interacting with people who've not been tested for the coronavirus prior to the event, especially if they reside in a COVID hot spot—which is almost everywhere these days. Try to keep any family gatherings brief and relatively small, about five people or less. If the weather permits, hold the get-together outdoors." As always, Collins notes, adhere to the three Ws: wear a mask, watch your distance, and wash your hands.
Emergency physician Jeffrey Siegelman, MD, reflects on his experience as a COVID-19 "long-hauler" in JAMA: "As I continue to live with uncertainty, fear, and a certain degree of continued isolation, the silver lining is the hope that my future patient interactions will allow me to provide greater comfort and validation, even when I cannot offer objective answers or concrete healing."
Two articles in the New England Journal of Medicine detail a SARS-CoV-2 outbreak on an aircraft carrier and transmission of the virus among marine recruits during quarantine. "The approaches learned from the U.S.S. Theodore Roosevelt and Parris Island can be applied, with varying degrees of relevance, to land-based shared living situations such as college dormitories, prisons, and residential care facilities, as well as sports training environments, meat-processing facilities, and isolated energy plants," Nelson Michael, MD, PhD, writes in an accompanying editorial.
 
---

November 11, 2020
Russia has said that interim results show that its Sputnik V COVID-19 vaccine, which was licensed back in August, is 92% effective, Reuters reports: "While experts said the Russian data was encouraging and reinforced the idea the pandemic could be halted by vaccines, they warned that the results were only based on a small number of trial volunteers who had contracted COVID-19. The analysis was conducted after 20 participants developed the virus and examined how many had received the vaccine versus a placebo. That is significantly lower than the 94 infections in the trial of the vaccine being developed by Pfizer and BioNTech." 
In preparation for the arrival of COVID-19 vaccines, the American Medical Association (AMA) has added vaccine-specific Current Procedural Terminology (CPT) codes. "An effective national immunization program is key to bringing the coronavirus pandemic to an end," said AMA President Susan Bailey, MD. "Correlating each coronavirus vaccine with its own unique CPT code provides analytical advantages to help track, allocate, and optimize resources as an immunization program ramps up in the United States."
Compared with uninfected STEMI patients, those with COVID-19 were more likely to have heart failure on arrival, to be treated with mechanical thrombectomy and glycoprotein IIb/IIIa inhibitors, and to die in the hospital, according to a study in EuroIntervention. After PCI, patients with COVID-19 had higher rates of stent thrombosis and cardiogenic shock.
The US National Institutes of Health (NIH) is encouraging clinical researchers to share their COVID-19 results as quickly as possible, with Director Francis Collins, MD, PhD, saying in a press release that COVID-19 study submissions to ClinicalTrials.gov will be prioritized."
The COVID-19 situation is so bad in North Dakota that Governor Doug Burgum has changed a policy to allow healthcare workers with asymptomatic cases to continue working in COVID-19 hospital units, the Grand Forks Herald reports: "Rising COVID-19 hospitalizations and high noncoronavirus admissions, some resulting from residents who deferred healthcare earlier in the pandemic, have caused the crunch on medical centers." The move to allow asymptomatic workers to continue caring for patients is consistent with crisis guidelines from the US Centers for Disease Control and Prevention (CDC).
The CDC has updated its mask guidance to say that community masking protects the wearers as well as others: "The relationship between source control and personal protection is likely complementary and possibly synergistic, so that individual benefit increases with increasing community mask use." According to the New York Times, that is "a step beyond its previous declaration that said wearing masks would only protect those around them."
The US Food and Drug Administration (FDA) will hold a "Grand Rounds" webcast on Thursday, November 12, from 12 to 1 PM ET, to discuss the agency's "research to evaluate the ability of facial coverings to reduce the spread of infection and how the FDA is developing a comprehensive risk-assessment tool to predict the probability of infection with individuals wearing a nonsurgical face mask or cloth face covering."
Some clinicians are raising questions about the FDA's emergency use authorization for Eli Lilly's antibody therapy, bamlanivimab, according to STAT. A dose of 700 mg was authorized, although only the 2,800-mg dose was shown to have an effect in a clinical trial, leading some clinicians to wonder whether the drug might be in short supply. "This is not an ideal situation, because the dose discrepancies have confused people," one expert told STAT. "Also the government already purchased 700-mg vials, which may be relevant here, and a 2800-mg dose would mean many fewer doses."
A review in CMAJ goes over the evidence for prone positioning of patients with hypoxic respiratory failure related to COVID-19. Research indicates that there's potential for improved oxygenation and decreased dyspnea, but "studies have not yet provided clinicians with tools to predict which patients with COVID-19 are most likely to improve with prone positioning, nor have they proven whether prone positioning is able to delay or avoid the need for invasive ventilation or shown a mortality benefit," the authors write.
 
---

November 10, 2020
The death toll from COVID-19 across Europe (representing more than two dozen countries) is about to pass 300,000, according to Reuters: "With just 10% of the world's population, Europe accounts for almost a quarter of both the 50.7 million cases and 1.2 million deaths globally and even its well-equipped hospitals are feeling the strain."
In the United States, which makes up just over 4% of the world's population, deaths have surpassed 238,000, accounting for one-fifth of the global mortality from COVID-19.
A survey from STAT and the Harris Poll shows that about 60% of Americans are somewhat or very likely to get a COVID-19 vaccine if it would lower the risk of becoming infected by about half. Those results, based on responses from 1,954 adults, come a day after Pfizer and BioNTech announced that their vaccine candidate was shown to be more than 90% effective in preliminary phase III results.
The US Food and Drug Administration (FDA) has given an emergency use authorization for bamlanivimab, the investigational monoclonal antibody therapy from Eli Lilly that was given to Chris Christie, former governor of New Jersey, when he was hospitalized with COVID-19. It is authorized for use in patients age 12 and older who have mild-to-moderate COVID-19 and who are at high risk for progressing to severe COVID-19 and/or hospitalization. "While the safety and effectiveness of this investigational therapy continues to be evaluated, bamlanivimab was shown in clinical trials to reduce COVID-19-related hospitalization or emergency room visits in patients at high risk for disease progression within 28 days after treatment when compared to placebo," the FDA said. "Bamlanivimab is not authorized for patients who are hospitalized due to COVID-19 or require oxygen therapy due to COVID-19."
The COVID-19 pandemic put up obstacles to prompt STEMI care, perhaps stemming from "fear of contagion" and health system overload, according to data from 77 centers across 18 European countries published in the Journal of the American College of Cardiology. Fewer patients underwent primary PCI and, for those who did, the waits were longer, TCTMD's Caitlin Cox reports.
Among patients with no previous psychiatric history, COVID-19 was associated with an increased risk of receiving a first psychiatric diagnosis within 3 months, researchers report in the Lancet Psychiatry. Risks were greatest for anxiety disorders, insomnia, and dementia. The incidence of any psychiatric diagnosis within 3 months was 18.1%.
The Smidt Heart Institute at Cedars-Sinai in Los Angeles, CA, has launched a clinic that will focus on treating COVID-19-related heart damage. "As of today, we are only seeing the tip of the iceberg," said Eduardo Marbán, MD, PhD, executive director, said in a press release. "The more we can study the disease and its lingering effects, the better we will understand its lasting impact on our health."
In the wake of news that Denmark will cull its entire mink population after identifying a mutation of SARS-CoV-2 that has spread to humans, researchers report in Science on a similar phenomenon occurring among mink farms in the Netherlands. "Sixty-eight percent (68%) of the tested mink farm residents, employees, and/or contacts had evidence of SARS-CoV-2 infection," they write. "Where whole genomes were available, these persons were infected with strains with an animal sequence signature, providing evidence of animal-to-human transmission of SARS-CoV-2 within mink farms."
A study in Morbidity and Mortality Weekly Report shows that 9% of patients hospitalized for COVID-19 were readmitted to the same hospital within 2 months of discharge. Factors associated with readmission were age 65 and older, presence of certain chronic conditions, hospitalization within 3 months before the first COVID-19 hospitalization, and discharge to a skilled nursing facility or with home healthcare.
Public health interventions designed to reduce spread of SARS-CoV-2 also lead to lower numbers of influenza and respiratory syncytial virus (RSV) cases, and "the susceptible population for these infections will increase while nonpharmaceutical interventions are in place," researchers say in PNAS. "Using models fit to historic cases of RSV and influenza, we project large future outbreaks of both diseases may occur following a period of extended nonpharmaceutical interventions. These outbreaks, which may reach peak numbers in the winter, could increase the burden to healthcare systems." 
Researchers should make sure that vaccine resistance isn't occurring as clinical trials continue, according to a perspective in PLOS Biology. "Although less common than the evolution of antimicrobial drug resistance, vaccine resistance can and has evolved," the authors say. "How likely is it that COVID-19 vaccines currently in development will be undermined by viral evolution? We argue that this can be determined by repurposing samples that are already being collected as part of clinical trials."
---

November 9, 2020
Pfizer and BioNTech announced Monday morning that their mRNA-based vaccine candidate was more than 90% effective in preventing COVID-19 in people without evidence of prior SARS-CoV-2 infection in a first interim efficacy analysis of their phase III trial. The companies say that no serious safety concerns have been identified and that submission for emergency use authorization is planned as soon as the required safety milestone is reached, which is expected around the third week of November. On Twitter, former US Food and Drug Administration (FDA) Robert Califf, MD, said, "A lot more work to be done, but this is a trial that looks to be done correctly with great efficacy in a straight up analysis."
I hope this gives us enough hope that we can double down on preventing death until the vaccine comes out. A lot more work to be done, but this is a trial that looks to be done correctly with great efficacy in a straight up analysis. pic.twitter.com/HAbZqUW3wR

— Robert M Califf (@califf001) November 9, 2020
According to some trackers, the United States has just topped 10 million COVID-19 cases. The New York Times puts the total at more than 10,060,700, whereas the Johns Hopkins COVID-19 Dashboard still has the count at just under eight figures as of Monday morning (9,982,054). Over the past week, cases have increased by 59% and deaths by 14% compared with the average 2 weeks earlier.
US President-Elect Joe Biden and Vice President-Elect Kamala Harris have announced the formation of a Transition COVID-19 Advisory Board made up of public health experts to advise the incoming administration on how to handle the pandemic. The board will be led by co-chairs David Kessler, MD, Vivek Murthy, MD, MBA, and Marcella Nunez-Smith, MD. "Dealing with the coronavirus pandemic is one of the most important battles our administration will face, and I will be informed by science and by experts," Biden said in a press release. "The advisory board will help shape my approach to managing the surge in reported infections; ensuring vaccines are safe, effective, and distributed efficiently, equitably, and free; and protecting at-risk populations."
Final results of the placebo-controlled ORCHID trial, published in JAMA, show that among adults hospitalized with respiratory illness from COVID-19, hydroxychloroquine did not significantly improve clinical status at day 14. None of the 12 secondary outcomes, including 28-day mortality, differed between trial arms. The US National Institutes of Health (NIH) announced in June that the trial had been stopped early after the fourth interim analysis.
Early during the COVID-19 pandemic, there was a marked decrease in medical spending for privately insured Americans, with larger reductions in areas with greater COVID-19 activity, researchers report in JAMA Internal Medicine. "Increases in COVID-19 spending were more than offset by decreases in spending on non-COVID-19 care," they write. "For commercial insurers, the prospect of net gains in 2020 raises questions about optimal use of unspent premium dollars; rebates mandated by medical loss ratio regulations are partial and delayed by design. For Medicare Advantage plans, our findings suggest potentially substantial cumulative savings. Medicare could remand these savings to preserve the Trust Fund as tax revenue falls."
In another study in JAMA Internal Medicine looking into the impact of papers posted on preprint servers during the COVID-19 pandemic, researchers "found widespread dissemination of reports that had not undergone traditional peer review. We also found that articles posted as preprints but that were not published during the study period received less attention that those that did across multiple metrics."
In Delaware, from late April to June, mitigation measures—including state-mandated stay-at-home orders, public mask-wearing requirements, and case investigations with contact tracing—helped lead to an 82% reduction in COVID-19 incidence, an 88% reduction in hospitalizations, and a 100% reduction in mortality, according to a study in Morbidity and Mortality Weekly Report.
A national lockdown in Denmark was associated with a roughly 30% decline in ACS admissions, with numbers stabilizing after the first phase of reopening was announced, researchers report in the American Heart Journal. The drop was mainly seen in men and patients 60 and older.
The FDA has granted an emergency use authorization to the first test that detects neutralizing antibodies from recent or prior SARS-CoV-2 infection, the cPass SARS-CoV-2 Neutralization Antibody Detection Kit, the agency announced late last week. "It's important to note that the effect of neutralizing antibodies for SARS-CoV-2 in humans it is still being researched," according to a press release.
In the Lancet, researchers reflect on what can be learned from the Ebola virus experience when it comes to consideration of emergency use authorizations for COVID-19 vaccines, noting that the way in which Ebola vaccines were authorized was more coordinated and transparent compared with initial COVID-19 vaccine efforts out of Russia and China. Also, they say, there is a "perverse influence of geopolitics and vaccine nationalism that plagues the COVID-19 vaccine landscape unlike that of Ebola virus vaccines in 2016."
---

November 6, 2020
The United States, Italy, Sweden, Western Canada, and Eastern Europe are all breaking records for new daily COVID-19 cases. Denmark is defending its mink cull, following yesterday's news that 17 million animals would need to be killed to prevent transmission of a mutated form of the virus.
TCTMD has detailed coverage of two different studies attempting to clarify the impact of SARS-CoV-2 on the heart. In one, L.A. McKeown reports that myocarditis was an infrequent finding at autopsy in people who died from COVID-19, based on an international meta-analysis. The heart problems are "real," as evidenced by the troponin rises, one commenter noted. "It's just not myocarditis."
In a second story, TCTMD's Michael O'Riordan reports that more than half of student athletes at a single university had some degree of inflammation detected on cardiac magnetic resonance imaging or echocardiography following mild or asymptomatic COVID-19. None showed any specific imaging evidence of an ongoing myocarditis, however, and as one observer put it: there is a lot of information in the small case series but "without a whole lot of 'n' to support it."
Several letters to the editor published today in the New England Journal of Medicine are challenging a perspective published back in early August warning that COVID-19 vaccine and treatment trials need to do more to include racial minorities and marginalized groups. In response, investigators for the SIMPLE and ACTT-1 trials of remdesivir (Gilead Sciences) defend the racial and ethnic mix of their trial cohorts. 
Meanwhile remdesivir itself, which was a rush approval by the US Food and Drug Administration (FDA) despite a spate of negative trial results, has not been included in the World Health Organization (WHO)'s draft COVID-19 drug scheme aimed at supplying treatments to poor countries, Reuters reports.
Rita Rubin, MA, in a JAMA news feature, describes a new and disturbing twist in the saga of COVID-19 pushback: people refusing to be tested for SARS-CoV-2. The refusals are rearing their heads in college teams with players not wanting to be benched, among parents not wanting to keep kids home from school, and in US politics, where science has been politicized. "One of the arguments against testing is the same as one made against wearing masks," Rubin writes. "As a 65-year-old Utah woman, a member of the far-right Constitution Party, proclaimed to The Salt Lake Tribune, 'I will not get tested [for SARS-CoV-2]. That's my right.'"
In a joint statement, the International Coalition of Medicines Regulatory Authorities (ICMRA) and the WHO say they've joined forces to ensure access "to safe and effective medicines against COVID-19 as early as possible, while the existing rigorous scientific standards for the evaluation and safety monitoring of treatments and vaccines are maintained at all times."
A network analyses and visualization study, which "examines elements within a network and the connections between them," has mapped the movements of 5,884 inmates and staffers in a Chicago jail to understand how more than 900 COVID-19 cases occurred throughout 13 unique buildings. The approach can foster a broader understanding of how disease spreads and what mitigation approaches are effective, researchers write in Morbidity and Mortality Weekly Report.
Also in MMWR, a multistate analysis of workplace transmissions suggests that work-from-home policies have helped to contain COVID-19 outbreaks. "Among participants who reported being employed during the 2 weeks preceding illness onset, the percentage who reported teleworking on a full- or part-time basis was significantly lower among case-patients (35%) than among control-participants (53%)" who tested negative for the virus.
In JAMA Network Open, an interview-based qualitative study reveals how institutions coped with resource limitations at the start of the COVID-19 pandemic, with lessons for optimizing care as the pandemic continues. 
In an editorial in the Journal of Medical Ethics, Oxford ethicist Julian Savulescu, PhD, makes the case for mandatory vaccinations if four conditions are met: One, there is a grave threat to public health. Two, the vaccine is safe and effective. Three, mandatory vaccination has a superior cost/benefit profile compared to other alternatives. Four, the level of coercion is proportionate. The other approach, he proposes, would be a payment-donation model. "Mandatory vaccination can be ethically justified. But when risks are more uncertain, payment for vaccination (whether in cash or kind) may be an ethically superior option," he concludes.
 A case-control analysis of all patients admitted with stroke (1,193 ischemic strokes and 191 intracerebral hemorrhages) to one of 13 hospitals in England and Scotland in the first 4 months of the pandemic helps to flesh out the picture of neurological events occurring in patients infected with SARS-CoV-2. Patients with COVID-19 who had ischemic strokes were more likely to be Asian, and the strokes themselves were more likely to be larger, involve multiple large-vessel occlusions, and produce higher D-dimer levels. Patients with COVID-19 were more likely to be discharged with more severe disability or to die in the hospital, researchers report in the Journal of Neurology, Neurosurgery, and Psychiatry.
Today's Dispatch was contributed by Shelley Wood.
---

November 5, 2020
As election tension took over the front pages of US newspapers, COVID-19 quietly went about its business, pushing past 107,000 new cases per day for the first time, with 23 states posting new records, the New York Times reports. On November 4, 2020, 1,616 people were reported to have died of COVID-19 in the US.
A new nationwide lockdown has gone into place in England, where pubs, restaurants, and "most shops" will close until early December, while Greece has, for the second time, announced a 3-week lockdown. In Canada, where case counts have been rising steadily, the public health agency "quietly revised its guidelines on how COVID-19 spreads to include the risk of aerosol transmission, weeks after other countries and international health organizations acknowledged the airborne threat of the coronavirus," the CBC reported.
Yesterday the virus wasn't distracted a bit. When it took the lives of over 1,100 Americans, has put over 50,000 people in the hospital and infected over 90,000. Similar numbers expected today.
We've got to get this sucker under control.

— Eric Topol (@EricTopol) November 4, 2020
A retrospective analysis of all patients in the British Cardiovascular Intervention Society database who underwent PCI in England between January 2017 and April 2020 confirms the decline in PCI procedures widely reported from other datasets during the early months of the COVID-19 pandemic—in this case, following the first UK lockdown, March 23. The decline was greatest for stable angina (66%), followed by non-STEMI (45%), and STEMI (33%). Shifting patient characteristics flesh out the picture, the authors note in Circulation: Cardiovascular Interventions.
A case study published in the European Heart Journal serves as a reminder that the diagnosis of myocardial infarction during the COVID-19 pandemic may be "occasionally incidental and unconventional." In the particular case described, a 46-year-old woman being worked up for suspected TIA presented with dyspnea later determined to be "an equivalent of angina," although her SARS-CoV-2 test came back negative. "In a COVID-19 pandemic context, particular attention is often paid to respiratory symptoms and fever, while chest pain and its possible analogue are often underestimated or misinterpreted," the researchers conclude.
A viewpoint in the Lancet explores the challenges ahead if "herd immunity" is to be reached through mass vaccinations. Forty-five candidate COVID-19 vaccines are in trials, 10 of them phase III, the authors note. "Taking novel vaccines successfully through phase I to phase III trials within a year has been an outstanding achievement, but equally challenging over the coming year will be persuading governments and populations to use COVID-19 vaccines effectively to create herd immunity to protect all."
The American Heart Association is offering a no-fee course for healthcare professionals working in stroke centers with a high volume of COVID-19 patients. "The goal of this course is to inform and empower healthcare professionals to safely apply evidence-based and guideline-directed care amidst a global pandemic," Ivette Motola, MD, MPH, explains in a press release.
A serial screening program of patients undergoing cancer care in the United Arab Emirates found that 29% of 109 patients screened had COVID-19, with most infections identified in a presymptomatic phase. "In the absence of this microbiologic screening, such patients would have proceeded with anticancer therapy unaware of their COVID-19 infection, which may have increased their complication risk," the authors write in JAMA Oncology.  
In JAMA Network Open, researchers describe dramatic drops in the use of preventive and elective care across a large US population with employer-sponsored insurance. "Use of telemedicine increased rapidly but not enough to account for reductions in in-person primary care visits," the investigators write, also noting that "race and income disparities at the zip code level exist in use of telemedicine."
 
Shelley Wood contributed today's Dispatch.
---

November 4, 2020
As bleary-eyed Americans woke up to find that the presidential election has not yet been resolved, polling data from AP VoteCast showed that the COVID-19 pandemic was the top issue on people's minds as they cast their votes. Roughly four in 10 voters (42%) said that was the number one issue, with the economy and jobs trailing at 27%. "Everything else—healthcare, immigration, abortion, and climate change, for example—comes in below 10%," NPR reports.
US hospitals are filling up with COVID-19 cases to a level not seen in nearly 3 months. Reuters reports that the number of hospitalized patients rose to 50,176 on Tuesday, the highest number since August 7. Texas, Illinois, and California are leading the way. Total hospitalizations peaked at 58,370 back on July 22.
It looks like the surge in US COVID-19 cases will result in a return of some restrictions seen earlier in the pandemic. In a sign of what may be coming elsewhere, the Lifespan health system in Rhode Island, the state's largest, has stopped visitations in its hospitals, according to ABC News. There are some exceptions for parents, birthing partners, and those accompanying patients to the emergency department. In Massachusetts, Governor Charlie Baker announced new restrictions, including a mask requirement for everyone over age 5 in all public places, indoors or outdoors, with the exception of people with medical conditions that prevent them from wearing a face covering, NPR reports.
Elsewhere in the world, Poland and Russia set new records for total daily infections and deaths, Lithuania announced a new 3-week lockdown, and Denmark has declared it will cull its entire herd of mink after identifying a mutation of the coronavirus in the animals that has spread to humans, posing a risk to the effectiveness of future vaccines, the Guardian reports.
An expert consensus statement published in JACC: Cardiovascular Imaging provides guidance on screening for potential cardiac involvement in competitive athletes recovering from COVID-19. "Specific emphasis is placed on the unique challenges posed in distinguishing athletic cardiac remodeling from subclinical cardiac disease," the authors write. "The strengths and limitations of different imaging modalities are discussed and an approach to return-to-play decision-making for athletes post COVID-19, as informed by multimodality imaging, is provided."
The US Food and Drug Administration (FDA) has warned clinical laboratory staff and healthcare professionals about the potential for false-positive results with antigen tests for rapid detection of SARS-CoV-2 and provided recommendations to manage the issue. "The FDA is aware of reports of false-positive results associated with antigen tests used in nursing homes and other settings and continues to monitor and evaluate these reports and other available information about device safety and performance," the agency said.
Canada's National Advisory Committee on Immunization (NACI) has released guidance on which groups should be prioritized for COVID-19 vaccination if/when a safe and effective vaccine is available. "Key populations for early vaccination include those at high risk of severe illness and death from COVID-19; those most likely to transmit COVID-19 to those at high risk of severe illness and death from COVID-19 and workers essential to maintaining the COVID-19 response; those contributing to the maintenance of other essential services for the functioning of society; and those whose living or working conditions put them at elevated risk of infection and where infection could have disproportionate consequences, including Indigenous communities," the committee members write in CMAJ.
As seen in the general US population, among patients with rheumatic disease, Black, Latinx, and Asian patients are more likely to be hospitalized with COVID-19 than are their white counterparts, a study in Arthritis & Rheumatology shows. Latinx patients have increased odds of requiring ventilatory support. Mortality risks did not differ by race/ethnicity.
 
---

November 3, 2020
Not only have the number of COVID-19 cases increased in the United States recently, but so too have deaths, which ticked up by 3% last week, according to a Reuters analysis. The proportion of tests coming back positive was also up—6.8% last week compared with 6.3% the week before. Seventeen states had positive test rates above 10%.
As Americans head to the polls today, new research in the Journal of the Association for Consumer Research shows that political ideology has an impact on how people perceive COVID-19 prevention behaviors. "What they found was that conservatives tend to focus on self-reliance and feel responsible for their own outcomes, whereas liberals take more of a community-minded view and are more likely to take responsibility for others," a press release states. But, one of the authors says, the findings don't indicate that conservatives are less compassionate. "Some people say, 'Conservatives just don't care about other people.' And I don't think that's what we're finding," she says. "What we're finding is that they don't see their behaviors as impacting others, which is very interesting."
A STAT investigation revealed that the US Department of Health and Human Services (HHS) relaxed oversight of COVID-19 tests developed by private laboratories despite knowing about potential accuracy issues. "All these laboratory-developed tests, known as LDTs, use the same basic PCR technology to identify genetic material from the coronavirus in patient swabs, but their performance can vary widely," Kathleen McLaughlin writes. "They are being used across the country by states, private employers, sports leagues, and schools to try to manage the pandemic, yet they are something of a black box. Because they fall into a regulatory gray area, nobody outside the labs themselves knows how accurate they are—not even the healthcare providers who use them."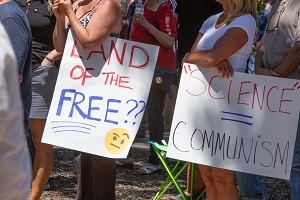 A JAMA viewpoint discusses the role of science denial during the US response to COVID-19, which "has been dismal, characterized by anti-mask behavior, antivaccine beliefs, conspiracy theories about the origins of COVID-19, and vocal support by elected officials for unproven therapies." How to respond? "The medical community should mount systematic efforts around science education beginning in childhood and across the lifetime. Scientists, clinicians, and public health experts should engage in dialogue on issues of public health such as masks, vaccines, and medications. Accessible presentations should be part of every medical office and healthcare system. Attractive and accessible websites that post reliable data on health should counteract the false narratives that harm the health of the US (and other countries)."
The rate of preterm birth is higher among pregnant women who test positive for SARS-CoV-2, according to a study in Morbidity and Mortality Weekly Report. Moreover, among women of reproductive age who have symptomatic COVID-19, rates of ICU admission, invasive ventilation, use of extracorporeal membrane oxygenation, and death are more likely in those who are pregnant, another MMWR study shows.
What the cardiovascular risks of COVID-19 mean for getting kids back to playing sports as the pandemic continues—and what role, if any, ECG can play in preparticipation screening—remains unclear. Although the debate around universal ECG screening has been revived, recommendations remain focused on more-targeted testing. Nonetheless, one pediatric cardiologist told TCTMD that COVID-19 reinforces the need for broader ECG screening "because now you have student-athletes more at risk of myocarditis than they were a year ago and no mandatory screening process for how to go about that."
In a perspective in Circulation: Cardiovascular Quality and Outcomes, the Big Ten Registry Steering Committee, made up of conference administrators and physicians with expertise in sports medicine, infectious disease, and cardiology, reflects on how to ensure that athletes can safely compete during the COVID-19 pandemic. Brahmajee Nallamothu, MD, in an accompanying commentary, says, "Their conclusions admittedly do not represent definitive science. That would be difficult to achieve given the evolving stage we are currently in with the COVID-19 pandemic. Instead, these conclusions demonstrate how limited scientific findings may often intermingle with broader societal values in balancing the risks and benefits of any policy."
About half of patients hospitalized with COVID-19 in a recent study published in Science Translational Medicine had antiphospholipid autoantibodies in serum samples, which might explain their increased risk of blood clotting. Higher levels of the autoantibodies were associated with neutrophil hyperactivity, including the release of neutrophil extracellular traps, higher platelet counts, more severe respiratory disease, and worse kidney function. "These findings suggest that half of patients hospitalized with COVID-19 become at least transiently positive for aPL antibodies and that these autoantibodies are potentially pathogenic," the authors say.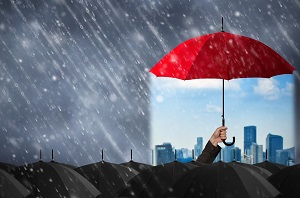 A study in the International Journal of Environmental Research and Public Health suggests that weather has little impact on spread of SARS-CoV-2, with a relative importance below 3%. "On global to regional scales, we found contradictory relationships between weather and the transmission rate, confounded by decentralized policies, weather variability, and the onset of screening for COVID-19, highlighting an unlikely impact of weather alone," the authors write.
---


November 2, 2020
For the first time, the United States recorded more than 100,000 COVID-19 cases in a single 24-hour period late last week, Reuters reports. That's a record not only for the US, but also for any other country. The previous high was 97,894 cases in a single day recorded in India in September. According to the Johns Hopkins COVID-19 Dashboard, the global case count is now more than 46.6 million, with the US leading the way with over 9.2 million.
US National Institute of Allergy and Infectious Diseases (NIAID) Director Anthony Fauci, MD, tells the Washington Post how he thinks the US is looking heading into winter, and it's not what you'd want to hear: "We're in for a whole lot of hurt. It's not a good situation. All the stars are aligned in the wrong place as you go into the fall and winter season, with people congregating at home indoors. You could not possibly be positioned more poorly."
Australia represents a bright spot in an otherwise dismal COVID-19 picture around the world: the country celebrated no new daily COVID-19 cases for the first time in nearly 5 months, Reuters reports.
A history of heart failure is associated with nearly twice the risk of dying among patients hospitalized with COVID-19, according to a study in the Journal of the American College of Cardiology. "When I started this study, I thought yes, they'll be at higher risk for adverse outcomes, but I did not expect for it to be to this degree," senior author Anuradha Lala, MD, told TCTMD's L.A. McKeown.
New data in Morbidity and Mortality Weekly Report confirm that transmission of SARS-CoV-2 among household members—either from children or adults—is frequent and occurs early after disease onset. "Persons should self-isolate immediately at the onset of COVID-like symptoms, at the time of testing as a result of a high-risk exposure, or at time of a positive test result, whichever comes first," the authors advise. "All household members, including the index case, should wear masks within shared spaces in the household."
Patients who are taking statins when they're admitted to the hospital with COVID-19 are less likely to die during their stay than are those who are not taking statins, researchers report in the European Heart Journal – Cardiovascular Pharmacotherapy. The mortality rate was even lower in patients who continued on statins during the hospitalization.
Compared with in-person visits, telehealth sessions conducted during the pandemic within the Duke University Health System were associated with fewer new or refill medication prescriptions, ECGs, laboratory orders, echocardiograms, and stress tests, according to a study in the American Heart Journal. Those who had telehealth visits or cancelled their visits were less likely than those who had in-person visits to have an emergency department or hospital encounter within the next 30 days.
A systematic review and meta-analysis in Resuscitation confirms that out-of-hospital cardiac arrests increased during the COVID-19 pandemic, with ambulances taking longer to respond. Mortality and supraglottic airway use both increased, whereas automated external defibrillator use, return of spontaneous circulation, and intubation declined.
In Mayo Clinic Proceedings, researchers review the pathophysiologic mechanisms of COVID-19-associated coagulopathy as well as clinical, histopathologic, and laboratory evidence, concluding that "COVID-19 is both a pulmonary and vascular disorder."
 A study in Occupational & Environmental Medicine addressing risks of infection and mental health effects found that grocery workers at a single store in Massachusetts commonly tested positive for SARS-CoV-2 (20%), and roughly three-quarters of cases were asymptomatic. Employees with direct customer exposure were much more likely to test positive and to experience more anxiety and depression. Those able to practice social distancing and those commuting by foot, bike, or private car were less likely to have depression.
---

COVID- 19: TCTMD's Daily Dispatch for December

COVID-19: TCTMD'S Daily Dispatch for October
COVID-19: TCTMD'S Daily Dispatch for September

COVID-19: TCTMD's Daily Dispatch for August

COVID-19: TCTMD's Daily Dispatch for July
COVID-19: TCTMD's Daily Dispatch for June

COVID-19: TCTMD's Daily Dispatch for May

COVID-19: TCTMD's Daily Dispatch for April

COVID-19: TCTMD's Daily Dispatch for March
Todd Neale is the Associate News Editor for TCTMD and a Senior Medical Journalist. He got his start in journalism at …
Read Full Bio